Monday Morning Draft is back! This is a column that delves into the past weekend's action from an NFL Draft perspective. As the season goes on, the draft picture and slotting will become more clear, but every Sunday will provide a few hints for next April.
By Charlie Campbell.
Send Charlie an e-mail here:
draftcampbell@gmail.com
Follow Charlie on Twitter
@draftcampbell
for updates.
Crap it for Cook/Cardale:
Chicago Bears:
Of all the 0-2 teams in the NFL, the Bears could be the worst. Chicago's defense is inept and going to allow a lot of points this season. The Bears have enough talent on offense to avoid going winless, but this looks like it will be a long year in the Windy City. If the Bears are picking early in the 2016 NFL Draft, I would expect John Fox to look for a long-term starter and replace Jay Cutler.
Houston Texans:
The Texans have a lot of talent and won't go winless, but with how their offense is playing, it could be a rough season for the Texans if they don't get things turned around. I don't expect Houston to be picking in the top 10, and getting Arian Foster back will give a huge boost to the team's scoring attack. The Texans look poised to be in the quarterback market after this season. Rick Smith and Bill O'Brien will be searching far and wide for their franchise quarterback. Cardale Jones, Connor Cook, Christian Hackenberg and Jared Goff all have to be considered as in play for Houston.
Philadelphia Eagles:
The Eagles fell to 0-2, and something seems off with them. When the offense or defense needs to step up, this team consistently comes up short. Philadelphia could easily be in the quarterback market after this season. Sam Bradford was costly, but he hasn't looked good enough to consider him to be the long-term answer at the position. Of the 2016 NFL Draft prospects, Cardale Jones would be the best fit for the Eagles' offense.
New York Giants:
It seems very illogical that the Giants are 0-2 because they could easily be the exact opposite. New York has talent on offense and defense, but hasn't put complete games together. Considering the Giants just extended Eli Manning, if they do end up with a high first-round pick, they would probably be more inclined to get some supporting help rather than replacing Manning and trading the veteran.
Detroit Lions:
The Lions are 0-2 and don't seem like they have the defense to get them back to the playoffs. A week ago, Detroit blew a big lead to San Diego, and in Week 2, the Lions were dominated by Adrian Peterson. If Detroit ends up back in the top 10, the organization will be seeking to get more defensive talent rather than taking a quarterback to replace Matthew Stafford.
New Orleans Saints:
The Saints lost at home to a rebuilding Tampa Bay to fall to 0-2, so New Orleans has to be hitting the panic button. Something was off with the Saints last year, and it doesn't look like that is different despite big changes in the offseason. If New Orleans is picking high in the first round, the team would have to give consideration to a new franchise quarterback given the age of Drew Brees.
Baltimore Ravens:
The Ravens are 0-2, but they've lost two close games. I don't expect them to be picking in the top 10, and I think they will rebound in the weeks to come. If Baltimore did land a high draft pick, the mission would be looking to build around Joe Flacco rather than replace him.
Let's Play Matchmaker:
This section will look at some of the top talent in college football and match those prospects up with teams that have a dire need at the position.
Minnesota Vikings: Alex Collins, RB, Arkansas
The Vikings welcomed back the vintage Adrian Peterson as he ripped Detroit for 134 yards on 29 carries and also added 58 yards through the air. Teddy Bridgewater is much better as a game-manager rather than being the engine of Minnesota's offense. Considering Peterson is 30 and has a lot of mileage on his legs, it would be wise for the Vikings to keep adding talented young runners so they have options when Peterson starts to decline.
Collins (5-11, 215) is familiar with rushing against heavy run fronts at Arkansas. That's all he's seen the past few seasons, yet he still manages to produce. After three games this year, Collins has 351 yards and three scores while averaging 5.9 yards per carry. In both 2013 and 2014, he averaged 5.4 yards per carry with over 1,000 yards. As a second-day pick, Collins would be a nice heir apparent to groom behind Peterson.
Pittsburgh Steelers: Tony Conner, DB, Ole Miss
The Steelers have developed their linebackers with first-round picks and now they need to add more to their secondary. San Francisco had 15 fourth quarter points through the air as Torrey Smith, Vernon Davis, and Anquan Boldin combined for 240 yards and two scores. Pittsburgh's secondary had issues with Rob Gronkowski on opening night and adding more talent at corner and safety looks necessary for Pittsburgh.
Conner would be a nice fit because he is a safety that also has experience playing cornerback. He could help the Steelers defend receiving tight ends and slot receivers. Pittsburgh could use a safety like Conner that would help them defend the middle of the field, or serve as a reliable safety to help double team receivers over the top. Conner would be a really nice fit for Mike Tomlin.
Cincinnati Bengals: Reggie Ragland, LB, Alabama
The Bengals' defense did not look particularly good against Chargers rookie running back Melvin Gordon. If San Diego hadn't fall behind in the first half, Gordon (16-88) could have hurt Cincinnati more. It looks bad for a team's run defense when its top leaders in tackles come from the secondary and one defensive lineman. The Bengals could use stronger play out of their linebackers.
Ragland would be a great fit in Cincinnati's defense as an inside or outside linebacker. He could form a nice tandem with Vontaze Burfict - if Burfict can get healthy. Ragland has 30 tackles after three games thi season, but has shown well in pass coverage and rushing off the edge. He is a true three-down defender. Ragland would be a great fit for Cincinnati's first-round pick in the 2016 NFL Draft.
Cleveland Browns: Laquon Treadwell, WR, Ole Miss
The Browns got a huge game from Travis Benjamin (3-115) to help them get their first win of the season. Still, no Cleveland receiver had four receptions against the Titans. This is a critical year for Johnny Manziel in his career, but the Browns have limited his ability to compete with a serious lack of talent at receiver. Taking a wideout in the first round of the 2016 NFL Draft seems very reasonable.
The big play-making receiver is rounding back into his pre-injury form. NFL sources think that Treadwell has a ton of talent and upside to develop. Last Saturday against Alabama, he had 80 yards on five receptions with a critical score. Treadwell has 14 catches for 197 yards and a score on the year. The 6-foot-2, 215-pounder has size and quickness. He would make a ton of sense for Cleveland.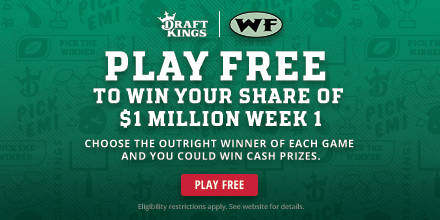 Tampa Bay Buccaneers: Laremy Tunsil, OT, Ole Miss
The Bucs and rookie quarterback Jameis Winston had a nice bounce-back performance to get a road win in New Orleans. Tampa Bay's offensive line issues could still be seen with the Saints recording three sacks and Doug Martin averaging 3.9 yards per carry. Adding a building block to lead the Buccaneers' offensive front would make a lot of sense to protect their investment in Winston.
Tunsil hasn't played yet this season as Ole Miss holds him out while the NCAA investigates whether he took gifts from agents. Aside from that issue, Tunsil was in the running to be the best offensive lineman in college football during the 2014 season. He was a tremendous blind-side protector with great athleticism and quickness to negate speed rushers. Tunsil is from central Florida, so he is used to the heat that comes with playing in Tampa. In the first round of the 2016 NFL Draft, Tunsil would make a ton of sense for the Buccaneers.
Washington Redskins: Tyler Boyd, WR, Pittsburgh
The Redskins were able to pull off an upset over the Rams via a powerful ground offense. Washington has brought in some veteran receivers, but Andre Roberts (1-0) and Pierre Garcon (7-23) could be let go before too long as the team looks to save money. Neither one produced against the Rams, and Washington missed DeSean Jackson. Adding a long-term receiver for Jay Gruden's offense would make sense.
Boyd was suspended for the 2015 season opener because of a DUI arrest in the offseason, but since then he has played well. Against Iowa last Saturday, Boyd made 10 receptions for 131 yards with a touchdown. He's totaled 21 receptions for 226 yards with a score in his two games. In 2014, Boyd notched 78 receptions for 1,126 yards and eight touchdowns. His ability to create yards after the catch would be a great fit in Jay Gruden's offense.
Denver Broncos: Jared Goff, QB, California
The Broncos are going to have to deal with a declining Peyton Manning throughout 2015. It is obvious to all that Manning's arm is weak, and at this point, Manning is living off his mental advantage. The Broncos don't know if Brock Osweiler is the starter of the future, and they could use another option to compete with him as the heir apparent to Manning.
Goff has completed 73 percent of his passes this year for 898 yards with nine touchdowns and two interceptions. The 6-foot-4, 215-pounder runs a college system, but he could be a nice talent for Gary Kubiak to work with.
Team Draft Report:
In this section, we take a deeper look at specific teams and where they stand in regards to the 2016 NFL Draft.
Carolina Panthers:
The Panthers got off to a 2-0 start after dropping another AFC South opponent. Once again, quarterback Cam Newton bailed out the weak play of his offensive line, wide receivers and running backs. Carolina has a good defense, but the lack of talent on offense is the major area that the team must address in order to take advantage of a Super Bowl window with a franchise quarterback.
The first issue that the Panthers need to address is the offensive line. Newton has taken too many hits and sacks over the past couple of seasons. Carolina hasn't adequately replaced retired left tackle Jordan Gross, and adding a blind-side protector would make a lot of sense considering that the organization gave Newton a contract over $100 million in his contract extension. Michigan State's Jack Conklin or Ohio State's Taylor Decker would be options in the first round of the 2016 NFL Draft.
The Panthers also could use more help at wide receiver. Losing Kelvin Benjamin for the season was a huge blow, and Devin Funchess is an unknown. Carolina should look to upgrade the targets for Newton and get him some long-term weapons. A receiver like Florida's Demarcus Robinson, who can get open with separation and could work underneath or over the top of Benjamin, would be a great fit. Other first-round receiver options to consider would be Ohio State's Michael Thomas, Pittsburgh's Tyler Boyd, or Ole Miss' Laquon Treadwell - depending on where those wideouts grade out and if they're better than any offensive linemen available.
Offensively, the Panthers also could stand to invigorate their ground game. DeAngelo Williams has moved on, and Jonathan Stewart has been injury prone. Taking a second-day running back like Utah's Devontae Booker or Arkansas' Alex Collins would be worth considering. If Carolina takes a runner in the first round of the 2016 NFL Draft, Alabama's Derrick Henry or Ohio State's Ezekiel Elliott could give the franchise's offense a serious ground attack.
Carolina has a strong unit defensively, but a top cornerback or safety would be worth considering. However, the needs on offense have to take precedent. The Panthers must give Newton more help after the massive investment they made in him. Carolina has the quarterback and a defense to make a postseason run, now the Panthers just need more talent on offense to help Newton get them there.
Kansas City Chiefs:
It is inexplicable how the Chiefs lost on Thursday night. Andy Reid has had management issues late in games, and that glosses over the fact that Kansas City has a talented roster that can compete with any team in the NFL. The Chiefs probably won't be picking high enough to land a first-round quarterback in the 2016 NFL Draft, so it is more likely that Alex Smith will be the starter in 2016. Smith has shown he can get a team to the playoffs if he has a lot of help around him. Thus, Kansas City needs to continue to build up his supporting cast.
Offensively, the Chiefs have a few areas of need. The offensive line started strongly in Week 1 before the Texans' defensive line overwhelmed them in the second half. In Week 2, the Broncos had four sacks against Kansas City. Eric Fisher hasn't been close to as good as his No. 1-overall-pick status suggests. Fisher looks more like a right tackle in the NFL, and left tackle Donald Stephenson is entering free agency. Taking a tackle in the first round of the 2016 NFL Draft has to be considered. The Chiefs could have options with Michigan State's Jack Conklin or Ohio State's Taylor Decker being potential targets.
Elsewhere on offense, Kansas City could use more receiving talent to go with Jeremy Maclin. If Maclin or Travis Kelce were to get injured, the Chiefs would be in deep trouble. Having another receiver to create mismatches would make sense for depth. At receiver, a great fit in Andy Reid's offense would be Florida's Demarcus Robinson. Other options to consider would be Ohio State's Michael Thomas, LSU's Travin Dural and Clemson's Mike Williams. All of them could be first-round talents.
Defensively, the Chiefs could use another corner to pair with Marcus Peters. That could be worth considering in the first three rounds of the 2016 NFL Draft. Kansas City also hasn't gotten much out of Dee Ford yet. The Chiefs haven't seen enough to believe that he is the future replacement for Tamba Hali. Drafting another pass-rusher would make sense even if Ford pans out because that would give the team a trio led by Justin Houston.
Kansas City doesn't need a lot to be a team that is capable of winning in January; it just comes down to if the team can get enough out of Smith. Continuing to build up the roster to help Smith is the Chiefs' only choice.
Comment...
NFL Picks
- Oct. 22
2020 NFL Mock Draft
- Oct. 20
2019 NFL Mock Draft
- Oct. 18
Fantasy Football Rankings
- Sept. 5
2019 NBA Mock Draft
- Aug. 13
NFL Power Rankings
- June 3