This new section highlights which players have improved or worsened their 2017 NFL Draft stock as the draft approaches.
By Charlie Campbell.
Send Charlie an e-mail here:
draftcampbell@gmail.com
Follow Charlie on Twitter
@draftcampbell
for updates.
2017 NFL Draft Stock Up
Dawuane Smoot, DE, Illinois
Smoot entered the game against Rutgers with zero sacks on the season, and if the first-round talent didn't start producing more sacks, it would hurt his draft grade. Smoot got on the board with an impressive strip-sack against Rutgers. He also recorded two tackles for a loss on fourth-down runs to get the ball for his offense. Smoot did well in run defense to hold his ground, shed blocks and get in on tackles.
This tape should definitely help Smoot's draft grade. Aside from him being fast and strong at the point of attack against Rutgers, Smoot was finishing plays. He had the strip-sack to go along with the fourth-down stops. Smoot looks like a perfect fit as a 4-3 defensive end, and he is being developed well by Lovie Smith and his staff. This tape will give a boost to Smoot's stock.
Zach Cunningham, LB, Vanderbilt
Cunningham dominated Georgia with 19 tackles and a pass broken up. He had a diving pass breakup midway through the fourth quarter on a third down and then a fourth-and-1 stop for no gain in the final minute to ensure a road victory for Vanderbilt.
For the NFL, Cunningham is fast and a sure tackler. He is tremendous at getting off blocks and has the ability drop in coverage. Cunningham looks like a future three-down starter. He showed the speed, athleticism, and length for pass coverage in the NFL. He was superb versus the Bulldogs, and it was a dominating performance. This tape should help Cunningham to grade out as a pick in the first two rounds of the 2017 NFL Draft.
Marshon Lattimore, CB, Ohio State
Sources have told WalterFootball.com that Lattimore is receiving high first-round grades, and sources from multiple teams are saying that Lattimore could be a top-16 pick if he declares for the 2017 NFL Draft. He has had some excellent games this year, including his performances against Tulsa and Oklahoma. On the year, Lattimore has 24 tackles with six passes broken up and three interceptions. Lattimore has been very good in coverage as he uses his size to match up against big wideouts yet has the speed to run with receivers downfield. The 6-foot, 192-pounder has teams excited about his skill set, and they believe that he is a future No. 1 cover corner in the NFL.
While teams are very excited about Lattimore and fellow Buckeye Malik Hooker, sources say there are some rumors that one or both might return to Ohio State in 2017. That isn't uncommon at this time of year, but late in the season, many players change their minds and decide to enter the draft. Lattimore and Hooker could hear their names called early on the opening night of the 2017 NFL Draft, and that can be very persuasive to getting players to leave early.
Gareon Conley, CB, Ohio State
Conley can slip under the radar in the Buckeyes' secondary because safety Malik Hooker and cornerback Marshon Lattimore are grading out as high first-round picks, but Conley is a fine player in his own right. Conley played well for the Buckeyes. In the third quarter over the weekend, Wisconsin floated a pass in the middle of the field while Conley was in zone coverage. He broke on the ball to snag an interception for the Buckeyes. Late in the fourth, Conley appeared to make a fabulous leaping interception, but it was questionably ruled to be an incomplete pass. Conley put together a impressive tape of coverage in zone or press man against the Badgers. On the season, he has 11 tackles five passes broken up and two interceptions. This performance will help Conley to grade out as an early round pick for the 2017 NFL Draft.
Mike Williams, WR, Clemson
Clemson needed a missed field goal and overtime to beat N.C. State, but Williams really carried the weight for the Tigers' offense as running back Wayne Gallman left with an injury. Williams hauled in 12 passes for 146 yards on the day. He made a number of clutch receptions to help Clemson avoid the upset. Williams needed this game as he hadn't had a game of over 70 yards receiving since the season opener against Auburn. In 2016, Williams has 39 receptions for 578 yards with four touchdowns. He has gotten open more than the numbers indicate, but things have been off with Deshaun Watson in a few games this year. Williams is in the running to be the top receiver of the 2017 NFL Draft, and he will need more games like this to make that happen.
Evan Engram, TE, Ole Miss
Engram could be on this list every week with the way he is playing in 2016. Against Arkansas, Engram caught seven passes for 111 yards and one touchdown. He showed his speed and strength on a 13-yard touchdown pass. Engram made difficult catches down the seam and showed run-after-the-catch skills on a 35-yard reception in the flat. This performance continued to show that Engram has great speed to get down the seam and is too fast for linebackers to cover. Engram has good size to match up against defensive backs with reliable hands. If Engram were bigger and a better blocker, he would be a definite first-rounder, but even with being undersized and not a forceful blocker, Engram could be playing his way into the first round of the 2017 NFL Draft.
Travis Rudolph, WR, Florida State
Many were expecting a breakout season for Rudolph, but the first half of the year was a bit of a dud, including meager performances against Miami (2-17), North Carolina (1-9), South Florida (1-14) and Louisville (2-40). Against Wake Forest, however, Rudolph showed why there was hype about him to begin with. He exploded for 13 catches for 238 yards to lead the Seminoles to an 11-point victory. This season, Rudolph has 32 receptions for 497 yards and three scores. If he can produce more consistently, his stock should rise.
Honorable Mentions:
Iowa cornerback Desmond King, Florida cornerback Jalen Tabor, Florida cornerback Quincy Wilson and Tennessee defensive end Derek Barnett.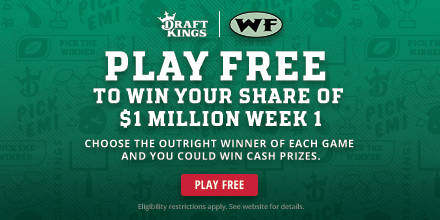 2017 NFL Draft Stock Down
Cam Robinson, OT, Alabama
Against Tennessee edge rusher Derek Barnett, Robinson didn't have a meltdown performance but he did have some issues with Barnett's speed rush. Barnett flew around Robinson to notch a sack-fumble, and Barnett had other pressures against Robinson as well. Overall, this tape will probably hurt Robinson's draft grade as Barnett was too fast for him to defend the edge on every play. This game will support those that believe that Robinson should be a guard or right tackle. Barnett is a top-16 talent, however, and it wasn't a one-sided game of domination. That was especially true in the ground game where Robinson was able to get a push on Barnett and others. Regardless of Robinson's future position, overall this tape could push Robinson down boards as some could believe that he is going to struggle with good speed rushers in the NFL.
Elijah Hood, RB, North Carolina
Hood is a power back, but he has a lack of speed for the NFL. Prior to a 20-yard run late in the fourth quarter, Hood had 12 carries for 11 yards against Miami. The 6-foot, 220-pounder looks too slow at hitting the hold to be successful as a pro. He has even been replaced by T.J. Logan as the Tar Heels' leading back. Hood looks like a late-round- or undrafted free agent-caliber prospect.
Jalen Reeves-Maybin, LB, Tennessee
Unfortunately, Reeves-Maybin didn't do anything on his own to get a stock down. For some time, Tennessee coach Butch Jones was being evasive about Reeves-Maybin and his shoulder injury, but Reeves-Maybin has undergone surgery and is done for the year. His senior season ends with Reeves-Maybin totaling 20 tackles with two for a loss. He will now have a medical red flag attached to his draft stock, and this could cause him to slide. The 6-foot, 230-pounder is already a bit undersized for the NFL, and now durability will be a question that will hurt his draft stock.
Dishonorable Mentions:
Georgia running back Nick Chubb, Notre Dame quarterback DeShone Kizer and Miami quarterback Brad Kaaya.
Comment...
NFL Picks
- Sept. 24
2019 NFL Mock Draft
- Sept. 20
Fantasy Football Rankings
- Sept. 5
2019 NBA Mock Draft
- Aug. 13
2020 NFL Mock Draft
- Aug. 1
NFL Power Rankings
- June 3