This new section highlights which players have improved or worsened their 2017 NFL Draft stock as the draft approaches.
By Charlie Campbell.
Send Charlie an e-mail here:
draftcampbell@gmail.com
Follow Charlie on Twitter
@draftcampbell
for updates.
2017 NFL Draft Stock Up
Taco Charlton, DE, Michigan
There was a lot of talent in the Ohio State versus Michigan grudge match, and the player who was the most impressive was Charlton. He dominated the Buckeyes' right tackle and put a ton of heat on quarterback J.T. Barrett. Charlton used speed to turn the corner with some functional strength to fight off blocks. He was an animal versus Ohio State with nine tackles, three tackles for a loss and 2.5 sacks.
Entering this season, Charlton had flashed for Michigan, but he was mainly a backup and also was used inside at tackle. This year, Charlton has 8.5 sacks, 38 tackles and 11 tackles for a loss as the bookend defensive end with the impressive Chris Wormley. The 6-foot-6, 272-pounder Charlton is athletic with versatile size to be a base end in a 4-3 defense or a standup linebacker in a 3-4.
Sam Rogers, FB, Virginia Tech
Against Virginia in his final regular season game, Rogers showed NFL teams he can be a short-yardage back as a pro and a receiver out of the backfield. Rogers also was a solid blocker. Late in the first quarter, he was able to power through Virginia safety Quin Blanding on a short touchdown run. It was an impressive run from a fullback. In the second quarter, Rogers ran up the middle before bouncing the run to the outside for a 32-yard touchdown run. He then got open down the seam on a quick pass that he took for a 30-yard gain. Rogers finished with 15 carries for 108 yards and two touchdowns alongside two receptions for 29 yards.
Rogers is a versatile athlete who could be a mismatch weapon because defenses often forget to account for fullbacks. He could hurt them as a receiver, runner and blocker. Rogers could be the best fullback to enter the NFL in years. At the very least, I think he will be an early rounder on Day 3 of the 2017 NFL Draft, but it wouldn't surprise me if he went late in the third round.
Demarcus Walker, DE, Florida State
The Seminoles' defense dominated the Florida offense with Walker leading the way. Midway through the first quarter, Walker recovered a fumble in Gators territory. He was active in defending the run and putting heat on the quarterback. Walker made a great play in run defense during the third quarter to get off a block and rip down the back for a short gain. In the fourth quarter, Walker lined up over the left guard and used his speed to the inside. He powered through a running back to pick up a sack on a key third down. Shortly later, Walker used a swim move to the inside on the right tackle to get another sack. He added another fumble recovery and started other sacks for the Seminoles.
Walker is an early round talent. Last year, teams were giving him a second-round grade. He has a shot at being a Thursday night pick now, but he has a bit of a tweener body type for the NFL. His best fit might come as a 3-4 outside linebacker.
Mike Williams, WR, Clemson
South Carolina was dominated by its in-state rival, with a very impressive game from Williams. He used his size to win on contested catches, ran through tacklers, was dynamic after the catch, and showed good hands. He totaled 100 yards on six receptions with three touchdowns. Williams isn't a burner for the NFL, but he is a tall receiver who has enough quickness to get open in the short to intermediate part of the field. Downfield, he also can use his size to beat defensive backs. Williams is excellent in the red zone, too. This outing against the Gamecocks will help his bid to be a Thursday night selection.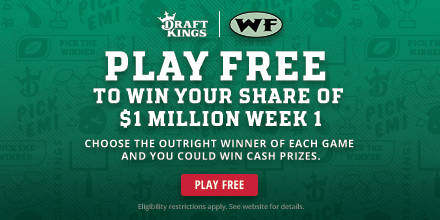 Budda Baker, S, Washington
Taking on rival Washington State in the Apple Cup, Baker was very impressive as he made some big tackles, including snuffing out a screen for no gain and making a tackle for a loss on a fourth-and-goal. Baker snagged his second interception of the season during the fourth quarter. He was running with a wideout on a crossing route, and Luke Falk threw a floater that fell right to Baker for the turnover. Overall, this performance will help his draft stock. He showed the flexibility to cover receivers and come downhill in the ground game. Baker (5-10, 192) needs to get stronger to tackle in the NFL, but he has instincts, quickness and athleticism. He could be an early rounder, despite the loaded safety class of the 2017 NFL Draft, if he doesn't decide to return to school.
Honorable Mentions:
LSU safety Jamal Adams, Michigan defensive end Chris Wormley, Ohio State safety Malik Hooker, Miami tight end David Njoku and Notre Dame guard Quenton Nelson.
2017 NFL Draft Stock Down
Deatrich Wise Jr., DE, Arkansas
Wise was very quiet against Missouri. When his team needed a pass rush to stop the deep-ball passing attack, he was a non-factor, and Missouri pulled off a surprising comeback thanks to big plays downfield. Wise totaled only three tackles in the contest and put no pressure on the quarterback. During his disappointing senior campaign, Wise totaled 45 tackles with five for a loss, one forced fumble, three passes batted and 3.5 sacks. He is going to need a strong performance at an all-star game to help his draft stock.
Tre'Davious White, CB, LSU
White was playing in his penultimate game in college football against Texas A&M, and it was not an impressive outing for him. During the third quarter, White dropped a would-be interception that flew right into his chest. It was one of the easiest pick opportunities he will ever see, but he couldn't hold onto the pass. Shortly later, Josh Reynolds got separation from White on a short slant and burst down the field for a 32-yard touchdown. A backup Aggies wide receiver got some separation from White late in the fourth quarterm and White lost his feet in his back pedal. That allowed a gain of about 25 yards and almost a touchdown. White came back to breakup a pass in the end zone.
There has been some hype about White being a first-round pick, but WalterFootball.com knows some sources who feel such a grade is an exaggeration. This could be a very talented class of cornerbacks, and that could push White down. This tape made him look more like a second-round pick rather than a Thursday night selection.
Luke Falk, QB, Washington State
A report from Bleacher Report said Falk was going to enter the 2017 NFL Draft, but Falk denied that saying he hadn't made up his mind and his inclination was more toward returning to school. His game against Washington should only serve to delay Falk going to the NFL. He completed 33-of-50 passes for 269 yards with one score and three interceptions. The three picks were terrible passes thrown into crowds of defenders and awful decisions by Falk.
This game illustrated that Falk should return to college next season. He is going to need schematic development for the NFL similar to a quarterback like Jared Goff, Deshaun Watson or Pat Mahomes II. Like those signal-callers, Falk always operates out of the shotgun, so he will need to learn how to work under center and improve his footwork in terms of taking three- and five-step drops while being under center. Falk also will have to learn to call plays in the huddle. There are a number of quick throws and bubble screens that the Cougars run that won't translate as well. That is the same hurdle for those other quarterbacks, and Falk will have the same challenges. He also needs to focus on moving his eyes and working through progressions rather than locking onto one receiver or one side of the field.
Quin Blanding, S, Virginia
Against Virginia Tech, Blanding was in the right spot to cover a fumble, but he gave up some big plays. Blanding was beaten for a 39-yard touchdown as he didn't play the ball well in the air and let it sail over his outreached hand and into the receiver. Later, Blanding overpursued, allowing fullback Sam Rogers to break to the outside and get to the sideline to race for a 32-yard touchdown run. Blanding didn't impress in against the Hokies as he missed some tackles, took some bad angles and gave up a touchdown. This performance could hurt his draft grade. Given the 2017 NFL Draft's strong safety class, Blanding should consider returning for his senior year.
Conor McDermott, OT, UCLA
Sources say that McDermott has disappointed them on tape this year. Some teams are giving McDermott late-round developmental grades. Entering the season, he was thought to have second-day potential, but he has allowed too much heat on the quarterback in 2016. McDermott also is a very tall blocker who lacks the footwork and agility to be viewed as a contributor early in his career. McDermott will probably start out competing as a backup right tackle.
Comment...
NFL Picks
- Nov. 13
2019 NFL Mock Draft
- Nov. 8
2020 NFL Mock Draft
- Nov. 3
Fantasy Football Rankings
- Sept. 5
2019 NBA Mock Draft
- Aug. 13
NFL Power Rankings
- June 3