This new section highlights which players have improved or worsened their 2017 NFL Draft stock as the draft approaches.
By Charlie Campbell.
Send Charlie an e-mail here:
draftcampbell@gmail.com
Follow Charlie on Twitter
@draftcampbell
for updates.
2017 NFL Draft Stock Up
Deshaun Watson, QB, Clemson
In the
Senior Bowl rumor mill
, we discussed the "Dak Prescott effect" that will help Watson's draft stock in the leadup to the 2017 NFL Draft. After NFL teams started draft meetings last week, multiple teams told WalterFootball.com that Watson's rise has already begun even though scouts across the league didn't grade him as a first-round pick. WalterFootball.com knows some teams that have Watson as the second-rated quarterback for the 2017 NFL Draft behind only North Carolina's Mitch Trubisky. Watson looks safe to go in Round 2, but his rise could push him into the first round because of the need at the position.
One quarterback-needy team owning a the top-16 pick in the 2017 NFL Draft told WalterFootball.com that they wouldn't take Watson with their first-round pick because it is too big of a reach, but they would consider trading back into the first round to get him if their quarterback need persists after free agency. Watson could easily end up being like Teddy Bridgewater as a late first-round pick.
Mitch Trubisky, QB, North Carolina
Across the league, Trubisky has graded out as the top-rated quarterback. Some scouts like other individual signal-callers more and say that Trubisky doesn't wow them with his skill set. However, Trubisky seems to be the quarterback with the least amount of flaws in the consensus opinion. Multiple teams think Trubisky will be the first quarterback off the board and will go in as a top-10 pick. Trubisky lacks experience, but that shouldn't prevent him from being a high pick come the 2017 NFL Draft.
Haason Reddick, LB, Temple
Reddick is a linebacker who helped himself at the Senior Bowl. He was an edge rusher in college, but is too undersized for that role in the NFL. In Mobile, Reddick flashed the ability to move off the line and play a more traditional outside linebacker role for the next level. Teams feel that Reddick's lack of experience makes him a significant developmental project for the NFL, but they believe he will end up being a second-day pick in the 2017 NFL Draft.
Caleb Brantley, DT, Florida
Brantley has been given first-round grades by teams and could be one of the few interior defensive linemen to get selected in the first round. After Jonathan Allen goes off the board, and one would think that would be very quickly, Brantley will be the next interior disruptor who teams target. Sources are impressed with his pass rush and ability to cause havoc in the backfield. Brantley could end up going higher than expected.
Gareon Conley, CB, Ohio State
Conley is one of the many talented cornerbacks in the 2017 NFL Draft. Sources from multiple teams tell WalterFootball.com that they gave Conley a late first-round, early second-round grade for April. Conley graded out higher than some other more hyped cornerbacks like Florida's Quincy Wilson, Michigan's Jourdan Lewis and Iowa's Desmond King. With his well-rounded game and quality skill set, Conley has a real chance to be a Thursday night selection.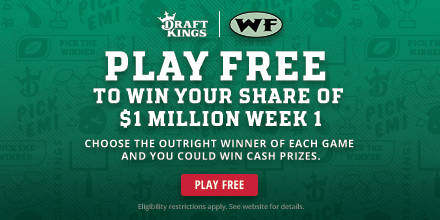 Montae Nicholson, S, Michigan State
Michigan State had a down 2016 season, which is playing into Nicholson going under the radar. He was a surprise early entry into the 2017 NFL Draft, but WalterFootball.com knows some team sources that really like Nicholson and are thinking of him as a candidate for Day 2 of the 2017 NFL Draft. Teams love Nicholson's skill set with good size at 6-foot-2, 219 pounds and speed to cover a lot of ground. He could rise if he puts together strong showings at the combine and in predraft-visit workouts.
John Ross, WR, Washington
There isn't a lot of media buzz about Ross, because more attention has been paid to wide receivers like Clemson's Mike Williams and Western Michigan's Corey Davis. Teams across the league expect Williams to be a top-20 pick, and some teams gave Davis second-round grades and expect him to go late Round 1. Multiple teams have told me that Ross has been given late first-round grades and they believe that he will go in the 20s. That would be fitting with other speed receivers in recent years like Will Fuller, Brandin Cooks and Kendell Wright. According to multiple teams, they believe that Ross could go ahead of Davis.
2017 NFL Draft Stock Down
Quincy Wilson, CB, Florida
This is a loaded cornerback draft, and in speaking to teams, it sounds like Wilson may have made a mistake in skipping his senior season. Wilson has a good skill set, but sources from multiple teams feel that Wilson is limited to being a press-man corner. That, along with some other concerns, has multiple teams grading Wilson as a second-round pick. Considering there are a lot of potential first-round corners, Wilson could slip to Friday night of the 2017 NFL Draft. If he would have returned for his senior year, improved, and then was in a weaker cornerback draft, Wilson could have had a better chance of being a first-round pick.
DeShone Kizer, QB, Notre Dame
Kizer makes this list two weeks in a row. Last week, teams across the NFL were having draft meetings in preparation for the NFL Scouting Combine. And I've talked to numerous teams across the league since then, yet I haven't found a team that loves Kizer. In fact, the team that likes him the most drafted a franchise quarterback in recent years and isn't in the market for a quarterback. There are a lot of lukewarm feelings on Kizer across the league. That could lead to him sliding significantly in the 2017 NFL Draft.
Athletically, Kizer has the best skill set of any quarterback prospect in the 2017 NFL Draft, but he struggled with consistency in his final season of college football. Lately, NFL Network's Daniel Jeremiah and Charley Casserly haven't even had Kizer in the first round of their mock drafts. Notre Dame had a rough season, and Kizer received his share of blame for that. Team sources say that Kizer is a good kid but his interviews will be big for him to answer questions on his leadership, accountability, and football I.Q.
Cam Robinson, OT, Alabama
In surveying six teams across the league, I found an even split among teams that thought Robinson would go slide in the draft or that he would go high. The teams that said believe Robinson will slide cited Robinson's inconsistencies from his junior season. Some team sources believe that the interviews, medical evaluation, and off-the-field concerns could push Robinson down. He did have a gun arrest roughly a year ago, but the charges were eventually dropped. One general manager of a playoff team said they liked Wisconsin's Ryan Ramczyk and Utah's Garett Bolles more than Robinson.
Three other teams, however, thought Robinson would go high. One team picking in the early teens didn't believe Robinson would get to their pick. One playoff team was hoping Robinson would slide, but didn't think it would happen. Still with a split across the league on Robinson's value, a draft-day slide is possible. It also is possible that Ramczyk or Bolles gets drafted ahead of him.
Comment...
NFL Picks
- Nov. 13
2019 NFL Mock Draft
- Nov. 8
2020 NFL Mock Draft
- Nov. 3
Fantasy Football Rankings
- Sept. 5
2019 NBA Mock Draft
- Aug. 13
NFL Power Rankings
- June 3