This new section highlights which players have improved or worsened their 2017 NFL Draft stock as the draft approaches.
By Charlie Campbell.
Send Charlie an e-mail here:
draftcampbell@gmail.com
Follow Charlie on Twitter
@draftcampbell
for updates.
2017 NFL Draft Stock Up
Jordan Willis, DE, Kansas State
Willis is one of the workout warriors for the 2017 NFL Draft as he impressed at the combine and his pro day. He showed impressive speed and athleticism after having a good senior year. All this is causing some to project Willis as being a first-round pick. Sources from teams aren't putting him there, but his workouts could cause him to go in Round 2 of the 2017 NFL Draft, which is higher than where he was entering the draft process.
Trevor Knight, QB, Texas A&M
Sources from multiple teams at the combine said that Knight was a sleeper who they liked. They feel he has a good athletic skill set and is a great leader. Some team sources say that he has the best leadership marks of any quarterback in the 2017 NFL Draft, including Clemson's Deshaun Watson and Texas Tech's Pat Mahomes. Both of them drew rave reviews as well. Some scouts feel that Knight could be a bigger and stronger version of Jeff Garcia in the NFL. After his combine performance, Knight has put himself in play as a late-round pick.
Zay Jones, WR, East Carolina
The 6-foot-2, 201-pound Jones has continued his impressive performances in the leadup to the 2017 NFL Draft. After being the best wideout at the Senior Bowl, Jones was superb at the combine, displaying dynamic speed with a 4.45-second time in the 40-yard dash. In the field drills, he was smooth with good hands. Some teams think that Jones has a shot at being a late first-round pick, and he could easily go in the second round of the 2017 NFL Draft.
Chris Godwin, WR, Penn State
There is a crowded group of second-day receivers for the 2017 NFL Draft, yet Godwin was able to stand out at the combine. He blazed a 4.42-second 40-yard dash time to validate the big vertical plays he made last season for Penn State. Godwin (6-1, 209) has the size to line up on the outside and the speed to stretch the field. He could be an excellent value pick on the second day of the 2017 NFL Draft.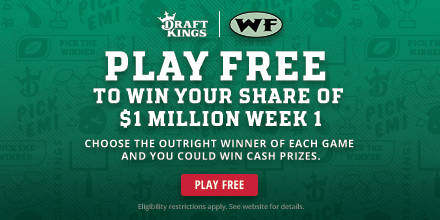 Shaquil Griffin, CB, Central Florida
There wasn't much of a buzz about Griffin heading into the combine, but he used the big stage to show off an impressive skill set. At 6-foot, 194 pounds, Griffin has good size, but then illustrated special speed with a 4.38-second time in the 40-yard dash. Griffin has good length and moved well in the field drills. His impressive combine could cause teams to take a second look at him and reevaluate where they would take him.
Evan Engram, TE, Ole Miss
Engram (6-3, 234) was expected to do well at the combine because he is a good athlete with speed. However, he surpassed expectations when he blazed a 4.42-second time in the 40-yard dash. It was the fastest time of any tight end and was tremendous for a player at his position. Engram ran faster than a lot of second-day wide receiver prospects. The 40 time should help Engram and could cause teams to think of drafting him sooner.
Kevin King, CB, Washington
The 6-foot-3, 200-pounder showed a lot of athletic potential at the combine, ripping off a 4.43-second time in the 40-yard dash and doing well in the field drills. Even though King is a tall cornerback, he isn't too stiff to turn to run with receivers. Sources from multiple teams think King will be a late first-round pick after his great showing at the combine.
2017 NFL Draft Stock Down
Sidney Jones, CB, Washington
Unfortunately, Jones has a stock down through no fault of his own; he suffered a significant injury at his pro day. In the final drill of the day, Jones reportedly suffered a torn Achilles. He will probably miss a significant portion of his, if not his entire, rookie season due to the injury. That could easily send him from being a surefire first-round pick to going a few rounds later. He still could end up being a superb value pick for a team and go on to a great NFL career, but this injury will definitely send his stock down for the 2017 NFL Draft.
Malik McDowell, DT, Michigan State
Late last week, WalterFootball.com reported that McDowell didn't interview well at the combine. Prior to the combine, teams had concerns about McDowell's work ethic and motor. When presented with questions on those topics, he didn't give good answers, and those issues will continue to be a weight on where he ends up on team's boards. Teams feel that McDowell is a first-round talent but could slide to Day 2 because of the concerns about his football character.
Caleb Brantley, DT, Florida
Like McDowell, teams said that Brantley interviewed poorly at the combine. Sources say that Brantley comes across as very immature. Teams had heard he had progressed in 2016 over previous seasons from the Florida staff, but he still is lacking maturity for the NFL. Brantley is a three-technique disruptor for a 4-3 defense and doesn't have a fit in a 3-4 defense. That limits his options, and now adding in these concerns could result in Brantley sliding to the second day of the 2017 NFL Draft.
Comment...
NFL Picks
- Nov. 15
2019 NFL Mock Draft
- Nov. 15
2020 NFL Mock Draft
- Nov. 3
Fantasy Football Rankings
- Sept. 5
2019 NBA Mock Draft
- Aug. 13
NFL Power Rankings
- June 3