This section breaks down many college football games each week and highlights how
2018 NFL Draft Prospects
have performed. Or look at the
2018 NFL Draft Stock
page.
By Charlie Campbell.
Send Charlie an e-mail here:
draftcampbell@gmail.com
Follow Charlie on Twitter
@draftcampbell
for updates.
Miami 41, Notre Dame 8
Notre Dame left tackle Mike McGlinchey is the top tackle prospect for the 2018 NFL Draft even though this game didn't feature a great performance. McGlinchey had problems with Miami sophomore defensive end Joe Jackson and gave up more pressure than he has in most games this year. The only other contest that McGlinchey had issues like this was versus Georgia in Week 2.

In the second quarter, McGlinchey was beaten by Jackson with speed around the corner to flush quarterback Brandon Wimbush out of the pocket. McGlinchey was then juked by a smaller linebacker blitzing off the edge in the third quarter, and that allowed a pressure toward the inside that flushed Wimbush out of the pocket. A few plays later, Jackson beat McGlinchey for a sack. Jackson used speed to get upfield and then when Wimbush climbed the pocket, Jackson was able to chase him down for a sack. In the fourth quarter, Miami ran a game and McGlinchey was late to react to a defensive tackle coming on a stunt. That let the defender get a strip-sack that was recovered by Miami.

McGlinchey also had plenty of plays with good blocks. He showed the athleticism to move with speed rushers and could anchor against bull rushes. On screens, McGlinchey used quickness to get downfield to hit blocks. While this wasn't as good as his other games this year, it wasn't damning. McGlinchey will remain as the top tackle for the 2018 NFL Draft and a future first-round pick.


Notre Dame wide receiver Eqaunimeous St. Brown has an early-round skill set, but it has been hard for him to show it this season, as Wimbush has struggled to pass the ball. Versus Miami, St. Brown had four receptions for 68 yards, and that was an improvement compared to most games this season.

In the first quarter, St. Brown got Notre Dame a first down using his frame to catch a slant for a short gain while taking a big hit. The next play, he got wide open running a deep post for a 35-yard touchdown, but Wimbush overthrew him incomplete again. St. Brown then got open along the sideline for a gain of about 20 yards. In the third quarter, St. Brown made a tough catch while taking a hard hit from a safety coming over the top for a gain of about 25 yards.

St. Brown has a big frame with the quickness to get downfield. He could end up being a steal if he slips to the second day of the 2018 NFL Draft.











Alabama 31, Mississippi State 24
Alabama wide receiver Calvin Ridley is a consensus first-rounder and likely the top wideout for the 2018 NFL Draft. He has played extremely well this year even though his numbers aren't huge. That is entirely because quarterback Jalen Hurts struggles as a passer and the Crimson Tide runs the ball a lot. Ridley showed his special skill even though Hurts once again struggled to get the ball to Ridley.

In the first quarter, Ridley got an opening on a crossing route in zone coverage. He was hit with an easy reception about 20 yards downfield, and then Ridley bolted downfield for a 64-yard gain. Ridley then got open down the deep sideline to make a 61-yard reception. Both catches set up short touchdown runs.

Ridley caused a pass interference penalty in the fourth quarter, and had a gain of about 20 yards on a dig route inside of zone coverage. He then hit a slant and exploded down the field for a chunk gain to get Alabama in Mississippi State territory. That set up the game-winning touchdown. Ridley totaled 171 yards on five receptions.

Ridley is a superb route runner. He is very fast and has reliable hands. He is almost a carbon copy of Amari Cooper. For the NFL, Ridley needs to add weight to his frame. This tape will help his draft grade.


Entering this season, I had Mississippi State quarterback Nick Fitzgerald as a potential second-day pick. He started out the year beating up on weak opponents before some ugly games where he really struggled as a pocket passer. Fitzgerald has played better in recent weeks, and that was the case against Alabama, as he fought hard while taking on a defense loaded with future NFL starters.

Early in the first quarter, Fitzgerald overthrew an open receiver downfield on what could have been a long gain or a touchdown. He started throwing the ball better after that, finding open receivers and moving the ball with his legs. In the third quarter, Fitzgerald powered through a linebacker on a short touchdown run. He then threw a bullet into a tight window on a slant to convert a third-and-9. It was a perfectly accurate throw with excellent timing to get 22 yards. That was a NFL pass from Fitzgerald. Late in the fourth quarter, Fitzgerald threw a terrible pass right to Alabama defensive back Hootie Jones, but Fitzgerald was fortunate the pass was so low that Jones couldn't control it for an interception.

Overall, Fitzgerald is still a work in progress. He completed 13-of-23 passes for 158 yards. He also ran for 66 yards on 21 carries with a touchdown. This game showed that Fitzgerald is improving, but he could use more growth as a pocket passer before going to the NFL. Sources tell me that Fitzgerald is almost certainly returning to Mississippi State next year, and that is a wise decision as Dan Mullen has done a nice job of developing quarterbacks.


Mississippi State left tackle Martinas Rankin is a good player as an athletic blocker who is quick to the second level and is dependable in pass protection. Rankin is best using his mobility and athleticism in the ground game, as he doesn't pack a punch at the point of attack. He doesn't have heavy hands and doesn't get movement by knocking defenders off the ball. Rankin has nice size, length and athletic ability, but he has to get stronger for the NFL. He can get pushed around and knocked down too much. Thus, Rankin is a second-day talent but he could end up being a good pro after he works on getting stronger in a professional strength program.


Alabama running back Damien Harris has been a steady runner and the lead back this season for the Crimson Tide. Harris continued his strong play against Mississippi State. In the third quarter, Harris got loose running a trap behind the left side and picked up 48 yards before getting caught from behind. Harris then went up the middle and broke a few tackles to score on a 14-yard run. He totaled 93 yards on only eight carries as Mississippi State did a good job of keeping Alabama's offense on the sideline. This tape should help Harris to be a second-day pick.

For the NFL, Harris is a well-rounded back that can contribute as a runner, receiver and blocker. He is a running back similar to Doug Martin and could be a second-round pick in the 2018 NFL Draft.


Alabama safety Ronnie Harrison and cornerback Anthony Averett are both early-round prospects who had some coverage issues against Mississippi State. In the first quarter, a big receiver got some late separation against Averett with a shove as they were tangled up, and that got him open for a gain of 24 yards. It illustrated that Averett being a thin-framed guy, he can get pushed around by bigger receivers. In the second quarter, Harrison was burned by tight end Farrod Green running down the seam for a 23-yard gain. Harrison was looking in the backfield and caught flat-footed. That set up a Mississippi State touchdown.

Both players had concerns by sources confirmed in this game. Averett can get pushed around and gives up separation. Harrison is more of a strong safety who can struggle in man coverage. He is going to need to work on that a lot for the NFL as safeties need to be able to help in coverage on receivers and tight ends.


Auburn 40, Georgia 17
Auburn cornerback Carlton Davis is an early-round prospect for the 2018 NFL Draft. Davis had good coverage downfield in the second quarter, but the wideout had a late push off and made a leaping grab for 30 yards. Davis then had tight coverage and shoved the wide out of bounds to force a third-down incompletion. Davis could have been called for a penalty on that play. In the third quarter, Davis had excellent coverage on a deep ball to force the pass out of bounds for a third-down incompletion.

Overall, this was a solid performance, but not overly impressive one. For the NFL, Davis is going to have to cut down on the contact. He grabs and fights with receivers too much as they run downfield. Davis has good size, quickness and some athleticism. However, he can struggle with speed downfield, and as a result, he tries to disrupt the route with contact. He is going to have to try to improve his footwork and timing for the NFL to avoid getting flags. If Davis enters the 2018 draft, he will probably go on the first or second day.


Georgia running backs Nick Chubb and Sony Michel have been very good this season, but the Auburn defense surprisingly kept them in check. In the first quarter, Chubb took a direct snap and powered into the end zone from a few yards out. That was the only highlight for the Bulldog runners. Chubb (11-27) and Michel (9-21) were non-factors, as the Tigers won at the point of attack. This tape won't help either prospect, but it shouldn't hurt them, as they have played really well this season.


Auburn linebacker Jeff Holland has turned himself into a NFL prospect this year, as he has been a dangerous edge rusher. Holland continued to impress, as he had a lot of pressure against Georgia. In the first quarter, Holland used his speed and a rip move on the right tackle to get a sack that got his defense off the field. The 6-foot-2, 249-pounder has some size issues for the NFL, but he definitely has some juice off the edge with speed to chase down quarterbacks. Holland would fit best as a 3-4 outside linebacker in the NFL.


Auburn quarterback Jarrett Stidham has improved as the season has progressed, and Stidham played well against a good Georgia defense. He threw the ball accurately and made good decisions. Stidham was 16-of-23 for 214 yards with three touchdowns. He should return to Auburn next year to improve for the NFL, but he has pro potential if he continues to improve as a pocket passer.


Two prospects who helped themselves in this game were Auburn running back Kerryon Johnson and guard Braden Smith. Smith was effective at opening holes at the point of attack and getting movement in the ground game. Johnson, meanwhile, totaled 167 yards on 32 carries. Sources have told me that they see Smith as a second-day guard for the NFL. Johnson has mid-round potential, and this tape will definitely help his stock, as he showed quickness with decisive downhill running taking on a tough defense.






Clemson 31, Florida State 14
Florida State safety Derwin James is one of the top talents for the 2018 NFL Draft, and he was seeing an offense with some NFL weapons. In the first half, Hunter Renfrow got open running a dig in front of James and the pass was ruled incomplete, but it easily could have been that Renfrow was down by contact before the ball was knocked loose. James then made a bad mental mistake, trying to pick up a fumble in the backfield rather than diving on the ball. James and two other teammates tried to bat the ball around in their hands, and then Clemson recovered. It was Florida State's season boiled down to a single play.

Otherwise, the game went away from James. Clemson struggled to pass, and James helped provide good coverage on the Tiger wideouts. This season, James had an issue with some missed tackles, but that didn't rear up against Clemson. Considering Florida State may not qualify for a bowl game, James may only have three more games to impress NFL evaluators.


Florida State wide receiver Auden Tate and Clemson wide receiver Deon Cain are both early-round talents that disappointed in this game. In the third quarter, Cain got wide open running down the sideline and then dropped a well-thrown pass. It could have been about a 65-yard touchdown. Meanwhile, Tate got wide open running a post route on a fourth-and-short, but Tate didn't lay out to have the pass bounce off his hands for an incompletion. This tape isn't going to help either prospect.


Clemson quarterback Kelly Bryant is draft-eligible, but this game illustrated he should go back to school. Bryant had some issues throwing the ball with some passes off the mark. He also had two fumbles inside the Florida State 5-yard line while running with the ball. In the fourth quarter, Bryant fumbled the ball away again. It was critical, as it set up the Seminoles inside Clemson territory, down by only three points with less than seven minutes remaining. He was lucky that his defense bailed him out with an interception. Bryant was 20-of-30 for 151 yards against Florida State.

Bryant has a good skill set with size and arm strength, but he has to improve his accuracy, field vision, decision-making and ball security. Considering this is his first year as a starter, it is understandable that returning to Clemson in 2018 would be his best move.


Clemson defensive end Clelin Ferrell has turned himself into a first-round prospect this season, and this tape will help him to be selected on Thursday night. In the second quarter, Ferrell came around the blind side to get a strip-sack in the end zone and Florida State was lucky that an offensive lineman was able to recover the ball and get it out of the end zone. Ferrell used pure speed to burn the left tackle and hunt down James Blackmon. In the third quarter, Ferrell got called for a roughing-the-passer penalty that was a questionable call. Ferrell then buried Blackmon, looping down the middle on a stunt. All night, Ferrell was getting the better of the Seminole blockers with his excellent speed. Ferrell looks like a future first-round pick.


Clemson defensive tackle Christian Wilkins and defensive end Austin Bryant could also join Ferrell in the first round. They proved why as they got the better of the Florida State offensive line as well. In the second quarter, Wilkins had a good speed rush to bury Blackmon with a hard hit in the end zone. At the start of the fourth quarter, Wilkins fought through the right guard and then sacked Blackmon as he stepped up in the pocket.

Bryant, meanwhile, used strength to fight through a few blocks and get a coverage sack when Blackmon stepped up in the pocket in the opening quarter. This tape should help both Wilkins and Bryant to grade out as first-rounders even though the Florida State offensive line is bad.


The Seminole defense played well to limit Clemson's offense. The player who really impressed in the early portion of the game was defensive tackle Derrick Nnadi. He had a bunch of good run stuffs and used speed to cause disruption in the backfield. Nnadi fought off double teams for some plays as well. Nnadi (6-1, 305) lacks length for the NFL, but he could be a nice tackle for a 4-3 defense as a second-day talent.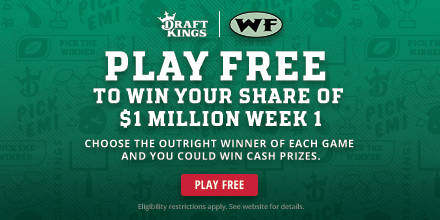 Ohio State 48, Michigan State 3
Ohio State's Billy Price is the top center for the 2018 NFL Draft. Price proved why he is held in that regard as he put on clinic against Michigan State. Early in the first quarter, Price got movement at the point of attack to open a huge hole for running back Mike Weber to take off on a 43-yard touchdown run. Shortly later, he pushed a defensive tackle back a few yards on the goal line to generate space that was turned into a short touchdown run for the Buckeyes. Price then showed his quickness and athleticism by firing to the second level to hit a block on an inside linebacker to spring Weber for a gain of about 15 yards.

Price was very good in pass protection as well. Some centers can struggle with one-on-ones and need to be helping a guard, but Price was taking out a defender on his own. Price has a strong base to anchor against bull rushers with the upper body strength to sustain blocks. He also is agile enough to handle speed on the inside.

Price's one mistake was shotgun snap that was a bit high, as it bounced off J.T. Barrett's hands and over his shoulder that turned into a big loss for Ohio State. It wasn't a good snap, but Barrett could have caught it.

Sources have said that they could see Price being a late first-rounder. They say he is a better prospect than Josh Garnett and Laken Tomlinson, who both were late first-round picks. Price has ideal size, good strength, quickness and athleticism to be a starting center. This tape will help Price's chances of being a Thursday night selection.


Michigan State running back L.J. Scott destroyed Ohio State last year, ripping off 160 yards on the talented Buckeyes' defense. This year, that wasn't possible, as Ohio State had 35 points in the first half to all but eliminate a rushing attack for the Spartans.

Even still, Scott had some nice plays, including a 20-yard run to open the game showing speed and nice cutting ability. In the final seconds of the end of the first half, Scott ran a nice out route to get open for a first down while getting out of bounds to preserve a scoring opportunity. Scott totaled 30 yards on eight carries with two receptions for 16 yards. Team sources think he has second-day talent, but this tape won't help him much because he lacked the opportunities to show his talent.


This has been a frustrating season for Ohio State wide receiver Parris Campbell and running back Mike Weber. Both were potential first-rounders entering the season. Campbell has been held back by the passing limitations of J.T. Barrett and a concussion that caused him to miss time.

Early on, Campbell caught a slip screen, and he broke a tackle while using his speed to get downfield for a 30-yard screen. Campbell then made a phenomenal play, blocking two Michigan State defensive backs out of the play to set up a short touchdown on a bubble screen. Campbell bulled a cornerback back into a safety to take out the potential tacklers. He caught three passes for 49 yard against Michigan State.

Weber lost the starting running back job because of a hamstring injury early in the year, but he is a talented runner who has had a lack of opportunities this season. In the first quarter, Weber exploded down the middle of the field for a 43-yard touchdown. Weber then had almost the same exact play in the second quarter, except this time, he scored with an 82-yard touchdown. Weber totaled 162 yards on nine carries with two touchdowns.

This tape will help both of their draft grades if they declare early, but they probably should return to Ohio State for 2018 to put together better seasons before going pro.






N.C. State 17, Boston College 14
There was lots of NFL defensive line talent in this game with three potential first-rounders in N.C. State defensive end Bradley Chubb, Boston College defensive end Harold Landry, and Boston College defensive end Zach Allen. Of that trio, Chubb is the highest-rated and a future top-10 pick in the 2018 NFL Draft. He also was the most impressive in this game.

In the first quarter, Boston College rolled the pocket away from Chubb, but he still chased down the quarterback from the backside to get a strip-sack from behind. While Boston College recovered the loose ball, this coverage sack still forced a punt. Chubb had another pressure that helped force an interception. Chubb then fought off a chip, used power to knock the right tackle off balance, and then sped to the inside to get a strip-sack that was recovered by N.C. State this time. It was a phenomenal play by Chubb that showed why he is a special prospect.

Chubb used his speed to run around the right tackle, strong hands to fight off a block, and then agility to turn to the quarterback and get another sack in the third quarter. Chubb then helped a blitzing cornerback to get a fourth-quarter sack.

This game was further proof of Chubb being at least a top-10 if not a top-five pick. Chubb has an overwhelming combination of speed, strength, size and athleticism. He is a dynamic pass-rusher with the speed to burn tackles and strength to go through them. He also is tough against the run and plays with a steady motor. On the field and sideline, Chubb plays with passion and illustrates a love for the game. This tape will help Chubb to be one of the first players selected next April.


Boston College defensive end Zach Allen played well, too. He is a thick run defender who fights hard on a down-by-down basis. On the first third down of the game, Allen bulled through a guard to collapse the pocket and hit the quarterback as he threw. Allen then used speed to get down the line and make a goal-line tackle for no gain. Early in the third quarter, Allen showed good recognition to see N.C. State setting up a slip screen, but he fought off a block to make a leaping breakup that he almost intercepted.

Boston College runs a ground-based offense, and Allen illustrated that he is a good run defender. All day, he was stuffing runs and getting on tackles. He had around 10 tackles against the Wolfpack. The 6-foot-5, 285-pound Allen is a tough run defender who is strong to hold his ground at the point of attack. He anchors well and is tough to move. In the NFL, Allen will be an asset as a run defender playing end in a 4-3 or 3-4 defense.

As a pass-rusher, Allen has an impressive first step and burst out of his stance for a heavy defensive end. He has strength to get pressure on the bull rush and speed to close. He could use more pass-rushing moves for the NFL. With his size and strength, it would be nice to see him add a club or rip move. Allen looks like a potential first-rounder in the 2018 NFL Draft.


Boston College defensive end Harold Landry wasn't as impressive. He didn't make big plays in the run game or the pass rush. He did have some pressures, but this tape indicates that Landry isn't the high first-round prospect that some in the media have projected. Landry is not a good run defender and there are times where he looks disinterested in defending the ground game. Landry is more of a late first-round or early second-round pick who would fit best as a 3-4 outside linebacker.










Comment...











NFL Picks - Oct. 22


2020 NFL Mock Draft - Oct. 20


2019 NFL Mock Draft - Oct. 18


Fantasy Football Rankings - Sept. 5


2019 NBA Mock Draft - Aug. 13


NFL Power Rankings - June 3