Potential 2018 NFL Draft Trade: Bills-Colts
Update: The Bills have swapped the 12th- and 21st-overall picks with the Bengals, which is a sign that they'll want to trade up again, much like the Eagles did with Carson Wentz. I'm going to adjust this page for the changes in the wake of the Buffalo-Cincinnati trade.
If you've checked out our
NFL Draft Rumors
page, you may have read that the Bills are reportedly attempting to move into the top 10. They have two first-round picks, selecting 12th and 22nd overall. They need a quarterback, but four of the five first-rounders - Josh Rosen, Sam Darnold, Josh Allen, Baker Mayfield - almost certainly won't fall that far.
The Bills desperately have to find a signal-caller, so unless they sign Kirk Cousins or Case Keenum, or trade for Nick Foles, they'll have to find one in the 2018 NFL Draft. The problem is that they'll have to move up for one, hence the draft rumors.
The 12th and 22nd selections are worth a combined 1,980 points, per the
NFL Draft Trade Value Chart
, which puts them shy of third-overall (2,200). However, if they throw in the third-round pick they received from Cleveland in the Tyrod Taylor trade, it'll get them there. Thus, a trade between the Bills and Colts is very possible.
The Colts have tons of holes on their roster, thanks to former general manager Ryan Grigson's poor decision-making, so they're desperate to move down and obtain more assets. Picking up two first-round picks, as well as a third, would allow them to add depth to their defense, while Glenn would improve a horrible offensive line.
Here are some potential options for the Colts at 12 and 22:
Running Back:
Sony Michel, Georgia; Ronald Jones, USC. Either player, taken at No. 22, could replace a 35-year-old Frank Gore. Indianapolis could just as easily take a running back atop Round 2, however.
Wide Receiver:
Calvin Ridley, Alabama; Courtland Sutton, USC. T.Y. Hilton is the only legitimate receiving threat the Colts have, so a second receiver is needed. This is another option at No. 22.
Defensive End:
Marcus Davenport, UTSA; Sam Hubbard, Ohio State. Bradley Chubb is currently the favorite to be chosen third overall, but if a trade happens, one of these players could be taken to start across from Jabaal Sheard. Davenport can be taken at No. 12, while Hubbard is an option at No. 22.
Linebacker:
Tremaine Edmunds, Virginia Tech; Roquan Smith, Georgia; Rashaan Evans, Alabama; Leighton Vander Esch, Boise State. The Colts have one of the weakest linebacking corps in the NFL. They can't cover tight ends or pass-catching running backs whatsoever. Edmunds and Smith would be options at 12, while Evans and Vander Esch would be considered at 22.
Cornerback:
Joshua Jackson, Iowa; Jaire Alexander, Louisville; Donte Jackson, LSU; Carlton Davis, Auburn; Mike Hughes, Central Florida; Isaiah Oliver, Colorado. Vontae Davis is gone, so Indianapolis' only viable cornerback is Rashaan Melvin, who is a free agent. The Colts need to bolster this area during the offseason.
The Bills, meanwhile, would ensure themselves a top-three quarterback in this class. If they want Sam Darnold, Josh Rosen or Josh Allen, they'll have to at least offer this deal to the Colts. What's tricky, however, is that Buffalo could have just one of the signal-callers available at No. 3, so the front office would have to feel comfortable with all three players, or at least have a strong sense of what the Browns and Giants will do, prior to pulling the trigger.
Let me know what you think! Who would win this trade? I've set up a poll below, and you can comment as well.
In the meantime, I wanted to run through what the 2018 NFL Draft would look like if this trade were to happen. I've used my current
2017 NFL Mock Draft
as a template:
1. Browns: Saquon Barkley, RB, Penn State
2. Giants: Quenton Nelson, G, Notre Dame
3.
Bills:
Sam Darnold, QB, USC
Josh Allen and Baker Mayfield are options as well. I just went with Darnold because I like the other fits for Allen and Mayfield.
4. Browns: Bradley Chubb, DE, N.C. State
5. Broncos: Josh Rosen, QB, UCLA
6. Jets: Josh Allen, QB, Wyoming
7. Buccaneers: Minkah Fitzpatrick, S, Alabama
8. Bears: Denzel Ward, CB, Ohio State
9. 49ers: Tremaine Edmunds, LB, Virginia Tech
10. Raiders: Derwin James, S, Florida State
11. Dolphins: Baker Mayfield, QB, Oklahoma
12.
Colts:
Marcus Davenport, DE, UT-San Antonio
13. Redskins: Da'Ron Payne, NT, Alabama
14. Packers: Courtland Sutton, WR, SMU
15. Cardinals: Mike McGlinchey, OT, Notre Dame
16. Ravens: Calvin Ridley, WR, Alabama
17. Chargers: Vita Vea, NT, Washington
18. Seahawks: Isaiah Wynn, G, Georgia
19. Cowboys: Roquan Smith, LB, Georgia
20. Lions: Sony Michel, RB, Georgia
21. Bengals: James Daniels, C, Iowa
22.
Colts:
Donte Jackson, CB, LSU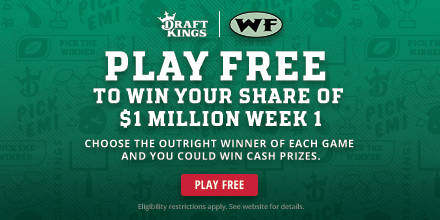 I think this is a good plan for the Colts. They don't get Bradley Chubb, but they get a slightly lesser edge prospect in Marcus Davenport, all while picking up a starting cornerback.
The Colts also have the 36th-overall pick in the 2018 NFL Draft. They can use that choice on a linebacker (Evans, Vander Esch) and fill their running back needs in free agency or the third round.
Potential Bills-Colts Trade Poll
What do you guys think? Should the Bills and Colts pull the trigger on this trade?
Comment...
NFL Picks
- Nov. 13
2019 NFL Mock Draft
- Nov. 8
2020 NFL Mock Draft
- Nov. 3
Fantasy Football Rankings
- Sept. 5
2019 NBA Mock Draft
- Aug. 13
NFL Power Rankings
- June 3