Potential 2018 NFL Draft Trade: Bills-Giants
In another potential
NFL Draft Trades
page, I discussed the potential of the Bills moving up with the Colts. It's obvious that Buffalo wants to trade up for a quarterback, as the swap with Cincinnati was the first of two or three moves to land a blue-chip signal-caller.
The more I thought about it, the more it makes sense to me that Buffalo could move all the way up to No. 2 overall rather than No. 3. If they move up to Nos. 3 or 4, they won't know what the teams in front of them will do. Sure, the Giants may pass on a quarterback, and the Colts will certainly do so, but both teams could trade with other squads, and then Buffalo would miss out on the quarterback it really wants. How much of a disaster would that be? Trading twice to miss out on the desired prospect would be an absolute embarrassment.
Plus, New York seemingly would be open to a deal. If the Browns take Saquon Barkley first overall, the Giants will be forced into taking a guard No. 2 overall unless they go with a quarterback. A signal-caller is definitely possible, but given all the drama that went down with Eli Manning last year, why would new head coach Pat Shurmur want to deal with the same stuff Ben McAdoo went through? Shurmur already said that he believes Manning could play for another season or two, and if he really thinks that is true, he'll want to add as much talent around Manning as possible.
So, what would the deal be? Here it is:
Bills acquire:
No. 2 overall (2,600 points) = 2,600 points
Giants acquire:
Nos. 12 (1,200 points), 22 (780 points), 56 (340 points), 65 (265) = 2,585 points
(see
NFL Draft Trade Chart
for point values)
Here are some potential options for the Giants at 12 and 22:
Running Back:
Sony Michel, Georgia; Ronald Jones, USC.
Either player, taken at No. 22, would offer a big-time upgrade at running back.
Wide Receiver:
Calvin Ridley, Alabama; Courtland Sutton, USC.
I don't think receiver is the pick, but it can't be counted out with Brandon Marshall being a big-time bust.
Offensive Tackle:
Matt McGlinchey, OT.
I don't think McGlinchey will be available at No. 22, so taking him 12th overall would make sense to bolster the offense.
Interior Offensive Line:
James Daniels, C/G; Isaiah Wynn, G; Will Hernandez, G.
Quenton Nelson is reasonable at No. 2. Interior offensive linemen could also be targeted at No. 22 overall.
Defensive End:
Marcus Davenport, UTSA; Sam Hubbard, Ohio State.
Olivier Vernon doesn't seem long for New York, and the Giants have a history of selecting pass-rushers when they don't have an immediate need for one. Davenport could be the best player available at 12th overall.
Linebacker:
Tremaine Edmunds, Virginia Tech; Roquan Smith, Georgia; Rashaan Evans, Alabama; Leighton Vander Esch, Boise State.
Despite the addition of Alec Ogletree, linebacker remains a huge need for the Giants. Edmunds would be the option at No. 12 overall, and perhaps Smith if he checks out medically.
Cornerback:
Jaire Alexander, Louisville; Joshua Jackson, Iowa; Donte Jackson, LSU; Carlton Davis, Auburn; Mike Hughes, Central Florida; Isaiah Oliver, Colorado.
New York cut Dominique Rodgers-Cromartie, while there is some concern with Eli Apple.
Let me know what you think! Who would win this trade? I've set up a poll below, and you can comment as well.
In the meantime, I wanted to run through what the 2018 NFL Draft would look like if this trade were to happen. I've used my current
2018 NFL Mock Draft
as a template:
1. Browns: Saquon Barkley, RB, Penn State
2.
Bills:
Sam Darnold, QB, USC
3. Colts: Bradley Chubb, DE, N.C. State
4. Browns: Denzel Ward, CB, Ohio State
5. Broncos: Josh Rosen, QB, UCLA
6. Jets: Josh Allen, QB, Wyoming
7. Buccaneers: Quenton Nelson, G, Notre Dame
8. Bears: Tremaine Edmunds, LB, Virginia Tech
9. 49ers: Minkah Fitzpatrick, S, Alabama
10. Raiders: Derwin James, S, Florida State
11. Dolphins: Baker Mayfield, QB, Oklahoma
12.
Giants:
Marcus Davenport, DE, UT-San Antonio
13. Redskins: Da'Ron Payne, NT, Alabama
14. Packers: Jaire Alexander, CB, Louisville
15. Cardinals: Mike McGlinchey, OT, Notre Dame
16. Ravens: Courtland Sutton, WR, SMU
17. Chargers: Vita Vea, NT, Washington
18. Seahawks: Isaiah Wynn, G, Georgia
19. Cowboys: Roquan Smith, LB, Georgia
20. Lions: Sony Michel, RB, Georgia
21. Bengals: James Daniels, C, Iowa
22.
Giants:
Rashaan Evans, LB, Alabama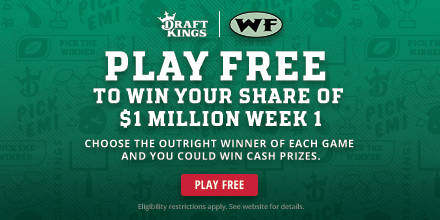 I think this is a good plan for the Giants. They miss out on Quenton Nelson, but they get to upgrade two areas on defense. They can then use all of their second-day selections to bolster their offensive line and rushing attack.
The Bills, meanwhile, guarantee themselves Sam Darnold, who could be regarded as the top quarterback in this class.
Potential Bills-Giants Trade Poll
What do you guys think? Should the Bills and Giants pull the trigger on this trade?
Comment...
NFL Picks
- Sept. 24
2019 NFL Mock Draft
- Sept. 20
Fantasy Football Rankings
- Sept. 5
2019 NBA Mock Draft
- Aug. 13
2020 NFL Mock Draft
- Aug. 1
NFL Power Rankings
- June 3