Potential 2018 NFL Draft Trade: Patriots-Bears
In the Potential 2018 NFL Draft Trades series, I've examined the Bills moving up thus far in the
Bills-Giants NFL Draft Trade
, and I also discussed a potential
Saints-Packers NFL Draft Trade
where New Orleans obtains Drew Brees' successor. Last week, I mentioned a
Browns-Giants NFL Draft Trade
, where the two teams would swap the top two choices.
Let's talk about an actual trade that happened. The Patriots just acquired the No. 23 overall selection from the Rams for Brandin Cooks. You can view my thoughts on this deal on the
NFL Trade Grades
page.
The initial reaction to this was that the Patriots would use both first-round choices to acquire Odell Beckham Jr. from the Giants. However, that conversation has shifted to New England moving up for a quarterback. CBS' Jason La Canfora reported that the Patriots were gearing up to trade for a signal-caller. Benjamin Albright of 104.7 FM Denver then tweeted that he received word that the Patriots like Josh Rosen, who could be falling out of the top five picks.
If Rosen slips because of his worrisome off-the-field concerns, the Patriots could pull the trigger. I think moving into the top five would cost too much, but they could definitely slide up to Nos. 6-10. They have a recent history of trading with the 49ers, but I wanted to concentrate on the Bears.
First, here's the actual trade:
Patriots acquire:
Nos. 8 (1,400 points) and No. 105 (84 points) overall = 1,484 points
Bears acquire:
Nos. 23 (760 points), 31 (600 points) and No. 95 (120 points) = 1,480 points
(see
NFL Draft Trade Chart
for point values)
In short, the Patriots give up both firsts and swap Nos. 95 and 105 to move up to eighth overall in order to land Rosen.
Here are some potential options for the Bears at 23 and 31:
Running Back:
Derrius Guice, LSU; Sony Michel, Georgia; Ronald Jones, USC; Kerryon Johnson, Auburn.
Jordan Howard is the subject of trade rumors right now, so if those turn out to be true, Chicago could use this opportunity to find a new running back.
Offensive Tackle:
Kolton Miller, UCLA; Connor Williams, Texas.
The Bears need to upgrade their interior offensive line, but right tackle could stand to be bolstered as well.
Guard:
Isaiah Wynn, Georgia; Will Hernandez, UTEP.
As mentioned, Chicago has to fix the interior blocking, thanks to the release of Josh Sitton.
Edge Rusher:
Harold Landry, Boston College; Sam Hubbard, Ohio State.
The Bears lost several edge rushers this offseason, so they'll have to find some new players who can get to the quarterback.
Linebacker:
Rashaan Evans, Alabama.
Jerrell Freeman was released, so Chicago will have to find someone new to start next to Danny Trevathan.
Let me know what you think! Who would win this trade? I've set up a poll below, and you can comment as well.
In the meantime, I wanted to run through what the 2018 NFL Draft would look like if this trade were to happen. I've used my current
2018 NFL Mock Draft
as a template.
1. Browns: Josh Allen, QB, Wyoming
2. Bills: Sam Darnold, QB, USC
3. Jets: Baker Mayfield, QB, Oklahoma
4. Browns: Saquon Barkley, RB, Penn State
5. Broncos: Quenton Nelson, G, Notre Dame
6. Colts: Bradley Chubb, DE, N.C. State
7. Buccaneers: Derwin James, S, Florida State
8.
Patriots:
Josh Rosen, QB, UCLA
9. 49ers: Denzel Ward, CB, Ohio State
10. Raiders: Vita Vea, NT, Washington
11. Dolphins: Minkah Fitzpatrick, S, Alabama
12. Giants: Tremaine Edmunds, LB, Virginia Tech
13. Redskins: Da'Ron Payne, NT, Alabama
14. Packers: Marcus Davenport, DE, UTSA
15. Cardinals: Mike McGlinchey, OT, Notre Dame
16. Ravens: D.J. Moore, WR, Maryland
17. Chargers: Roquan Smith, LB, Georgia
18. Seahawks: Isaiah Wynn, G, Georgia
19. Cowboys: Leighton Vander Esch, LB, Boise State
20. Lions: Joshua Jackson, CB, Iowa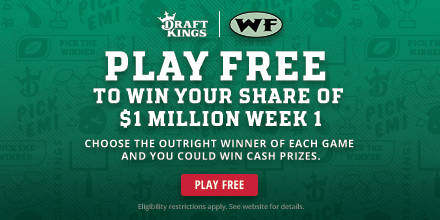 21. Bengals: James Daniels, C, Iowa
22. Giants: Courtland Sutton, WR, SMU
23.
Bears:
Harold Landry, DE/OLB, Boston College
24. Panthers: Jaire Alexander, CB, Louisville
25. Titans: Sam Hubbard, OLB, Ohio State
26. Falcons: Taven Bryan, DT, Florida
27. Saints: Lamar Jackson, QB, Louisville
28. Steelers: Rashaan Evans, LB, Alabama
29. Jaguars: Calvin Ridley, WR, Alabama
30. Vikings: Will Hernandez, G, UTEP
31.
Bears:
Derrius Guice, RB, LSU
This trade makes sense for both sides. The Bears aren't in a great spot at No. 8 because the top three non-quarterbacks - Saquon Barkley, Bradley Chubb, Quenton Nelson - are almost certain to be off the board. Tremaine Edmunds and Roquan Smith make sense, but it would be better for Chicago to trade down.
The Patriots, meanwhile, would get their quarterback of the future. Then again, knowing Tom Brady's longevity, New England will probably be forced into trading Rosen in four years!
Potential Patriots-Bears Trade Poll
What do you guys think? Should the Patriots and Bears pull the trigger on this trade? And who wins the deal?
Comment...
NFL Picks
- Sept. 20
2019 NFL Mock Draft
- Sept. 20
Fantasy Football Rankings
- Sept. 5
2019 NBA Mock Draft
- Aug. 13
2020 NFL Mock Draft
- Aug. 1
NFL Power Rankings
- June 3