Want to get to know the draft prospects for the 2019 NFL Draft? This weekly column breaks down the best matchups to watch each week in college football.
By Charlie Campbell.
Send Charlie an e-mail here:
draftcampbell@gmail.com
Follow Charlie on Twitter
@draftcampbell
for updates.

Georgia vs. LSU; Saturday, Oct. 13, 3:30 PM ET CBS
There are a few excellent draft matchups in Week 7, but many. A lot of good teams with draft talent are playing weak opponents. Georgia versus LSU is one of the exceptions and will see some good draft talent going head-to-head. Bulldogs wide receiver Riley Ridley is an early-round talent who will see LSU's Greedy Williams. Williams is in the running to the top cornerback for the 2019 NFL Draft and will be facing an efficient passing attack that has knack for some timely big plays. Georgia cornerback DeAndre Baker is another first-round candidate to watch when the Tigers have the ball.
LSU linebacker Devin White is the top non-pass-rushing linebacker for the 2019 NFL Draft. Georgia has a tremendous rushing attack with a talented stable of backs who will challenge White.

Washington vs. Oregon; Saturday, Oct. 13, ABC/ESPN2 3:30 PM ET
This will be a great game to evaluate Oregon quarterback Justin Herbert. Herbert is the top quarterback prospect for the 2019 NFL Draft and is taking on a defense with lots of NFL talent. Defensive tackle Greg Gaines, safety Taylor Rapp, safety JoJo McIntosh, cornerback Jordan Miller and cornerback Byron Murphy are all pro prospects who could be early-round picks. If Herbert plays well against Washington, that will really help his draft grade.
On the other side of the ball, the Huskies have a talented running back in Myles Gaskin who could be an early-round selection. Oregon edge rusher Jalen Jelks is an early-round prospect who will be challenged in the ground game by Gaskin and Washington right tackle Kaleb McGary. Jelks is a lean pass-rusher, so showing run-defense ability against the Huskies would help his draft grade.

Alabama vs. Missouri; Saturday, Oct. 13, 7:00 PM ET ESPN
There are a lot of good draft matchups in this game, which has one of the top quarterback prospects in Missouri's Drew Lock taking on a defense loaded with NFL talent. Alabama three-technique rusher Quinnen Williams could be one of the first players selected next April, while nose tackle Raekwon Davis could go as a top-20pick and defensive tackle Isaiah Buggs should go in the early rounds. They will make it hard for Lock to step up in the pocket, and he will have to hang tough against their rush.
Missouri tight end Albert Okwuegbunam, who could be the top receiving tight end for the 2019 NFL Draft, will be seeing a bunch of NFL defenders. Crimson Tide safety Deionte Thompson could be the top safety in the the 2019 NFL Draft, while linebacker Mack Wilson may go on Day 2, although he is an excellent linebacker in pass coverage. Both of them will be challenged by Okwuegbunam.
Missouri wideout Emmanuel Hall is usually fast and explosive, but he has been hobbled by injury. If he's healthy, his speed could make one to watch.
On the other side of the ball, Missouri defensive tackle Terry Beckner is an early-round candidate who will see a quality interior blocker in Alabama's Ross Piersbacher. Crimson Tide tackle Jonah Williams should go in the first few rounds next April as should with Alabama running back Damien Harris.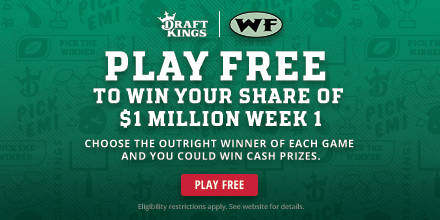 Wisconsin vs. Michigan; Saturday, Oct. 13, 7:30 PM ET ABC
There are a number of solid defensive front seven draft prospects in this game with good battles of future NFL players in the trenches. Wisconsin right tackle David Edwards has gotten some first-round hype, but he needs a good game after getting embarrassed by BYU. Michigan defensive end Rashan Gary could be a top-10 pick next April, while the other end, Chase Winovich, has been superb this year and could be a Thursday night selection as well. When they rush on the inside, they will test Badgers guard Michael Deiter, who could be a second-day pick in the 2019 NFL Draft.
Wisconsin has a trio of linebackers who are NFL prospects in T.J. Edwards, Andrew Van Ginkel and Ryan Connelly. They were disappointing in the loss to BYU, so they could use a big game versus Michigan as well. Wolverines quarterback Shea Patterson is a pro prospect who has disappointed this year. His ability to handle the pass rush will be tested by Wisconsin's linebackers and some young talent on the defensive line.
Comment...
NFL Picks
- Oct. 17
2020 NFL Mock Draft
- Oct. 13
2019 NFL Mock Draft
- Oct. 11
Fantasy Football Rankings
- Sept. 5
2019 NBA Mock Draft
- Aug. 13
NFL Power Rankings
- June 3