I received many e-mails and tweets about my 2015 NFL Mock Draft and the upcoming NFL Draft in general. To share the answers to the questions publicly, I decided to start up a mailbag column. Pass along your NFL draft questions and comments. I'll put together a mailbag periodically that answers questions/comments sent via email
draftcampbell@gmail.com
or on Twitter
@draftcampbell
.
June 18, 2014
From Joseph Tafar, California

"Why does it seem like in every single mock draft for the past 10 drafts the Cardinals NEED a QB. Sometimes it is understandable but I just don't get why almost every single draft expert predicts a QB to us at some point within the first couple rounds year after year."

"Last year really pissed me off especially, I did not get why almost every draft site mocked us Derek Carr in the first round or Zach Mettenberger in the second, keeping in mind Carson Palmer just ended the season very well and Bruce Arians said that Palmer easily has enough juice in him to go 2-3-4 more years, and this year is no different. Many drafts have us taking some big armed QB and having the bland explanation "Palmers old, Thomas is raw" and that's it, if that is the case why are people not freaking about Denver? (I have not heard many things about Brock Osweiler's development and Peyton Manning Is WAYYY older than Palmer. It seem like people are just obsessed about our QB situation, why?"


That's a good question, and I think there are a few reasons why many people project a quarterback for the Cardinals. Heading into the 2014 NFL Draft, obviously they didn't have the quarterback of the future on their roster. Carson Palmer turns 35 later this year, and only four quarterbacks 35 or older have ever won the Super Bowl. Considering that three of the four are from a former era (Unitas, Staubach, Plunkett, Elway), Arizona has to start preparing the next starter.
Coaches will say that players have enough juice for 2-4 more good years because they have to. They often think it too, because they get attached to players, but what coach would say in a media interview, "My guy is just about done," or something like that.
I think the reason why people aren't projecting a quarterback as much to Denver is because Brock Osweiler was a higher draft pick than Logan Thomas. The Broncos also taken time developing Osweiler, so the raw label isn't as applicable. That being said I agree with you that quarterback is definitely in play for Denver.
I think the reason people are obsessed about the Arizona's quarterback situation when discussing the future is because there is no clear answer who the long-term starter is. Five years from now or less, Palmer will be done. He's had injuries in his career, and even a year from now, he could be done as a starter. Given Thomas' play in college you can't have any confidence he's the answer. Thus, the quarterback of the future is the big question mark for the Cardinals franchise.
From Tom Zimmer, Pasadena, Texas

"I love WalterFootball.com. You guys do great work. My question is who do you think would trade for Andre Johnson and what do you think the Texans could get for him? Thanks for answering."


Thanks for the compliments Tom. We appreciate it. I'm purely guessing here, but I think Houston would take a second-day pick for him. I don't see the Texans giving him away for anything less. I think the Patriots would be the best fit as a trade partner. They would give Johnson the opportunity to play with a Super Bowl contender, and their receivers are still a big question mark.
I think the Ravens would make sense, but I doubt they would trade for Johnson after bringing in Steve Smith. Ditto with the 49ers after trading for Stevie Johnson. The Chiefs and Chargers would be good fits for Andre Johnson as well.
From what I'm hearing, most people around the league believe that Johnson will show up for training camp. He's getting to the point of his career where the offseason program isn't as necessary. I don't think he could pull a Brett Favre and miss the majority of training camp with a new complex offense to learn, but I do hear that most around the league believe that Johnson will show up in late July.
From Randy Brown, Seffner, Florida

"Do you think that Josh Freeman working with Jon Gruden will be helpful in getting Freeman turned around?"


I think that it's a good idea for any quarterback to work with Jon Gruden. He has a proven track record for getting quarterbacks to play their best. That being said, I think Freeman needs a lot more than a week with Gruden. Freeman needs at least an entire offseason and training camp with Gruden to go along with getting coached up during the week before games and having Gruden call plays during games. Freeman's best hope would have been landing in Oakland with former offensive coordinator Greg Olson, but the Raiders decided to go with Matt Schaub and Derek Carr. However, there are big off-the-field issues with Freeman, and if those aren't cleaned up it won't matter who's coaching him.
From Adam Manner, Rochester, New York

"I'm angry that the Bills didn't draft a tight end this year when this was a great class of tight ends. Right tackles are a dime a dozen so taking Kouandjio in the second round instead of Amaro or Niklas seems stupid to me. Does the 2015 class look strong at the position?"


I don't think that Kouandjio was a bad pick by the Bills, but I agree that receiving tight ends are harder to find. It hurts seeing Amaro land in the division. The 2015 tight end class a year out doesn't look as strong as 2014's. You never know who is going to break out though. Right now, I think the best receiving tight end prospect is Michigan's Devin Funchess, but he may end up moving to wide receiver. At 6-foot-5, 230-pounds, I think it would be best if he added 15 pounds and played tight end in the NFL.
I've mocked Nick O'Leary to the Bills, and it would make sense to reunite him with E.J. Manuel. O'Leary is a good receiver and reminds me of Dallas Clark during his glory years with the Colts. It will be interesting to see which tight ends step up next year. The 2016 class has two great prospects in Alabama's O.J. Howard and Oregon's Johnny Mundt.
From Steve Dye, Waco, Texas

"I've noticed you've dropped Bryce Petty from your 2015 Mock NFL Draft. Where do you have him going? I think he should be in the discussion with Winston and Mariota"


I think Petty should be in the discussion for the Heisman Trophy with those two quarterbacks, but I think Petty has more to prove as a quarterback prospect. He is listed at 6-foot-3, 230-pounds, but Baylor exaggerated Lache Seastrunk among others. Petty isn't overly big, but has some athleticism. The Baylor offense is a point machine, but I want to see him develop as a pocket passer with arm strength to be projected in the first two rounds.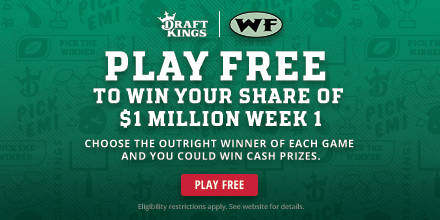 From William Providence, Denver, Colorado

"I would like to know why the Bears drafted Ego Furgeson over Louis Nix."

"I'm not a scout, but just looking at the film on youtube and some of the games- there's no comparison between these two players. It's not even close."

"Also, if you look at the stats- and it's not even close. If you wanna talk about level of competition- Nix has played more games against better competition and fared better. If you go back to 2012 (Nix was injured in 2013), you can see that he is a first round prospect. Not a huge pass rusher- but he can push the pocket and if you're drafting for Nose Tackle in a 4-3 with Will Sutton being drafted to take over the 3 technique position- why in the world would you even THINK about Ego Furguson over Nix???"

"Ego Furgeson basically did nothing but had a good combine, but football isn't played in shorts on an open field or on a straight line. It's played in pads, in the middle of chaos with 22 other men around you, with no open field or straight line speed requirements. What I'm saying is: the combine is almost entirely meaningless. Maybe you can use the combine to evaluate two closely rated athletes on film, but between Nix and Ego, it's not close. As in: not even within 1000 miles of each other."

"Nix fell way further than any draft evaluator had predicted. That makes me think it had to be a character issue. Was it a character issue with Nix that he fell into the third round?? From what you can gather from your insiders, why did the Bears reach for Ego Furgeson rather than Nix who would have been a tremendous value pick towards the end of the 2nd round?"


I agree with you that Louis Nix was a better prospect than Ego Ferguson. I had Nix higher rated and felt he was worthy of a late first-rounder. That being said, I think Ferguson was the right choice for the Bears because he's a better scheme fit for them than Nix.
I think there are a bunch of reasons why the Bears went with Ferguson. First of all, he and Nix are different types of defenders. Nix is a run-stuffing nose tackle, while Ferguson is a speedy disruptor who also has the size to defend the run. Ferguson can play nose and three-technique while Nix is limited to just nose tackle.
Phil Emery's preference for versatility definitely worked in favor of Ferguson. The Bears already have a nose tackle, Stephen Paea, and Mel Tucker's defense needs to have some defensive tackles who can use speed to penetrate the backfield and cause disruption. Ferguson has that along with more pass-rushing potential than Nix. Neither one had big sack numbers in college, but if you watch their games, Ferguson gets more pressure on the quarterback. Ferguson and Will Sutton give the Bears a few options at three-technique. Nose tackles are easier to find.
Ferguson had a lot of good games in 2013 and was disruptive. He was LSU's best defensive linemen and had quality tape. I would disagree that Nix played better competition than Ferguson. Notre Dame's schedule is definitely respectable, but it isn't the SEC. You're right that Nix has more experience, as he had multiple good years in college, while Ferguson was only a starter for one season.
I know from speaking with sources that Nix did not have character concerns, but he did have injury concerns. His knee had some teams worried, and I think that was the biggest reason for his draft fall.
Once again send questions/comments via email
draftcampbell@gmail.com
or on Twitter
@draftcampbell
.
2015 NFL Draft Mailbag Archive:
2015 NFL Draft Mailbag
- Feb. 19
2015 NFL Draft Mailbag
- Feb. 13
2015 NFL Draft Mailbag
- Sept. 1
2015 NFL Draft Mailbag
- July 15
2015 NFL Draft Mailbag
- July 9
2015 NFL Draft Mailbag
- June 18
2015 NFL Draft Mailbag
- June 11
Comment...
NFL Picks
- Oct. 22
2020 NFL Mock Draft
- Oct. 20
2019 NFL Mock Draft
- Oct. 18
Fantasy Football Rankings
- Sept. 5
2019 NBA Mock Draft
- Aug. 13
NFL Power Rankings
- June 3
---
---
---
---
WalterFootball.com is part of the NESN digital network.
Support Walt's Other Site:

Sales Tips and Sales Advice - Tons of sales tips, sales techniques and sales advice, including a Sales Mock Draft: The 32 Worst Things You Can Do in Sales.

; ;