By Chet Gresham -
@ChetGresham
Posted Dec. 23, 2016.
Follow
@walterfootball
for updates.
Quarterback
Blake Bortles: Bortles has only thrown one touchdown this season when his team had a lead, but thankfully in fantasy we look at the statistical results after the actual game is over and Bortles continues to put up decent numbers against bad pass defenses, which the Colts are one.
Carson Palmer: The Rams have allowed 13 touchdowns to two interceptions over the last five games and the third-most fantasy points to quarterbacks during that stretch. Palmer has had horrid games this season, but for the most part he still can move the ball, topping 280 yards passing in seven of his last nine games this season.
Running Back
LeGarrette Blount: Blount gets a nice matchup with the Dolphins, and I expect once again the Patriots will get a lead, which Blount can then hold with between the tackles rushing to milk the clock.
Jordan Howard: Howard already destroyed the Vikings this season for 202 total yards, and that was when they were playing stronger defense. Howard needs just 61 rushing yards to break the Bears' rookie rushing record, so he will for sure get his chances, and Howard has made the most of his chances this season.
Thomas Rawls: Rawls has been a disappointment this season to say the least, but this matchup is too good to pass on, as the 49ers allow the most everything to opponents' backs. He's not a safe play because he just hasn't performed that well this year, but he appears to be a full go in a game the Seahawks need to win.
Jerick McKinnon: The Bears have given up 100 or more yards rushing in six straight games and have allowed the third-most fantasy points to running backs over the last five games. Matt Asiata will hurt McKinnon's upside, but McKinnon has been getting much more work in the receiving game of late, and I really like his upside in PPR formats this week.
Fitzgerald Toussaint: DeAngelo Williams could see a decent amount of work, but I expect Toussaint to get the majority, as Williams is old and injured and could do with some more rest. Oh, and the Steelers play the Browns.
Brandon Burks: The Jets will be without Matt Forte, while Bilal Powell and Brandon Wilds are both hurting. If both of them are scratched, Burks could be the lead back against the Bills, who have been destroyed by the running game of late. I'm not even sure he's available for DFS purposes, but he could end up as the starter.
Wide Receiver
Doug Baldwin: With Tyler Lockett hurt last week, Baldwin saw a season-high 19 targets and put up 171 yards and a touchdown on the Cardinals. He likely won't be forced into that many looks this week unfortunately, but he's already put up big numbers on the 49ers this year and will have an easy go of it this week.
Golden Tate: Matthew Stafford's finger injury is a concern, but Tate will likely see 10-15 targets this week in a must-win game against a high-powered offense and God-awful secondary.
Mike Evans: Evans won't have the easiest matchup of the week, but he will be the main target, especially in the red zone with Cameron Brate on I.R. and that could easily lead to multiple touchdowns for ol' Mike.
Adam Thielen: Stefon Diggs is out this week, so Thielen is going to be bombarded with targets once again. He'll be a high-owned DFS play after his huge Week 16, but this matchup against the weak Bears' defense, plus the absence of Diggs, makes it hard to bypass him.
DeSean Jackson: The Giants will likely be resting players this week, and with Janoris Jenkins not 100 percent, he makes for a likely candidate. Washington, on the other hand, needs to win to get into the playoffs, so they will be going all out. Jackson has the highest upside of the receiving group, and I expect him to put up good numbers if Jenkins is out.
Eli Rogers: Rogers should be the main target for Landry Jones against the hapless Browns since Antonio Brown and Le'Veon Bell won't be playing. Rogers' upside isn't great with Jones at the helm, but I do expect plenty of short, PPR passes.
J.J. Nelson: The Rams have allowed the fourth-most touchdowns to wide receivers this season and 11 in their last six games. Nelson has put up good numbers with Michael Floyd gone and John Brown slowed by illness and should continue this week.
Chris Hogan: With Malcolm Mitchell out and Michael Floyd new to the team, I expect Hogan to see enough targets in a good matchup to help him close in on his upside, which is pretty high in this offense.
Tight End
Zach Ertz: The Cowboys have allowed 101 tight end receptions, the second-most in the league; while Ertz has averaged 8.75 targets per game over his last eight contests.
Travis Kelce: The targets are finally there for Kelce, and it's paying off for Kansas City each week. In Week 1, he caught 6-of-7 targets for 74 yards against this Chargers team, but has seen an increase in targets, with 8.9 per game over the last nine weeks. He's the safest tight end play for the week.
Chalky plays I didn't mention, but like:
QB: Aaron Rodgers, Drew Brees, Matt Ryan, Russell Wilson, Tom Brady
RB: David Johnson, LeSean McCoy, and Devonta Freeman. Mark Ingram, Jordan Howard
WR: Jordy Nelson, Michael Thomas, and Davante Adams
For more recommendations, check out WalterFootball.com's
Fantasy Football Rankings
.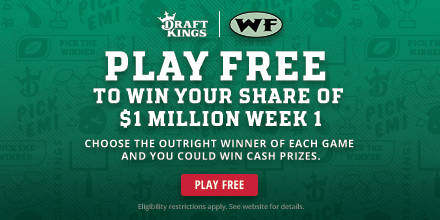 More 2015 Fantasy Football Articles:
Fantasy Football Rankings
2015 Fantasy Football Rankings:
2015 Fantasy Football Rankings: Quarterbacks
- 9/10 (Walt)
Chet Gresham's Fantasy Football Quarterback Rankings
- 9/4 (Chet)
2015 Fantasy Football Rankings: Running Backs
- 9/10 (Walt)
Chet Gresham's Fantasy Football Running Back Rankings
- 9/4 (Chet)
2015 Fantasy Football Rankings: Wide Receivers
- 9/10 (Walt)
Chet Gresham's Fantasy Football Wide Receiver Rankings
- 9/4 (Chet)
2015 Fantasy Football Rankings: Tight Ends
- 9/10 (Walt)
Chet Gresham's Fantasy Football Tight End Rankings
- 9/4 (Chet)
Chet Gresham's Fantasy Football Flex Rankings
- 9/4 (Chet)
2015 Fantasy Football PPR Rankings
- 9/4 (Chet)
2015 Fantasy Football Rankings: Defenses
- 8/27 (Walt)
2015 Fantasy Football Rankings: Kickers
- 8/27 (Walt)
Fantasy Football Rookie Rankings
- 5/14 (Walt)
Fantasy Football Rookie Rankings: Dynasty
- 5/14 (Walt)
2015 Fantasy Football Mock Drafts:
2015 Fantasy Football Mock Draft Simulator
- 9/10 (Walt)
2015 Fantasy Football Mock Draft
- 9/3 (Walt)
2015 Fantasy Football Mock Draft
- 8/27 (Walt)
2015 Fantasy Football Mock Draft
- 8/20 (Walt)
2015 Fantasy Football Mock Draft
- 8/13 (Walt)
2015 Fantasy Football Experts Draft
- 8/11 (Chet)
2015 Fantasy Football Mock Draft
- 8/7 (Walt)
2015 Fantasy Football Mock Draft
- 8/6 (Chet)
2015 Fantasy Football Mock Draft
- 7/31 (Walt)
2015 Fantasy Football Mock Draft
- 7/23 (Walt)
2015 Fantasy Football Mock Draft (2-QB)
- 7/15 (Chet)
2015 Fantasy Football Mock Draft (PPR)
- 7/6 (Chet)
2015 Fantasy Football Cheat Sheets:
2015 Fantasy Football Cheat Sheet: Top 250
- 9/10 (Walt)
2015 Fantasy Football Cheat Sheet: Top 250 PPR
- 9/10 (Walt)
2015 Fantasy Football Cheat Sheet: Top 250 2-QB
- 9/10 (Walt)
2015 Fantasy Football Cheat Sheet: Top 250 Touchdown League
- 9/10 (Walt)
2015 Fantasy Football Cheat Sheet: Custom
- 9/10 (Walt)
2015 Fantasy Football: Dynasty Rankings
- 9/10 (Walt)
Chet Gresham's Fantasy Football Top 200 Rankings
- 9/4 (Chet)
Chet Gresham's 2015 Fantasy Football Positional Cheat Sheet
- 9/4 (Chet)
Chet Gresham's 2015 Fantasy Football Overall Cheat Sheet
- 9/4 (Chet)
2015 Fantasy Football Articles:
2015 Fantasy Football Stock Report: Training Camp
- 9/10 (Walt)
Fantasy Football Tight End Matchup Chart: Week 1
- 9/9 (Chet)
Fantasy Football Wide Receiver Matchup Chart: Week 1
- 9/8 (Chet)
2015 Fantasy Football Sleepers
- 9/8 (Walt)
Fantasy Football Running Back Matchup Chart: Week 1
- 9/7 (Chet)
Fantasy Football Quarterback Matchup Chart: Week 1
- 9/6 (Chet)
2015 NFL Preseason Recap, Fantasy Football Notes
- 9/4 (Walt)
2015 Fantasy Football Preseason Stock
- 9/4 (Walt)
2015 Fantasy Football Quarterback Targets
- 9/4 (Walt)
2015 Fantasy Football Busts
- 9/4 (Walt)
2015 Fantasy Football Goal-Line Running Backs
- 9/3 (Chet)
2015 Fantasy Football News
- 9/1 (Chet)
2015 Fantasy Football: Better Than ADP
- 8/31 (Chet)
Daily Fantasy Football: Running Backs
- 8/27 (Chet)
2015 Fantasy Football: Late-Round Running Back Fliers
- 8/24 (Chet)
2015 Fantasy Football Fallout: Jordy Nelson Injury
- 8/24 (Chet)
2015 Fantasy Football Players to Target
- 8/22 (Chet)
2015 Fantasy Football Spreadsheets
- 8/22 (Walt)
2015 Fantasy Football Round-by-Round Strategy Guide
- 8/20 (Walt)
2015 Fantasy Football: The Perfect Draft
- 8/20 (Chet)
2015 Fantasy Football Players to Avoid: LeSean McCoy
- 8/18 (Chet)
2015 Fantasy Football Values: Wide Receivers
- 8/14 (Chet)
Daily Fantasy Football: Wide Receivers
- 7/29 (Chet)
2015 Fantasy Football Value Profile: Brian Quick
- 7/22 (Walt)
2015 Fantasy Football Value Profile: Eli Manning
- 7/17 (Walt)
Daily Fantasy Football: A Primer
- 7/10 (Chet)
2015 Fantasy Football Value Profile: Jarvis Landry
- 7/7 (Walt)
Fantasy Football Offseason Stock Report: Up
- 5/15 (Walt)
Fantasy Football Offseason Stock Report: Down
- 5/15 (Walt)
2015 Fantasy Football: First-Round Bust History
- 2/17 (Walt)
2015 Fantasy Football: Overdrafted Players
- 2/15 (Walt)
2015 Fantasy Football: Running Backs with Most Carries
- 2/15 (Walt)
NFL Picks
- Oct. 19
2019 NFL Mock Draft
- Oct. 18
2020 NFL Mock Draft
- Oct. 13
Fantasy Football Rankings
- Sept. 5
2019 NBA Mock Draft
- Aug. 13
NFL Power Rankings
- June 3