By Chet Gresham -
@ChetGresham
Follow
@walterfootball
for updates.
Ezekiel Elliott has been suspended for the first six games of the season. He will likely appeal, but I don't believe we can count on a reduction in games lost for Elliott. He could get a game or two taken off, but that's all conjecture at this point. If you draft him right now, you should take six games off into account.
These lost games of course hurt his fantasy appeal, but a top-3 back who is "rested" the first six weeks versus a bunch of beat-up defenses is going to be a consistent weapon in each and every game. However, there will only be nine total games in which you can use him in if you make it to the fantasy championship. If you do want to draft Elliott for that stretch run, you'll need to have good, but value, options for the first six games of the season.
The first back who pops to mind will be Darren McFadden, who currently is next in line to run behind the best offensive line in the business. That unfortunately will move him up the draft boards of many, and his ADP might get a little tricky for a guy you'll only start six times. We could see Alfred Morris make some preseason waves and end up in a running back-by-committee situation, which would give him value, and at his current ADP, that would be a lot of value. Keep an eye on all the news from Dallas that tries to decipher this situation, because it will be important to fantasy.
Another back who will be useful at the start of the season is Jacquizz Rodgers, who will be the starter for the first three games while Doug Martin is suspended.
That's it for the suspensions, but you can also look for value backs with decent early schedules. Terrance West makes for one of those backs, and he'll start the season at Cincinnati, versus Cleveland, at Jacksonville, versus Pittsburgh, at Oakland and versus Chicago. It's not a cake walk, but it's also not a stretch where he will be stifled.
The same scenario can be said for Jonathan Stewart, who will still be the lead back in Carolina to start the season against a good schedule of at San Francisco, versus Buffalo, versus New Orleans, at New England, at Detroit and versus Philadelphia. Stewart's likely to have his best stretch there and also might be worth trading after that if needed, which also goes for Terrance West. If you can pick a value play who gets hot early for your Ezekiel Elliott replacement, then you get those points of course, but also set yourself up to get something from them in a trade.
My last possible Elliott replacement for cheap is Matt Forte. I don't like Forte much this season and neither do many people, but there's a decent shot he puts up okay fantasy numbers early in the season against Buffalo, Oakland, Miami and Cleveland when he should be at his healthiest. Remember last season? He shot out of the gate and put up big numbers only to fade quickly due to injuries/age. I would rather own Bilal Powell there, but he's much more expensive than Forte if you are looking for a 6-week filler.
In the final analysis, you have to decide for yourself if you even want to go to the trouble of targeting Elliott, whose ADP could still be a bit scary even after the suspension. But I do think that you can prepare to pick him if he drops to where you are comfortable, knowing that there are some cheaper backs who can help you get through the first 4-6 games.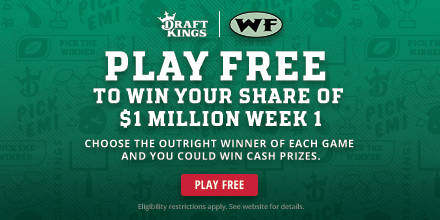 And if Elliott can get one game taken off his suspension, he would end up being able to start against San Francisco's awful run defense in Week 7 - following a Week 6 bye. Like I said, we can't count on a reduction, but one-game isn't out of the question. Ben Roethlisberger had a game taken off after his appeal, but you just never know what will happen with the NFL and suspensions.
I'll need to do some more mocks now that the news is out and continue to check on his ADP, but right now, I'd still reach for him at the end of the second round and then go after some of these short-term backups and hopefully be set up for a strong second half of the fantasy season.
For more recommendations, check out WalterFootball.com's
Fantasy Football Rankings
.
More 2017 Fantasy Football Articles:
Fantasy Football Rankings
2017 Fantasy Football Rankings:
2017 Fantasy Football Rankings: Quarterbacks
- 9/6 (Walt)
Chet Gresham's Fantasy Football Quarterback Rankings
- 8/28 (Chet)
2017 Fantasy Football Rankings: Running Backs
- 9/6 (Walt)
Chet Gresham's Fantasy Football Running Back Rankings
- 8/28 (Chet)
2017 Fantasy Football Rankings: Wide Receivers
- 9/6 (Walt)
Chet Gresham's Fantasy Football Wide Receiver Rankings
- 8/28 (Chet)
2017 Fantasy Football Rankings: Tight Ends
- 9/6 (Walt)
Chet Gresham's Fantasy Football Tight End Rankings
- 8/28 (Chet)
2017 Fantasy Football Rankings: Kickers
- 8/18 (Walt)
2017 Fantasy Football Rankings: Defenses
- 8/18 (Walt)
Fantasy Football Rookie Rankings
- 5/12 (Walt)
Fantasy Football Rookie Rankings: Dynasty
- 5/12 (Walt)
Fantasy Football Rookie Rankings: Dynasty
- 5/12 (Chet)
2017 Fantasy Football Mock Drafts:
2017 Fantasy Football Mock Draft: PPR
- 9/1 (Walt)
2017 Fantasy Football Mock Draft: Standard
- 8/31 (Walt)
2017 Fantasy Football Mock Draft: 2-QB, PPR
- 8/25 (Chet)
2017 Fantasy Football Mock Draft: PPR
- 8/24 (Walt)
2017 Fantasy Football Mock Draft: PPR
- 8/17 (Walt)
2017 Fantasy Football Mock Draft: Standard
- 8/10 (Walt)
2017 Fantasy Football Mock Draft: PPR
- 8/3 (Walt)
2017 Fantasy Football Mock Draft: Standard
- 7/27 (Walt)
2017 Fantasy Football Mock Draft: PPR
- 7/26 (Chet)
2017 Fantasy Football Mock Draft: PPR
- 7/20 (Walt)
2017 Fantasy Football Mock Draft: PPR
- 7/14 (Chet)
2017 Fantasy Football Mock Draft: Standard
- 7/13 (Walt)
2017 Fantasy Football Cheat Sheets:
2017 Fantasy Football Cheat Sheet: Top 250
- 9/6 (Walt)
2017 Fantasy Football Cheat Sheet: Top 250 PPR
- 9/6 (Walt)
2017 Fantasy Football Cheat Sheet: Top 250 2-QB
- 9/6 (Walt)
2017 Fantasy Football Cheat Sheet: Top 250 Touchdown League
- 9/6 (Walt)
2017 Fantasy Football Cheat Sheet: Custom
- 9/6 (Walt)
2017 Fantasy Football: Dynasty Rankings
- 9/6 (Walt)
2017 Fantasy Football PPR Rankings
- 8/16 (Chet)
2017 Fantasy Football Spreadsheets
- 9/6 (Walt)
2017 Fantasy Football Articles:
2017 Fantasy Football Stock Report: OTAs, Training Camp
- 9/6 (Walt)
2017 Fantasy Football Sleepers
- 9/2 (Walt)
2017 Fantasy Football Busts
- 9/2 (Walt)
2017 NFL Preseason Game Recaps
- 9/1 (Walt)
2017 Fantasy Football Stock Report: Preseason
- 9/1 (Walt)
2017 Fantasy Football: Running Backs with the Most Carries
- 1/31 (Walt)
NFL Picks
- Oct. 21
2020 NFL Mock Draft
- Oct. 20
2019 NFL Mock Draft
- Oct. 18
Fantasy Football Rankings
- Sept. 5
2019 NBA Mock Draft
- Aug. 13
NFL Power Rankings
- June 3