Draft Kings Locks and Values
Here's the link to the
FREE Entry to Draft Kings Team Pick'em Contest
.
By Chet Gresham -
@ChetGresham
Posted Oct. 13, 2018.
Of course, "Locks" is a relative term, and in this case, it means that these plays are locks for my Draft Kings cash teams this week. These are plays I feel would be big disappointments if they didn't pan out, whereas "Values" are plays that are riskier, but the price of the player makes the risk not as impactful due to the savings you get to upgrade to more consistent players, like the ones you'll find in the "Locks" section!
Locks
Jameis Winston, QB, Buccaneers
Winston's price is too low for how he played to end last season and in the preseason. He has a great matchup against the Falcons, who have allowed the third-most fantasy points to quarterbacks. This game has all the makings for a pass-first shootout, as both sides try to keep up with the other.
Matt Ryan, QB, Falcons
Ryan actually gets the better matchup between himself and Winston, as Tampa Bay's pass defense has been the worst in the league by a good margin. However, Ryan is also the highest-priced quarterback on the main slate. His price isn't out of range though, and I'll likely play just him and Winston for this slate. I don't have the space to go through all of the Buccaneers' 32nd rankings in stats against the pass, but on average they're allowing 370 yards passing and 3.3 passing touchdowns per game, while giving up a league-worst 77 percent completion rate and 8.4 yards per pass attempt.
Todd Gurley, RB, Rams
Gurley's price is quite high at 10K, while the second-highest is Christian McCaffrey at 8.3K. That means we have to find value elsewhere to fit him in, but this matchup and Gurley's tremendous consistency make him someone you have to consider. We saw him go up to Seattle and throw down three touchdowns last week and top 100 yards for the bazillionth time, and this week he'll take on a Broncos run defense that was just eviscerated by Isaiah Crowell and Bilal Powell and probably Simon Cowell. On the season, Denver has allowed the second-most yards per carry to running backs at 5.55, the second-most rushing yards at 135.4, and the fourth-most total yards at 173.6.
Marshawn Lynch, RB, Raiders
If you're looking for a narrative to get behind, Beast Mode against the Seahawks is one I believe in this week. Lynch goes all out every play, so it's not like he can will himself to go for 200 yards and three touchdowns, but maybe he can? Seattle's run defense has given up big games to Phillip Lindsay, Royce Freeman, David Johnson, Ezekiel Elliott and Todd Gurley, while Lynch has ran well and seen 17.8 touches per game.
Julio Jones, WR, Falcons
Jones' price is at 7.9K this week, which is cheap by Jones' standards. Yes, he has yet to find the end zone, but he's healthy, he's playing the worst pass defense in the league and he's eaten Tampa Bay's lunch over and over again with three two-touchdown games in his career and four of his last nine touchdowns coming against them. After nine targets last week, his coach lamented not getting him the ball more, and this week, I expect them to do just that.
Adam Thielen, WR, Vikings
Thielen is expensive, and with Gurley and Jones out there, I may not pay up for him. However, I love his matchup out of the slot, while Stefon Diggs takes on the tougher matchup with Patrick Peterson. The Cardinals are a decent pass defense, but Thielen already leads the league in targets and 100-yard games, and this week Kirk Cousins is going to be locked in on him all over the field.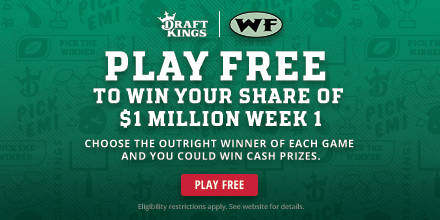 Eric Ebron, TE, Lions
I'll likely go after a cheaper tight end this week, but you can't get around Ebron's crazy usage with T.Y. Hilton and Jack Doyle out. Over the last three games, he's seen 35 targets and last week against the Patriots he went absolutely crazy for fantasy. The Jets haven't allowed much to tight ends this season, but they also haven't faced a good tight end yet. With his usage, Ebron has one of the highest upsides in this slate.
Value Plays
Bilal Powell, RB, Jets
It looks like Isaiah Crowell will try to go on Sunday, but there's a decent chance he's not 100 percent, which should favor Powell against a Colts defense that is susceptible to pass-catching receivers. I'm betting the over on this game and expect Powell to be a useful chain mover through the air.
Phillip Lindsay, RB, Broncos
Chris Carson and Mike Davis ran through the Rams defense last week without much trouble and are allowing 4.8 yards per carry. Lindsay still leads this backfield and is cruising along at 5.8 yards per carry. He does have to share work more than I'd like, but he's shown me enough to feel good about him at just 4.5K.
Chester Rogers, WR, Colts
The Jets have been getting roasted by slot receivers this season, as Golden Tate, Jarvis Landry, Dede Westbrook and Emmanuel Sanders have all put up good numbers. Now, Rogers gets his chance without T.Y. Hilton or Jack Doyle getting in the way.
Mohamed Sanu, WR, Falcons
Tampa Bay has also been horrid against slot receivers, as you can imagine. Taylor Gabriel, JuJu Smith-Schuster, and Nelson Agholor have all topped 100 yards or scored a touchdown. Sanu has posted back-to-back strong games. I do expect Julio Jones to get a big chunk of the work this week, but this game's over/under is 57.5 points, the highest on the main slate, which should push Matt Ryan to give good targets to all of his receivers.
Cameron Brate, TE, Buccaneers
If O.J. Howard is out, Brate would be in line for meaningful targets from Jameis Winston, who has always used him well over the middle and in the red zone.
C.J. Uzomah, TE, Bengals
The Steelers have been getting scorched by opposing tight ends, and with Tyler Eifert done for the season, Uzomah has taken over the lead role. He's risky and I'll likely be using him in GPPs instead of cash games, but I love his upside against a team who has allowed the most targets and receptions to tight ends this season, along with the second-most fantasy points.
Comment...
More 2017 Fantasy Football Articles:
Fantasy Football Rankings
2017 Fantasy Football Rankings:
2017 Fantasy Football Rankings: Quarterbacks
- 9/6 (Walt)
Chet Gresham's Fantasy Football Quarterback Rankings
- 8/28 (Chet)
2017 Fantasy Football Rankings: Running Backs
- 9/6 (Walt)
Chet Gresham's Fantasy Football Running Back Rankings
- 8/28 (Chet)
2017 Fantasy Football Rankings: Wide Receivers
- 9/6 (Walt)
Chet Gresham's Fantasy Football Wide Receiver Rankings
- 8/28 (Chet)
2017 Fantasy Football Rankings: Tight Ends
- 9/6 (Walt)
Chet Gresham's Fantasy Football Tight End Rankings
- 8/28 (Chet)
2017 Fantasy Football Rankings: Kickers
- 8/18 (Walt)
2017 Fantasy Football Rankings: Defenses
- 8/18 (Walt)
Fantasy Football Rookie Rankings
- 5/12 (Walt)
Fantasy Football Rookie Rankings: Dynasty
- 5/12 (Walt)
Fantasy Football Rookie Rankings: Dynasty
- 5/12 (Chet)
2017 Fantasy Football Mock Drafts:
2017 Fantasy Football Mock Draft: PPR
- 9/1 (Walt)
2017 Fantasy Football Mock Draft: Standard
- 8/31 (Walt)
2017 Fantasy Football Mock Draft: 2-QB, PPR
- 8/25 (Chet)
2017 Fantasy Football Mock Draft: PPR
- 8/24 (Walt)
2017 Fantasy Football Mock Draft: PPR
- 8/17 (Walt)
2017 Fantasy Football Mock Draft: Standard
- 8/10 (Walt)
2017 Fantasy Football Mock Draft: PPR
- 8/3 (Walt)
2017 Fantasy Football Mock Draft: Standard
- 7/27 (Walt)
2017 Fantasy Football Mock Draft: PPR
- 7/26 (Chet)
2017 Fantasy Football Mock Draft: PPR
- 7/20 (Walt)
2017 Fantasy Football Mock Draft: PPR
- 7/14 (Chet)
2017 Fantasy Football Mock Draft: Standard
- 7/13 (Walt)
2017 Fantasy Football Cheat Sheets:
2017 Fantasy Football Cheat Sheet: Top 250
- 9/6 (Walt)
2017 Fantasy Football Cheat Sheet: Top 250 PPR
- 9/6 (Walt)
2017 Fantasy Football Cheat Sheet: Top 250 2-QB
- 9/6 (Walt)
2017 Fantasy Football Cheat Sheet: Top 250 Touchdown League
- 9/6 (Walt)
2017 Fantasy Football Cheat Sheet: Custom
- 9/6 (Walt)
2017 Fantasy Football: Dynasty Rankings
- 9/6 (Walt)
2017 Fantasy Football PPR Rankings
- 8/16 (Chet)
2017 Fantasy Football Spreadsheets
- 9/6 (Walt)
2017 Fantasy Football Articles:
2017 Fantasy Football Stock Report: OTAs, Training Camp
- 9/6 (Walt)
2017 Fantasy Football Sleepers
- 9/2 (Walt)
2017 Fantasy Football Busts
- 9/2 (Walt)
2017 NFL Preseason Game Recaps
- 9/1 (Walt)
2017 Fantasy Football Stock Report: Preseason
- 9/1 (Walt)
2017 Fantasy Football: Running Backs with the Most Carries
- 1/31 (Walt)
NFL Picks
- Oct. 17
2020 NFL Mock Draft
- Oct. 13
2019 NFL Mock Draft
- Oct. 11
Fantasy Football Rankings
- Sept. 5
2019 NBA Mock Draft
- Aug. 13
NFL Power Rankings
- June 3