By Chet Gresham -
@ChetGresham
Follow
@walterfootball
for updates.
Below, check out my fantasy-centered recaps of key players from this week's contests. For instance, did a player come back to earth after an aberrant breakout, or were they simply affected by something like game flow?
Texans 20, Bills 13
Deshaun Watson completed 15-of-25 passes for 177 yards, one touchdown and two interceptions. He also lost one of his three fumbles and was sacked seven times. Watson does hold on to the ball too long, but he has no offensive line to speak of, especially for against an underrated Bills defense. This was easily his worst fantasy game and real-life game of the year, ending his four-game streak of 300 yards. I don't think we have to worry about him, as this Bills defense is for real, but with that offensive line, he's going to have a few down games to go with his big upside.
Lamar Miller returned from his injury to lead the Texans' backfield in touches and played well despite not putting up a big fantasy day with 17 touches for 71 yards. Alfred Blue had nine touches for 43 yards and was fairly useless, and D'Onta Foreman should be activated this week. It's likely a situation not to invest much in, as Miller, Foreman and Blue could all see touches next week.
Josh Allen was awful as usual, but also had to leave due to a right elbow injury. He was replaced by Nathan Peterman who amazingly threw a touchdown to Zay Jones to take the lead, but was otherwise awful and capped his awfulness off with a gift pick-six to lose the game and then another interception to lose it even more.
The only player to do anything of note besides Jones and his touchdown was LeSean McCoy, who rushed 16 times for 73 yards and caught 3-of-5 targets for 21 yards. It's not much from a talent like him, but on this offense it's as much as you can realistically hope for and keeps him usable in fantasy, unlike anyone else on this crappy offense.
Redskins 23, Panthers 17
Alex Smith completed 21-of-36 passes for 163 yards and two touchdowns, and continues to look like the check-down king he was before Andy Reid coaxed a huge 2017 season out of him. He'll remain just a 2QB league player until he throws the ball over 20 yards.
Adrian Peterson ran the ball 17 times for 97 yards and didn't catch his lone target. He was a big help in winning the game, but he'll likely have trouble being a strong fantasy play when he doesn't get into the end zone. The good news is that he ran well despite numerous ailments and seems to have come out of the game none the worse for wear.
Jordan Reed led the team in targets and receptions, but fellow tight end Vernon Davis was left wide open for a 22-yard touchdown while Reed lived with Alex Smith's short passes to nowhere. Reed's usage remains good, and at a weak fantasy position, there is upside for him still.
Cam Newton completed 27-of-40 passes for 275 yards, two touchdowns and an interception, plus took nine carries for 43 rushing yards. That added up to a startable fantasy day despite not playing his best.
Devin Funchess caught 5-of-8 targets for 74 yards and a touchdown, and looked good doing so. He also remained the leading target by one over Greg Olsen, who returned this week. Funchess should remain a good WR3 despite Olsen's return.
D.J. Moore is very good and did well to put up 77 yards on five touches, but he also lost two fumbles, which will not help his case to see more work.
Jets 42, Colts 34
Sam Darnold completed 24-of-30 passes for 280 yards, two touchdowns and an interception. He now has back-to-back 18-point fantasy games after not topping 13.5 in his first four outings. He's trending upward and needs to be taken seriously as a bye-week streamer at home against a Minnesota pass defense that hasn't been good.
Quincy Enunwa had to leave this game early with an ankle injury, which helped Terrelle Pryor and Jermaine Kearse to see elevated targets, which they both did well converting. Kearse caught 9-of-10 targets for 94 yards, and Pryor caught 5-of-6 targets for 57 yards and a touchdown. Kearse looks to have value in PPR no matter how Enunwa's injury plays out, but Pryor will likely need Enunwa to be out to have value.
Andrew Luck completed 23-of-43 passes for 301 yards, four touchdowns and three interceptions despite a group of backups and backups to those backups catching or not catching his passes. Luck continues to show that he's going to move the ball no matter who he's got out there and that he's a top play each week.
Luck's receivers had multiple drops and injuries, with both Ryan Grant and Marcus Johnson both leaving due to injuries and Marlon Mack dropping a pass that was then caught and returned for a touchdown. It will be interesting to see how many drops the Colts had in this one, because they were brutal.
Besides his egregious drop to start the game, Mack did run as the lead back and rushed 12 times for 89 yards and caught 1-of-2 targets for four yards. The 12 attempts aren't the best for consistency, but he was the no-doubt lead and should see more work in the receiving game if he can stay healthy.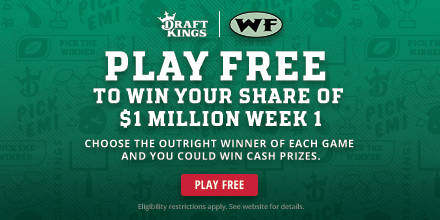 Vikings 27, Cardinals 17
Kirk Cousins completed 24-of-34 passes for 233 yards with a touchdown and an interception, adding a seven-yard touchdown run to his stats. It wasn't a huge fantasy day but Cousins continued his precision passing. He should be able to pick the Jets apart next week.
Adam Thielen was Cousins' main target once again, as he caught 11-of-15 targets for 123 yards and a touchdown. He's now topped 100 receiving yards in each of his first six games and averaged 9.7 receptions per game. You can't get much better than that.
Dalvin Cook wasn't able to go, so Latavius Murray got the start. He's had trouble in relief of Cook so far this season, but game-script and matchups had not been kind. This week, those two things were much kinder and Murray went off for 155 yards on 24 carries and scored a touchdown. Cook will likely be back next week, but if not, Murray is worth another start against the Jets.
Josh Rosen completed 21-of-31 passes for 240 yards and an interception. He was a mixed-bag once again but remains an underwhelming quarterback to lead his team to fantasy goodness. I think he gets there, although this year might not be the year.
Christian Kirk caught 6-of-7 passes for 77 yards and continues to be a top target for Rosen. Larry Fitzgerald did see one more target, but only accumulated 39 yards on five receptions. Those two will likely continue to be the main targets and will probably hurt each other's numbers, but Kirk is the big-play man right now and has the higher upside.
Dolphins 31, Bears 28
Brock Osweiler completed 28-of-44 passes for 380 yards, three touchdowns and two interceptions. Ryan Tannehill couldn't play due to a sprained AC joint in his shoulder, which likely pushed a lot of DFS players to play the Bears D/ST. They are not glad they did so. Osweiler wasn't great, but he got the job done and exposed this Chicago pass defense. He wasn't sacked once by the Kahlil Mack-led pass rush, and that allowed him to work the ball down field with relative ease.
Frank Gore rushed 15 times for 101 yards and caught one pass for 18 yards. The Bears have been shutting down the run so far this season, so of course the oldest running back in the league hung a 100-yard game on them. Gore and Kenyan Drake continued to split work, with Drake seeing 17 touches to Gore's 16. Drake ended up with 78 yards to Gore's 119. They will continue to split work.
Albert Wilson was the big-play man this week, catching 6-of-9 targets for 155 yards and two touchdowns. His nine targets were second to Danny Amendola's 11 on the team, but Amendola caught eight of those for just 59 total yards. This receiver rotation remains spread out, and with Osweiler at the helm, we saw check-down target Amendola see the most, but if Tannehill returns next week, that likely won't be the case. Wilson has put up some huge plays this year and deserves to keep seeing more work though.
Mitchell Trubisky completed 22-of-31 passes for 316 yards with three touchdowns and two interceptions, plus rushed for 47 yards on eight carries. He wasn't as perfect as he was in Week 4 against the Buccaneers, but he showed his upside, especially in the second half.
Tarik Cohen rushed five times for 31 yards and a touchdown, plus caught 7-of-9 passes for 90 yards, while Jordan Howard rushed 14 times for 69 yards and no receptions on one target. Howard also lost a fumble near the goal line. Cohen fits Matt Nagy's offense much better than Howard and should continue to be a big piece with plenty of fantasy upside. Howard will have his games once in a while, but the stars will likely need to align just right.
Taylor Gabriel put up another strong game, catching all five of his targets for 110 yards. With Anthony Miller back, Gabriel's five targets were his fewest since Week 1, but he's playing some amazing football right now. He's worth rostering, but he will have trouble seeing the workload he needs to stay consistent.
Seahawks 27, Raiders 3
Russell Wilson completed 17-of-23 passes for 222 yards, three touchdowns and one interception, plus gained 20 yards on six rushing attempts. He is dealing with a nagging hamstring injury that has kept him from really gaining fantasy points on the ground, but he continues to be a strong passer despite the Seahawks wanting to run the ball. The Seahawks get a bye next week, which should help Wilson's hamstring and his fantasy upside.
It was good to see Doug Baldwin get back involved after just one target last week, as he caught 6-of-8 targets for 91 yards. His eight targets doubled up the next-highest-targeted receiver, as Tyler Lockett had just four, catching three for 13 yards and yet another touchdown. Baldwin's knee injury must be okay.
Derek Carr completed 23-of-31 passes for 142 yards and rushed four times for 31 yards while taking six sacks and losing two fumbles. He did manage to not throw an interception for the first time in five games, but his fear of throwing an interception is probably the main reason he checked down to Jalen Richard and Marshawn Lynch 13 times.
Amari Cooper and Seth Roberts were knocked out of this game with concussions. This game was a nightmare for anyone who ever had any affinity for the Raiders.
Chargers 38, Browns 14
Philip Rivers completed 11-of-20 passes for 207 yards with two touchdowns and one interception. The Chargers had this game wrapped up early on, and Rivers let Melvin Gordon do the heavy lifting to salt it away. It's not what you want from Rivers if he's your fantasy quarterback, but he has been on fire this year and there will be closer games in which he will need to go all out.
Tyrell Williams was the only receiver to carve out a strong fantasy day from those 11 Rivers completions, as he caught 3-of-4 targets for 118 yards and two touchdowns. Williams has yet to top three receptions in a game this season and this is his first touchdown since Week 1, so we can't get too excited, but he has been outplaying Mike Williams and making it hard to use anyone on the Chargers other than Gordon and Allen and Allen hasn't been getting into the end zone.
Baker Mayfield completed 22-of-46 passes for 238 yards with one touchdown and two interceptions. It was a bad game for him, no way around it. He'll remain a volatile fantasy player, but he does get a great matchup against Tampa Bay next week.
Jarvis Landry and Antonio Callaway combined for 20 yards on 19 targets to show you what kind of efficiency the Browns' top-2 wide receivers brought to the table. We knew this Chargers pass defense was better than they've played this year and Baker Mayfield is going to be volatile his rookie year, so these results aren't totally unexpected.
Carlos Hyde put up a dud with just 34 yards on 14 carries and no receptions, while Duke Johnson had chunk gains almost every time he touched the ball, gaining 109 yards on six touches, and Nick Chubb rushed three times for 25 yards. It seems like we are going to start seeing touches for these three to start fluctuating, making it tougher to pick the best players to start.
Steelers 28, Bengals 21
Ben Roethlisberger completed 32-of-46 passes for 369 yards and one touchdown. He played within his means, as the Bengals did their usual to take Antonio Brown out of the game. Roethlisberger targeted JuJu Smith-Schuster, Vance McDonald, Jesse James and James Conner more than Brown, but when it came down to the wire, Brown got the call and took a slant to the house for the win and still ended up topping 100 yards and getting into the end zone.
James Conner was again the motor behind this Pittsburgh offense, as he rushed 19 times for 111 yards and two touchdowns plus caught four passes for 18 yards on seven targets. The Steelers are on a bye next week when Le'Veon Bell is supposed to return, but we will likely be left wondering if Conner will have any use once Bell is fully back.
Andy Dalton completed 26-of-42 passes for 229 yards and two touchdowns, and never really looked completely on. He did well enough and besides a couple drops by A.J. Green, his receivers made some nice grabs to help him out. He's always had trouble with Pittsburgh, so I guess this isn't out of the norm and his offensive stars are better now, making it tougher for him to have a disastrous game.
Joe Mixon only rushed 11 times, but still put up 64 yards and a touchdown on the ground, and an additional 20 yards on four receptions. Despite his relatively low touch numbers, he still put together a decent fantasy day and appears to be someone who we can count on as a top producer moving forward.
The same could be said about Tyler Boyd, who continues to play well and whose upside also continues to rise. This week, he two touchdowns and has four in his last five games. His sure hands and ability to flash open over the middle will keep him seeing decent targets.
Falcons 34, Buccaneers 29
Matt Ryan completed 31-of-41 passes for 354 yards and three touchdowns, doing exactly what we all figured he'd do against the worst pass defense in the league. As long as the Atlanta defense continues to give up lots of points, Ryan should continue to put up good fantasy points to try to offset his defense.
Julio Jones caught 10-of-14 targets for 143 yards but once again, couldn't find the end zone. In PPR leagues, he's still putting up great numbers but standard leagues are much more touchdown oriented. He'll find the end zone at some point and is on pace for over 1,800 yards receiving, so just keep those touchdown hopes down and enjoy the ride.
Ito Smith had 13 touches to Tevin Coleman's 11, and Smith scored a short rushing touchdown, while Coleman got into the end zone on a short reception. Coleman had 41 total yards to Smith's 21, but neither looked great. Fantasy players with Devonta Freeman on their team shouldn't worry too much about anyone taking over the lead role from him once he gets back on the field.
Mohamed Sanu left this game in the third quarter with a hip injury, and Calvin Ridley had to leave before halftime with an ankle injury. Sanu scored a touchdown, and Ridley got off to a fast start with three receptions for 47 yards, but they will know be racing to get ready to take on the Giants at home next week. The Falcons do have a bye the following week, so the team could take the safe route and sit anyone who doesn't look 100 percent so they can use the bye to heal up.
Without Sanu and Ridley, Austin Hooper had an increase in work and did well, catching 9-of-10 targets for 71 yards and a touchdown, while Justin Hardy, who also saw an uptick in work, didn't do as well, catching 3-of-7 targets for 33 yards.
Jameis Winston completed 30-of-41 passes for 395 yards, four touchdowns and two interceptions, plus took five carries for 31 yards. This was the game many were predicting, and Winston didn't disappoint. He'll get a good matchup with Cleveland at home next week.
After doing much of nothing to start the season, Peyton Barber rushed 13 times for 82 yards and caught 4-of-4 targets for 24 yards and a touchdown. The Falcons without Grady Jarrett are one of the worst run defenses in the league, so Barber's numbers, while good, aren't indicative of a turnaround. Ronald Jones will continue to see more work in the passing game, and with big deficits due to their defense, Barber will have trouble finding carries moving forward.
Ravens 21, Titans 0
Joe Flacco completed 25-of-37 passes for 238 yards, one touchdown and one interception. He wasn't needed much, as the Baltimore defense completely swarmed the Titans, sacking Marcus Mariota an amazing 11 times.
Michael Crabtree did finally break out this week, catching 6-of-9 targets for 93 yards and a touchdown, while John Brown, who had been the clear No. 1 receiver so far, only caught 2-of-3 targets for 28 yards. Brown will likely continue to be a bit riskier due to his deep targets, while Crabtree should be safer due to his red-zone work, but both will remain on the fantasy radar, with Crabtree showing that he's still got some gas in the tank.
Alex Collins rushed 19 times for 54 yards and two touchdowns. With a quick lead and no fight from the Titans, Collins was given the ball often, and it paid off for fantasy. He wasn't efficient with his carries, but he also didn't fumble, which is a great sign for him to continue seeing work over Javorius Allen.
Marcus Mariota completed 10-of-15 passes for 117 yards. The Titans never had a chance to move the ball with the offensive line allowing 11 sacks. Mariota's elbow and hand likely aren't 100 percent, and when you add in a poor offensive line, it helps snowball into this crap-storm we are seeing right now.
Cowboys 40, Jaguars 7
Dak Prescott had his best fantasy game of the season and of course, it came against Jacksonville - and was helped by a career day from Cole Beasley. Prescott completed 17-of-27 passes for 183 yards and two touchdowns and ran for a career-high 82 yards and a touchdown on 11 rushing attempts.
Ezekiel Elliott also put up a good game against the Jaguars' defense, rushing 24 times for 106 yards and a touchdown and adding one reception for 11 yards. He has been consistent despite the Cowboys' offense being inconsistent at best, so if Prescott can get anything going outside of Elliott, Elliott's upside will rise.
Blake Bortles completed just 15-of-26 passes for 149 yards, one touchdown and one interception, plus went for 22 yards on four carries. He was awful and has now been real-life awful in four-of-six games this season. When he can't even put up garbage points, this offense is a fantasy wasteland.
Rams 23, Broncos 20
Jared Goff completed just 14-of-28 passes for 201 yards, no touchdowns and one interception. Thankfully for his team, he didn't need to do much as Todd Gurley went crazy on the ground, rushing 28 times for 208 yards and two touchdowns along with two receptions for 17 more yards. This game was Gurley's through-and-through and one of the few games you'll see in the modern NFL taken over by an elite running back. Gurley now has 11 touchdowns on the season and continues to pay off for those who had the first pick in their fantasy drafts.
Robert Woods led the way through the air, as Cooper Kupp hurt his knee and only caught one pass on the day and Brandin Cooks wasn't seen after a big 44-yard gain early in the game. Woods caught 7-of-10 targets for 109 yards and ran the ball once for 12 yards. Kupp was able to return to the field after his injury, but wasn't used at all. We'll see if he gets any practices in this week, but Woods is looking like the safest play of the receivers at the moment.
Case Keenum completed 25-of-41 passes for 322 yards, two touchdowns and an interception, as he had yet another uneven day. Trailing for most of the day, Keenum was forced to throw the ball, which helped put up some stats, but he was not on target.
Emmanuel Sanders continues to put together decent games, and this week, he had his best one since Week 1, as he caught 7-of-10 passes for 115 yards and a touchdown. As long as he's getting his targets, his ability allows him to put up usable numbers.
Royce Freeman had more carries than Phillip Lindsay this week, but did little to nothing with them, as he rushed nine times for 22 yards and had no targets, while Lindsay rushed four times for 18 yards and caught 6-of-7 targets for 48 yards. Lindsay also had a potential receiving touchdown called back on an illegal block by Courtland Sutton. Freeman's inability to do anything with his carries should keep Lindsay squarely as the touch leader out of the backfield, but he will continue to have a thin margin of error.
Patriots 43, Chiefs 40
Tom Brady completed 24-of-35 passes for 340 yards and a touchdown, plus tacked on a four-yard touchdown run to push his fantasy numbers into the top 10. He didn't do much to start this game, as Sony Michel was finding plenty of room to run and Patrick Mahomes was not on target. That changed when Mahomes started putting the ball where it needed to be and Brady was called on to win the game. The addition of Julian Edelman and Josh Gordon has given Brady more options and, in turn, brought him back into top fantasy numbers.
Josh Gordon didn't put up great numbers, but he did lead the team with nine targets, catching four for 42 yards. It feels as if the blow-up game is just around the corner.
Sony Michel continues to find the end zone and see plenty of touches. This week, he rushed 24 times for 106 yards and had two short touchdown runs. He now has four touchdowns over his last three games and has topped 100 total yards in each. There will be games where he is scripted out of high touch numbers, but he'll remain the lead and goal-line back on a great offense.
Patrick Mahomes looked to be a bit too pumped up for this game, as he came out misfiring high, including an awful miss of a wide-open Kareem hunt down the seam. But those misses didn't last too long, as Mahomes got on track and did his usual eviscerating of a pass defense. Mahomes completed 23-of-36 passes for 352 yards with four touchdowns and two interceptions, and did the bulk of his damage in the second half.
Tyreek Hill caught 7-of-12 targets for 142 yards and three touchdowns, running circles around the slow New England defenders. Hill usually isn't the high-target receiver, but in this game, his ability was on display all over the field. He and Mahomes will continue to put up big plays even if sometimes there are short lulls in their connection.
Despite Mahomes missing Kareem Hunt for that early touchdown, Hunt still rushed 10 times for 80 yards and caught 5-of-6 passes for 105 yards and a touchdown. For some reason, Spencer Ware was in the game during hurry-up mode more often than he should have been, but Hunt was able to do a ton of damage on his snaps. His usage in the pass game was a good development and hopefully will get him more work moving forward.
For more thoughts, check out Walt's updated
NFL Power Rankings
, which will be posted Tuesday morning.
Comment...
Fantasy Football: The Things I Learned - Week 6
- 10/15
Fantasy Football: The Things I Learned - Week 5
- 10/8
Fantasy Football: The Things I Learned - Week 4
- 10/1
Fantasy Football: The Things I Learned - Week 3
- 9/24
Fantasy Football: The Things I Learned - Week 2
- 9/17
Fantasy Football: The Things I Learned - Week 1
- 9/10
NFL Picks
- Oct. 17
2020 NFL Mock Draft
- Oct. 13
2019 NFL Mock Draft
- Oct. 11
Fantasy Football Rankings
- Sept. 5
2019 NBA Mock Draft
- Aug. 13
NFL Power Rankings
- June 3
2018:
Live 2018 NFL Draft Blog
- April 30
2018 NFL Week 1 Recap
- Sept. 7
2018 NFL Week 2 Recap
- Sept. 14
2018 NFL Week 3 Recap
- Sept. 21
2018 NFL Week 4 Recap
- Sept. 28
2018 NFL Week 5 Recap
- Oct. 5
2018 NFL Week 6 Recap
- Oct. 12
2017:
Live 2017 NFL Draft Blog
- April 30
2017 NFL Week 1 Recap
- Sept. 12
2017 NFL Week 2 Recap
- Sept. 19
2017 NFL Week 3 Recap
- Sept. 26
2017 NFL Week 4 Recap
- Oct. 2
2017 NFL Week 5 Recap
- Oct. 9
2017 NFL Week 6 Recap
- Oct. 16
2017 NFL Week 7 Recap
- Oct. 23
2017 NFL Week 8 Recap
- Oct. 30
2017 NFL Week 9 Recap
- Nov. 6
2017 NFL Week 10 Recap
- Nov. 13
2017 NFL Week 11 Recap
- Nov. 20
2017 NFL Week 12 Recap
- Nov. 27
2017 NFL Week 13 Recap
- Dec. 4
2017 NFL Week 14 Recap
- Dec. 11
2017 NFL Week 15 Recap
- Dec. 18
2017 NFL Week 16 Recap
- Dec. 25
2017 NFL Week 17 Recap
- Jan. 1
2017 NFL Week 18 Recap
- Jan. 8
2017 NFL Week 19 Recap
- Jan. 15
2017 NFL Week 20 Recap
- Jan. 22
Super Bowl LII Recap
- Feb. 5
2017:
Live 2017 NFL Draft Blog
- April 30
2017 NFL Week 1 Recap
- Sept. 12
2017 NFL Week 2 Recap
- Sept. 19
2017 NFL Week 3 Recap
- Sept. 26
2017 NFL Week 4 Recap
- Oct. 2
2017 NFL Week 5 Recap
- Oct. 9
2017 NFL Week 6 Recap
- Oct. 16
2017 NFL Week 7 Recap
- Oct. 23
2017 NFL Week 8 Recap
- Oct. 30
2017 NFL Week 9 Recap
- Nov. 6
2017 NFL Week 10 Recap
- Nov. 13
2017 NFL Week 11 Recap
- Nov. 20
2017 NFL Week 12 Recap
- Nov. 27
2017 NFL Week 13 Recap
- Dec. 4
2017 NFL Week 14 Recap
- Dec. 11
2017 NFL Week 15 Recap
- Dec. 18
2017 NFL Week 16 Recap
- Dec. 25
2017 NFL Week 17 Recap
- Jan. 1
2017 NFL Week 18 Recap
- Jan. 8
2017 NFL Week 19 Recap
- Jan. 15
2017 NFL Week 20 Recap
- Jan. 22
Super Bowl LII Recap
- Feb. 5
2016:
Live 2016 NFL Draft Blog
- April 30
2016 NFL Week 1 Recap
- Sept. 12
2016 NFL Week 2 Recap
- Sept. 19
2016 NFL Week 3 Recap
- Sept. 26
2016 NFL Week 4 Recap
- Oct. 3
2016 NFL Week 5 Recap
- Oct. 10
2016 NFL Week 6 Recap
- Oct. 17
2016 NFL Week 7 Recap
- Oct. 24
2016 NFL Week 8 Recap
- Oct. 31
2016 NFL Week 9 Recap
- Nov. 7
2016 NFL Week 10 Recap
- Nov. 14
2016 NFL Week 11 Recap
- Nov. 21
2016 NFL Week 12 Recap
- Nov. 28
2016 NFL Week 13 Recap
- Dec. 5
2016 NFL Week 14 Recap
- Dec. 12
2016 NFL Week 15 Recap
- Dec. 19
2016 NFL Week 16 Recap
- Dec. 26
2016 NFL Week 17 Recap
- Jan. 2
2016 NFL Week 18 Recap
- Jan. 9
2016 NFL Week 19 Recap
- Jan. 16
2016 NFL Week 20 Recap
- Jan. 23
2016 NFL Week 21 Recap
- Feb. 6
2015:
Live 2015 NFL Draft Blog
- April 30
2015 NFL Week 1 Recap
- Sept. 12
2015 NFL Week 2 Recap
- Sept. 17
2015 NFL Week 3 Recap
- Sept. 24
2015 NFL Week 4 Recap
- Oct. 1
2015 NFL Week 5 Recap
- Oct. 8
2015 NFL Week 6 Recap
- Oct. 15
2015 NFL Week 7 Recap
- Oct. 22
2015 NFL Week 8 Recap
- Oct. 29
2015 NFL Week 9 Recap
- Nov. 5
2015 NFL Week 10 Recap
- Nov. 12
2015 NFL Week 11 Recap
- Nov. 19
2015 NFL Week 12 Recap
- Nov. 26
2015 NFL Week 13 Recap
- Dec. 4
2015 NFL Week 14 Recap
- Dec. 11
2015 NFL Week 15 Recap
- Dec. 18
2015 NFL Week 16 Recap
- Dec. 25
2015 NFL Week 17 Recap
- Jan. 4
2015 NFL Week 18 Recap
- Jan. 11
2015 NFL Week 19 Recap
- Jan. 18
2015 NFL Week 20 Recap
- Jan. 25
Super Bowl 50 Recap
- Feb. 8
2014:
Live 2014 NFL Draft Blog
- May 8
2014 NFL Week 1 Recap
- Sept. 5
2014 NFL Week 2 Recap
- Sept. 12
2014 NFL Week 3 Recap
- Sept. 19
2014 NFL Week 4 Recap
- Sept. 26
2014 NFL Week 5 Recap
- Oct. 3
2014 NFL Week 6 Recap
- Oct. 10
2014 NFL Week 7 Recap
- Oct. 17
2014 NFL Week 8 Recap
- Oct. 24
2014 NFL Week 9 Recap
- Oct. 31
2014 NFL Week 10 Recap
- Nov. 6
2014 NFL Week 11 Recap
- Nov. 13
2014 NFL Week 12 Recap
- Nov. 20
2014 NFL Week 13 Recap
- Nov. 27
2014 NFL Week 14 Recap
- Dec. 5
2014 NFL Week 15 Recap
- Dec. 12
2014 NFL Week 16 Recap
- Dec. 19
2014 NFL Week 17 Recap
- Dec. 29
2014 NFL Week 18 Recap
- Jan. 4
2014 NFL Week 19 Recap
- Jan. 11
2014 NFL Week 20 Recap
- Jan. 18
Super Bowl XLIX Live Blog
- Feb. 1
Super Bowl XLIX Recap
- Feb. 2
2013:
Live 2013 NFL Draft Blog
- April 26
2013 NFL Week 1 Recap
- Sept. 10
2013 NFL Week 2 Recap
- Sept. 17
2013 NFL Week 3 Recap
- Sept. 24
2013 NFL Week 4 Recap
- Oct. 1
2013 NFL Week 5 Recap
- Oct. 8
2013 NFL Week 6 Recap
- Oct. 15
2013 NFL Week 7 Recap
- Oct. 22
2013 NFL Week 8 Recap
- Oct. 29
2013 NFL Week 9 Recap
- Nov. 4
2013 NFL Week 10 Recap
- Nov. 11
2013 NFL Week 11 Recap
- Nov. 18
2013 NFL Week 12 Recap
- Nov. 25
2013 NFL Week 13 Recap
- Dec. 2
2013 NFL Week 14 Recap
- Dec. 9
2013 NFL Week 15 Recap
- Dec. 16
2013 NFL Week 16 Recap
- Dec. 23
2013 NFL Week 17 Recap
- Dec. 30
2013 NFL Week 18 Recap
- Jan. 6
2013 NFL Week 19 Recap
- Jan. 13
2013 NFL Week 20 Recap
- Jan. 20
Super Bowl XLVIII Recap
- Feb. 3
Super Bowl XLVIII Live Blog
- Feb. 2
2012:
Live 2012 NFL Draft Blog
- April 26
2012 NFL Week 1 Recap
- Sept. 10
2012 NFL Week 2 Recap
- Sept. 17
2012 NFL Week 3 Recap
- Sept. 24
2012 NFL Week 4 Recap
- Oct. 1
2012 NFL Week 5 Recap
- Oct. 8
2012 NFL Week 6 Recap
- Oct. 15
2012 NFL Week 7 Recap
- Oct. 22
2012 NFL Week 8 Recap
- Oct. 29
2012 NFL Week 9 Recap
- Nov. 5
2012 NFL Week 10 Recap
- Nov. 12
2012 NFL Week 11 Recap
- Nov. 19
2012 NFL Week 12 Recap
- Nov. 26
2012 NFL Week 13 Recap
- Dec. 3
2012 NFL Week 14 Recap
- Dec. 10
2012 NFL Week 15 Recap
- Dec. 17
2012 NFL Week 16 Recap
- Dec. 24
2012 NFL Week 17 Recap
- Dec. 31
2012 NFL Week 18 Recap
- Jan. 7
2012 NFL Week 19 Recap
- Jan. 14
2012 NFL Week 20 Recap
- Jan. 21
Super Bowl XLVII Recap
- Feb. 4
Super Bowl XLVII Live Blog
- Feb. 4
2011:
Live 2011 NFL Draft Blog
- April 28
2011 NFL Week 1 Recap
- Sept. 12
2011 NFL Week 2 Recap
- Sept. 19
2011 NFL Week 3 Recap
- Sept. 26
2011 NFL Week 4 Recap
- Oct. 3
2011 NFL Week 5 Recap
- Oct. 10
2011 NFL Week 6 Recap
- Oct. 17
2011 NFL Week 7 Recap
- Oct. 24
2011 NFL Week 8 Recap
- Oct. 31
2011 NFL Week 9 Recap
- Nov. 7
2011 NFL Week 10 Recap
- Nov. 14
2011 NFL Week 11 Recap
- Nov. 21
2011 NFL Week 12 Recap
- Nov. 28
2011 NFL Week 13 Recap
- Dec. 5
2011 NFL Week 14 Recap
- Dec. 12
2011 NFL Week 15 Recap
- Dec. 19
2011 NFL Week 16 Recap
- Dec. 26
2011 NFL Week 17 Recap
- Jan. 2
2011 NFL Week 18 Recap
- Jan. 9
2011 NFL Week 19 Recap
- Jan. 16
2011 NFL Week 20 Recap
- Jan. 23
Super Bowl XLVI Live Blog
- Feb. 6
2010:
Live 2010 NFL Draft Blog
- April 22
2010 Hall of Fame Game Live Blog
- Aug. 8
2010 NFL Kickoff Live Blog
- Sept. 9
2010 NFL Week 1 Review
- Sept. 13
2010 NFL Week 2 Review
- Sept. 20
2010 NFL Week 3 Review
- Sept. 27
2010 NFL Week 4 Review
- Oct. 4
2010 NFL Week 5 Review
- Oct. 11
2010 NFL Week 6 Review
- Oct. 18
2010 NFL Week 7 Review
- Oct. 25
2010 NFL Week 8 Review
- Nov. 1
2010 NFL Week 9 Review
- Nov. 8
2010 NFL Week 10 Review
- Nov. 15
2010 NFL Week 11 Review
- Nov. 22
2010 NFL Week 12 Review
- Nov. 29
2010 NFL Week 13 Review
- Dec. 6
2010 NFL Week 14 Review
- Dec. 13
2010 NFL Week 15 Review
- Dec. 20
2010 NFL Week 16 Review
- Dec. 27
2010 NFL Week 17 Review
- Jan. 3
2010 NFL Week 18 Review
- Jan. 10
2010 NFL Week 19 Review
- Jan. 17
2010 NFL Week 19 Review
- Jan. 24
Super Bowl XLV Live Blog
- Feb. 6
2009:
Live 2009 NFL Draft Blog
- April 25
2009 Hall of Fame Game Live Blog
- Aug. 10
2009 NFL Kickoff Live Blog
- Sept. 10
2009 NFL Week 1 Review
- Sept. 14
2009 NFL Week 2 Review
- Sept. 21
2009 NFL Week 3 Review
- Sept. 28
2009 NFL Week 4 Review
- Oct. 5
2009 NFL Week 5 Review
- Oct. 12
2009 NFL Week 6 Review
- Oct. 19
2009 NFL Week 7 Review
- Oct. 26
2009 NFL Week 8 Review
- Nov. 2
2009 NFL Week 9 Review
- Nov. 9
2009 NFL Week 10 Review
- Nov. 16
2009 NFL Week 11 Review
- Nov. 23
2009 NFL Week 12 Review
- Nov. 30
2009 NFL Week 13 Review
- Dec. 6
2009 NFL Week 14 Review
- Dec. 13
2009 NFL Week 15 Review
- Dec. 20
2009 NFL Week 16 Review
- Dec. 27
2009 NFL Week 17 Review
- Jan. 4
2009 NFL Week 18 Review
- Jan. 11
2009 NFL Week 19 Review
- Jan. 18
2009 NFL Week 20 Review
- Jan. 25
Super Bowl XLIV Live Blog
- Feb. 7
2008:
Live 2008 NFL Draft Blog
- April 26
2008 NFL Kickoff Blog
- Sept. 4
NFL Week 1 Review
- Sept. 8
NFL Week 2 Review
- Sept. 15
NFL Week 3 Review
- Sept. 22
NFL Week 4 Review
- Sept. 29
NFL Week 5 Review
- Oct. 6
NFL Week 6 Review
- Oct. 13
NFL Week 7 Review
- Oct. 20
NFL Week 8 Review
- Oct. 27
NFL Week 9 Review
- Nov. 3
NFL Week 10 Review
- Nov. 10
NFL Week 11 Review
- Nov. 17
NFL Week 12 Review
- Nov. 24
NFL Week 13 Review
- Dec. 1
NFL Week 14 Review
- Dec. 8
NFL Week 15 Review
- Dec. 15
NFL Week 16 Review
- Dec. 22
NFL Week 17 Review
- Dec. 29
NFL Wild Card Playoffs Review
- Jan. 4
NFL Divisional Playoffs Review
- Jan. 11
NFL Championship Sunday Review
- Jan. 19
Super Bowl XLIII Live Blog