By Chet Gresham -
@ChetGresham
Follow
@walterfootball
for updates.
Published Oct. 16, 2018.
Below are players I'll be targeting on the waiver wire this week. As usual, I'm using the approximately 50-percent ownership threshold at Yahoo to determine who is allowed on the list.
Players are listed in the order I would assign waiver priority for each position.
Running Backs
Marlon Mack, Colts (26 percent)
Mack's Week 6 game showed us that he is the best running back on the team and on an offense that has plenty of upside with Andrew Luck at the helm. Mack's not perfect. but at this point in the season, we likely aren't going to find many RB1s on a team sitting on the waiver wire.
Ito Smith, Falcons (9 percent)
Devonta Freeman will be out again next week, so Smith should continue to have some fantasy value, plus there is some chance, albeit small, that Ito pushes his way up the depth chart, as Tevin Coleman has played poorly.
Nick Chubb, Browns (42 percent)
Carlos Hyde hasn't shown much of anything this season, while Chubb has, at least in limited work. I expect Chubb to finally see an uptick in usage and, at the very least, be allowed to win more work moving forward.
Duke Johnson, Browns(30 percent)
The Browns have very few competent receivers left and need Johnson in the passing game. He showed up big time last week, but he is still not seeing the touches he needs for consistency. I believe Cleveland's obvious need will eventually take precedent over poor coaching.
Rashaad Penny, Seahawks (20 percent)
Penny has been an afterthought so far this season, but he put together a decent game in London with nine carries for 43 yards and caught both of his targets for 27 more yards. Those stats aren't going to push you into taking him with your No. 1 waiver priority, but we know that Seattle wouldn't mind having its first-round pick perform well and this game was a step in the right direction.
Wide Receivers
Marquise Goodwin, 49ers (41 percent)
Goodwin just went off on the Packers on Monday night and helped show that C.J. Beathard is capable of getting him the ball. A healthy Goodwin needs to be rostered in all leagues.
Chris Godwin, Bucs (44 percent)
Godwin continues his great play despite the many targets Tampa Bay has in the passing game. His ability to fight for receptions is a big plus in the red zone, and we've now seen Jameis Winston target him for a team-high nine times and put up good numbers. He's not the No. 1 receiver, so his targets will fluctuate, but he's shown that he doesn't need to be a target hog to get into the end zone with regularity.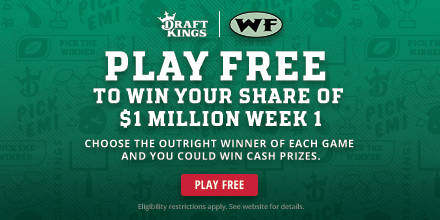 Taylor Gabriel, Bears (22 percent)
We probably can't count on Gabriel making highlight-reel catches like last week regularly, but he's shown enough, along with Mitch Trubisky, to not dismiss his back-to-back 100-yard games.
Chester Rogers, Colts (16 percent)
Rogers was awful last week, yet still put up a nice game due to his high target numbers. The Colts' wide receivers also continue to drop like flies, dead or ailing flies that is, and Rogers should continue to see plenty of targets.
Jermaine Kearse, Jets (1 percent)
Kearse is healthy, and Quincy Enunwa is not. That puts Kearse in a good PPR spot, especially this week against a leaky Vikings secondary in a game that should be high-scoring.
Cameron Meredith, Saints (9 percent)
Meredith is good enough to continue to demand targets from Drew Brees. The Saints really spread the ball around the last time they played, so there's no way to feel confident about anyone's target numbers other than Michael Thomas', but a healthy Meredith will be tough to keep off the field.
Tre'Quan Smith, Saints (5 percent)
Smith is the deep threat who Drew Brees was missing, as Ted Ginn has lost some of his deep game. That doesn't mean Smith will have consistency with so many mouths to feed in New Orleans, but he really does help spread out the defense and has tremendous ability. He takes a leap of faith, as he will likely have down games, but his blow-up games could be huge.
Albert Wilson, Dolphins (10 percent)
I love Albert Wilson and his tremendous ability after the catch, but he hadn't seen more than six targets until last week when Brock Osweiler took over and gave him nine. But even with limited targets, Wilson had found the end zone twice before his two-touchdown game last week. His ability hasn't been backed by his usage, but we can hope that last week was the start of more work.
Tight Ends
O.J. Howard, Bucs (54 percent)
Howard returned quickly from his knee injury and out-targeted Cameron Brate 4-1 and caught all four of his targets for 62 yards and a touchdown. He's the real deal, and Brate isn't going to slow him down.
C.J. Uzomah, Bengals (33 percent)
Uzomah was a big part of Cincinnati's game plan last week and should remain so moving forward. I expect him to find the end zone more often moving forward and to put up consistent numbers at a weak fantasy position.
Quarterbacks
Mitch Trubisky, Bears (29 percent)
Is this Bears offense for real? Maybe, but it's been going well enough to take a chance on its quarterback for fantasy. The Patriots come to town next week, and Trubisky will need to air it out to have a chance, which should show us if he can keep his big fantasy points rolling.
Baker Mayfield, Browns (29 percent)
Mayfield isn't someone I want as my starting quarterback, but when you are streaming quarterbacks, you grab the guy playing Tampa Bay.
For more recommendations, check out WalterFootball.com's
Fantasy Football Rankings
.
More 2018 Fantasy Football Articles:
Fantasy Football Rankings
2018 Fantasy Football Rankings:
2018 Fantasy Football Rankings: Quarterbacks
- 9/5 (Walt)
Chet Gresham's Fantasy Football Quarterback Rankings
- 8/29 (Chet)
2018 Fantasy Football Rankings: Running Backs
- 9/5 (Walt)
Chet Gresham's Fantasy Football Running Back Rankings
- 8/29 (Chet)
2018 Fantasy Football Rankings: Wide Receivers
- 9/5 (Walt)
Chet Gresham's Fantasy Football Wide Receiver Rankings
- 8/29 (Chet)
2018 Fantasy Football Rankings: Tight Ends
- 9/5 (Walt)
Chet Gresham's Fantasy Football Tight End Rankings
- 8/29 (Chet)
2018 Fantasy Football Rankings: Kickers
- 8/21 (Walt)
2018 Fantasy Football Rankings: Defenses
- 8/21 (Walt)
Fantasy Football Rookie Rankings: Dynasty
- 8/21 (Walt)
Fantasy Football Rookie Rankings: Dynasty
- 5/18 (Chet)
2018 Fantasy Football Mock Drafts:
Fantasy Football Mock Draft
- 9/1 (Walt)
Fantasy Football Mock Draft
- 8/30 (Walt)
Fantasy Football Mock Draft
- 8/27 (Walt)
Fantasy Football PPR Mock Draft
- 8/23 (Walt)
Fantasy Football Mock Draft
- 8/22 (Walt)
Fantasy Football Mock Draft
- 8/16 (Walt)
Fantasy Football PPR Mock Draft
- 8/9 (Walt)
Fantasy Football Mock Draft
- 8/2 (Walt)
Fantasy Football PPR Mock Draft
- 8/1 (Chet)
Fantasy Football PPR Mock Draft
- 7/26 (Walt)
Fantasy Football 2-QB Dynasty Draft
- 5/25 (Chet)
2018 Fantasy Football Cheat Sheets:
2018 Fantasy Football Cheat Sheet: Top 250
- 9/5 (Walt)
2018 Fantasy Football Cheat Sheet: Top 250 PPR
- 9/5 (Walt)
2018 Fantasy Football Cheat Sheet: Top 250 2-QB
- 9/5 (Walt)
2018 Fantasy Football Cheat Sheet: Top 250 Touchdown League
- 9/5 (Walt)
2018 Fantasy Football Cheat Sheet: Custom
- 9/5 (Walt)
2018 Fantasy Football: Dynasty Rankings
- 9/5 (Walt)
2018 Fantasy Football Spreadsheets
- 9/5 (Walt)
2018 Fantasy Football Articles:
2018 Fantasy Football Stock Report: OTAs, Training Camp
- 9/5 (Walt)
2018 Fantasy Football Sleepers
- 9/5 (Walt)
2018 Fantasy Football Busts
- 9/5 (Walt)
2018 Fantasy Football Mid-Round Values
- 9/5 (Walt)
2018 NFL Preseason Game Recaps
- 8/31 (Walt)
2018 Fantasy Football Stock Report: Preseason Games
- 8/31 (Walt)
2018 Fantasy Football Notes
- 8/31 (Chet)
2018 Fantasy Football Quarterback Preseason Targets Tracker
- 8/30 (Walt)
2018 Fantasy Football D/ST Drafting
- 8/28 (Chet)
2018 Fantasy Football ADP Values: Running Backs
- 8/16 (Chet)
2018 Fantasy Football Round-by-Round Strategy Guide
- 8/15 (Walt)
2018 Fantasy Football ADP Values: Quarterbacks
- 8/15 (Chet)
2018 Fantasy Football Tight Ends to Target
- 8/9 (Chet)
2018 Fantasy Football - PPR Draft Strategy: Rounds 1 and 2
- 7/27 (Chet)
2018 Fantasy Football: Doug Baldwin's Value
- 7/25 (Chet)
2018 Fantasy Football: Chris Hogan's Value
- 7/18 (Chet)
2018 Fantasy Football: Alvin Kamara's Value
- 7/16 (Chet)
2018 Fantasy Football Strength of Schedule: Tight Ends
- 7/11 (Chet)
2018 Fantasy Football Strength of Schedule: Wide Receivers
- 7/6 (Chet)
2018 Fantasy Football Strength of Schedule: Running Backs
- 7/5 (Chet)
2018 Fantasy Football Strength of Schedule: Quarterbacks
- 7/4 (Chet)
2018 Fantasy Football Tight Ends Better Than ADP
- 6/29 (Chet)
2018 Fantasy Football Wide Receivers Better Than ADP
- 6/28 (Chet)
2018 Fantasy Football Target Shares
- 6/22 (Chet)
2018 Fantasy Football Wide Receiver Points Per Game
- 6/13 (Chet)
2018 Fantasy Football Mock Draft Simulator
- 6/2
2018 Fantasy Football Value Players
- 5/25 (Chet)
2017 Fantasy Football Quarterback Look-Back
- 1/28 (Walt)
2018 Fantasy Football: Running Backs with the Most Carries
- 1/28 (Walt)
NFL Picks
- Oct. 17
2020 NFL Mock Draft
- Oct. 13
2019 NFL Mock Draft
- Oct. 11
Fantasy Football Rankings
- Sept. 5
2019 NBA Mock Draft
- Aug. 13
NFL Power Rankings
- June 3