This is a new feature where I'll list Disaster Ratings (one being the least problematic, to 10 being code red) for NBA clubs involving offseason retirements and injuries. With some of the recent players going down or calling it quits, I thought it would be nice to have a new section where I can discuss and rate everything.
Follow
@walterfootball
for updates.
Oct. 19 Updates
Celtics F Gordon Hayward out for season (broken leg): 9/10 Disaster Rating
Unlike the Jeremy Lin injury, this one will actually impact the playoff outlook of the NBA. The Celtics were expected to be the team to challenge the Cavaliers in the Eastern Conference. That's no longer the case with Gordon Hayward suffering a season-ending injury.
This has to be a 9/10 Disaster Grade, and the only reason it's not a 10/10 is because Hayward will be 100 percent next year. This season, however, is a lost one. The Celtics were going to be underdogs against the Cavaliers in the Eastern Conference Finals, but what if LeBron James suffered an injury? The Celtics would've been the favorites in the East for sure. Not anymore.
The good news, as mentioned, is that Hayward will return next year. By then, James is likely to be playing in Los Angeles, so the Celtics will be favorites in the Eastern Conference.
Nets G Jeremy Lin out for season (torn patellar tendon): 5/10 Disaster Rating
If the Nets had their first-round pick, I'd grade this as a 0/10. Jeremy Lin's absence would allow the Nets to lose more games, giving them a better chance to win the lottery.
Unfortunately, the Nets were dumb enough to trade their opening-round selection, so their record doesn't matter at all to anyone but the Cavaliers, who own their pick.
As a result, I have to grade this somewhat highly. Torn patellar tendons are brutal for players, and there's no guarantee Lin will be anywhere close to 100 percent in 2018-19. Lin has a player option for $12.5 million next year, meaning the Nets will be paying a ton of money for damaged goods. At the very least, Lin's injury will help them lose next year, which is a good thing because they're unlikely to be competitive enough to make the playoffs.
Aug. 31 Updates
Lakers Fined $500,000 for tampering with Paul George: -5/10 Disaster Rating
This so-called "penalty" the Lakers have suffered for tampering with Paul George is the most ridiculous thing I've ever seen. It's so ridiculous that it's getting a negative-five Disaster Grade!
Does the NBA really think that a $500,000 fine is going to act like a deterrent for teams attempting to tamper with players? Please. A sum of $500,000 is just a micro-fraction of what the Lakers are eventually going to pay George once they inevitably sign him. And if $500,000 is the grand penalty for tampering, it's not going to stop any NBA teams from doing this.
Want to hear how completely insignificant the $500,000 fine is for the Lakers? If they maintain the same attendance level in 2017-18 that they did last season, all they'd need to do to offset the $500,000 fine is to increase everyone's ticket price by an average of 64.3 cents. Oh, the horror!
If the NBA actually cared about tampering, they would have stripped a second-round pick away from the Lakers with the promise of a first-rounder being taken with the next violation. Instead, the opposite is going to happen, and tampering will happen more often because the penalty isn't nearly severe enough.
Aug. 16 Updates
LeBron James Reportedly 100-Percent Leaving Cleveland: 10/10 Disaster Rating
About a month ago, I wrote that LeBron James leaving Cleveland would result in a 10/10 Disaster Grade for the Cavaliers, so here we are. According to a report, James is "100-percent" gone from Cleveland because owner Dan Gilbert made a $750,000 contribution to Donald Trump.
Of course, this is hardly breaking news. There has been speculation for a while that James would be heading to Los Angeles so he could pursue his promising Hollywood career. He's going to make some terrific movies that people will certainly pay lots of money for, so it makes lots of sense for him to play for the Lakers next year. Also, James referred to Los Angeles as "home," so that was another sign that he was planning on leaving Cleveland.
James' ire for Gilbert's political views is yet another strike against the Cavaliers keeping their best player, so it's almost certain at this point that he's gone. At this point, it would take a miracle to keep James in Cleveland, so I have no problem with issuing a 10/10 Disaster Grade a year in advance.
July 21 Updates
Kyrie Irving Asks for Trade: 7/10 Disaster Rating
And so begins the end of the Cavaliers. It's been widely speculated that LeBron James will be leaving Cleveland next summer to go to Los Angeles, but now it seems as though Irving will be departing as well.
What's curious about this is that according to ESPN's Brian Windhorst, Irving wants a trade because he doesn't want to play alongside James. Considering James will be leaving in 12 months, it's strange that Irving would ask to be dealt now, but it appears as though that he doesn't want to suffer another year playing with the self-proclaimed king. Irving reportedly wants to be the focal point of an offense; not some shadow behind James.
The Cavaliers are falling apart, and I've decided to go with an 7/10 Disaster Grade. It'll be a 10/10 when James leaves, but this is almost as bad; Irving is arguably a top-20 NBA player, and he was expected to at least keep Cleveland competitive in the wake of James' departure. That apparently will not be the case, though nothing is final quite yet. It's possible that Irving will change his mind, hence why this isn't an 8/10 or 9/10.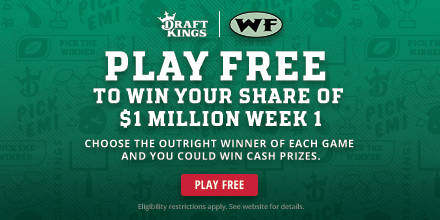 NFL Picks
- Oct. 19
2019 NFL Mock Draft
- Oct. 18
2020 NFL Mock Draft
- Oct. 13
Fantasy Football Rankings
- Sept. 5
2019 NBA Mock Draft
- Aug. 13
NFL Power Rankings
- June 3