2017 NCAA Tournament Picks - East Bracket
By Walter Cherepinsky -
@walterfootball
Rather than go through, game by game, I'm going to show you my selections on the brackets and post notes on some of the interesting contests:
I agree with Alan Boston that the NCAA is pulling out all the stops to make sure Villanova doesn't win the championship again. The NCAA takes care of the good ol' boy network, which the Wildcats are not a part of. Villanova has a ridiculously tough second-round matchup against either Wisconsin or Virginia Tech. I think the Badgers are a bit better than the Hokies, but I'm still taking Villanova to advance to the Sweet 16, just because of probability.
I have Villanova losing to Virginia, an underseeded team that should've been a No. 2. The Cavaliers lost to the Wildcats by two earlier in the year, and it's tough to beat a team twice.
Florida is my big first-round upset. The Gators are not the same without John Egbunu and could early because of that. East Tennessee State has big size and could give the Gators some problems.
In the bottom of the bracket, I have SMU advancing past Baylor. SMU should've been a No. 3 seed, while Baylor hasn't been the same since starting the year hot.
I like Marquette over South Carolina because of its great shooting, but the NCAA really did a great job in making sure Duke advances to the Elite Eight. What an easy road!
The Blue Devils are my pick to advance from the East. They should be a No. 1 seed. They had injury and suspension issues earlier in the year; not to mention Coach K's health concerns that caused him to miss some games. Now, everyone, including Coach K, happens to be healthy, so it's no surprise that they ripped right through the ACC Tournament.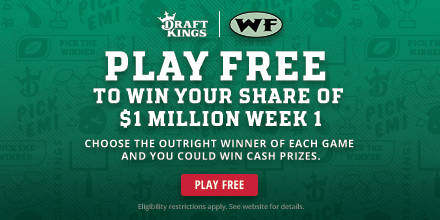 NCAA Tournament Picks:
South
|
West
|
East
|
Midwest
|
Final Four
March Madness Contest: Free with Cash Prizes!
Comment...
NFL Picks
- Oct. 19
2019 NFL Mock Draft
- Oct. 18
2020 NFL Mock Draft
- Oct. 13
Fantasy Football Rankings
- Sept. 5
2019 NBA Mock Draft
- Aug. 13
NFL Power Rankings
- June 3