Missing Include for PHPIncludeFailed_ncaatournamentmenu2017a.php
2017 NCAA Tournament Picks - Final Four Bracket
By Walter Cherepinsky -
@walterfootball
Rather than go through, game by game, I'm going to show you my selections on the brackets and post notes on some of the interesting contests:
These games could really go either way. I'm taking Duke over Arizona, but both teams are similar in that they struggled earlier in the year because of injuries/suspensions, but they're both absolutely on fire now. I think the Blue Devils are a bit better, but it's close.
North Carolina over Michigan is easier. I like the Wolverines a lot, but North Carolina getting bounced earlier than expected in the ACC Tournament has given Roy Williams more time to make needed adjustments.
And just like that, we have North Carolina versus Duke, Part IV! Can you imagine how much ESPN will splooge if that happens? It'll be so bad that the SC6 hosts won't be recognizable, if you catch my drift.
As mentioned in one of my bracket analysis pages, North Carolina would've beaten Duke in the ACC Tournament had it not gotten into foul trouble. I like the Tar Heels to bounce back if they have better luck, plus, as I said earlier, having more time could give Williams the advantage.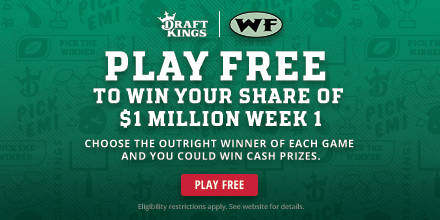 NCAA Tournament Picks:
South
|
West
|
East
|
Midwest
|
Final Four
March Madness Contest: Free with Cash Prizes!
Comment...
2019 NFL Mock Draft
- Sept. 13
Fantasy Football Rankings
- Sept. 5
2019 NBA Mock Draft
- Aug. 13
2020 NFL Mock Draft
- Aug. 1
NFL Power Rankings
- June 3
NFL Picks
- Feb. 4