These are my 2017 NFL Betting Props. I've done well with these props over the past couple of years. My record since 2014 is 18-13, +$600. Of my top three props last year, two hit. I had Buccaneers over 6.5 and Browns under 5 as the big winners, while Falcons under 8 was a horrible call. Here's what I'm betting (all numbers are according to 5Dimes). I'll do an update in July once I get to Vegas.
2017 NFL Betting Props: Teams
Cincinnati Bengals: Under 8.5 Wins
July update: I'm adding the Bengals under to my card, as I think they could bottom out this year. They might have the worst offensive line in the NFL, which is saying a lot because of Seattle's blocking ineptitude. Tyler Eifert's status is also in doubt for the start of the season.
Betting 2 Units (-140)
-- Correct; +$200
Jacksonville Jaguars: Under 6.5 Wins
The Jaguars are getting a lot of hype because of the moves they've made in free agency this offseason. So, it's pretty much like any other year. Unless something has changed, Blake Bortles is still Jacksonville's quarterback. Bortles doesn't care enough about football to put the necessary work into it, so the Jaguars will continue to lose as long as he's quarterback.
July update: I still like the Jaguars under for two units. The number is even better at the Westgate, where you can get Under 6.5 +120.
Betting 2 Units (+120)
-- Incorrect; -$200
Los Angeles Rams: Under 6 Wins
The juice on this sucks, but that's probably because it's going to hit. The Rams are a train wreck. They have one of the worst quarterbacks in the NFL starting for them; they can't block; their No. 1 receiver is Robert Woods; they can't block; they're transitioning to a new defense that doesn't fit the strengths of some of their top players; and they have no home-field advantage. Other than that, they're pretty good!
July update: I've reconsidered the Rams a bit, as their offensive line is much better than last year. I still don't trust Jared Goff, but the improved blocking and the absence of Jeff Fisher could get the Rams to six or seven wins. I still like the under, but I'm going to cut the bet in half.
Betting 2 Units (-130)
-- Incorrect; -$260
New England Patriots: Over 12.5 Wins
Yes, I would like to sign up for some free Tom Brady money. This is a high number, but the Patriots were 14-2 last year, and they've gotten better thanks to the great moves they've made this offseason.
July update: I'm dropping this to one unit. I still like the Patriots, but a 12.5 number is kind of ridiculous.
Betting 1 Unit (+100)
-- Correct; +$100
New York Giants: Under 8.5 Wins
The Giants were incredibly lucky last year, as the metrics marked them as a 7-9 or 8-8 team. They're going to regress to the mean this season, and I don't think a 6-10 campaign is out of the question. They can't block, and their quarterback is in rapid decline. I wish we were getting another half of a win, as the under 9 would look very appealing.
July update: I have the Giants at close to 8.5 wins, so there's not much value at this number. I wish we were getting nine, as I could see the Giants potentially lucking their way into 9-7.
Betting 1 Unit (+130)
-- Correct; +$130
New York Jets: Under 4 Wins
The Jets are probably the worst team in football, and I can't see them winning five games this year. They're sucking for Sam Darnold, so let's go along for the ride. The juice sucks, but I'm confident in this one.
July update: This number has dropped to four! It's under 4 -115 at Mandalay Bay. Still, the Jets are probably the worst team in the league and they have a brutal schedule (they play the AFC West and NFC South), so I think they'll likely finish 2-14.
Betting 4 Units (-115)
-- Incorrect; -$460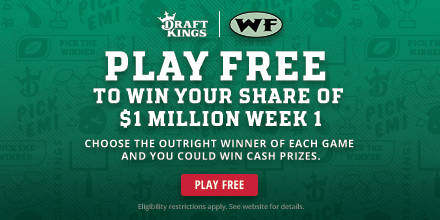 Oakland Raiders: Over 9.5 Wins
July update: I'm adding this to the card as well. The Raiders could be the second-best team in the NFL, so they should have a higher number. I think 11 would be right for them, so there's a bit of value on the over.
Betting 1 Unit (-120)
-- Incorrect; -$120
Philadelphia Eagles: Over 8 Wins
It's hard for me to imagine the Eagles winning fewer than 10 games this year. They were 7-9 in 2016, and that was with Lane Johnson missing 10 games. The Eagles were 5-1 with Johnson, and now they've added better receivers to help Carson Wentz, who has been working extremely hard on his mechanics this offseason.
July update: The juice has risen slightly from -125 to -130, but I still love the Eagles this year.
Betting 4 Units (-130)
-- Correct; +$400
San Francisco 49ers: Under 4.5 Wins
The free wins from betting under on Chip Kelly's teams are over, sadly, but this should still cash. The 49ers are devoid of talent and are likely to finish around 3-13. I wish we could get under 5, but this should be fine.
July update: I'm removing this as a wager. Upon further inspection, I don't think the 49ers are as bad as I thought they were. I'd still lean under, but I think 4-12 or 5-11 is very possible for them.
Betting 0 Units
2017 NFL Betting Props: Super Bowl Odds
Philadelphia Eagles: 35/1
I usually hate Super Bowl winning props, as the value tends not to be there. However, I placed a $10 bet on the Eagles to win Super Bowl LII. I think 35/1 is a decent number, as Philadelphia is almost certainly one of the seven or eight teams most likely to win the Super Bowl this year. I'd say that if you simulated the 2017 season 35 times, the Eagles would win the championship once out of those permutations.
Betting 0.1 Units to win 3.5
-- Correct; +$350
2017 NFL Betting Props: Players
I'll post player props when they are available.
Comment...
NFL Picks
- Oct. 22
2020 NFL Mock Draft
- Oct. 20
2019 NFL Mock Draft
- Oct. 18
Fantasy Football Rankings
- Sept. 5
2019 NBA Mock Draft
- Aug. 13
NFL Power Rankings
- June 3