**** NOTES FOR EVERY GAME WILL BE UP AS SOON AS I WATCH THEM **** Follow me
@walterfootball
for updates.
2017 Preseason Notes:
Week 4
|
Week 3
|
Week 2
|
Week 1
2017 Fantasy Football Stock Pages:
Preseason Stock Week 4
|
Preseason Stock Week 3
|
Preseason Stock Week 2
|
Preseason Stock Week 1
|
Training Camp Stock
Chiefs 30, Titans 6
This game was all about Patrick Mahomes, who played the entire first half. Mahomes finished 9-of-16 for 183 yards and a touchdown, and he was as good as those stats indicate.

Mahomes showed strong mental capabilities in this contest. He audibled into a positive play on the opening drive, and his initial completion was made after he went through his progressions and found the open receiver. Mahomes went deep on his second possession, launching a 53-yard bomb. He also picked up a first down on a scramble. A bit later, Mahomes once again hurled another bomb, this one for 46 yards. He was able to complete the heave downfield despite rolling right. He kept his eyes down the field as he did this, which was impressive for a rookie. Mahomes concluded his evening with another long throw, hitting a receiver for a 28-yard score in the 2-minute drill.

Mahomes got lucky that an interception was dropped. He stared down his receiver and threw a low ball. On the other hand, Mahomes' completion percentage would've been better had his teammates not dropped a couple of passes. One of these drops nearly caused another pick, but the Tennessee player was out of bounds.

Overall, Mahomes has looked very good this preseason. He's not ready to play yet, but he should be come 2018. He provides the Chiefs with long-term potential of consistently making deep runs into the playoffs.


Kansas City's second-round rookie, Tanoh Kpassagnon, beat a tackle for a sack on Tennessee's first drive. He also made a nice tackle for a loss in the backfield, and he fought through a hold to get another tackle.


There's not much to say about the Titans. Matt Cassel started and played a couple of drives. He gave way to Alex Tanney, who might be the worst quarterback in the NFL. He went 9-of-22 for 101 yards and an interception.


One Titan player I want to highlight is fifth-round rookie linebacker Jayon Brown. I had written about Brown previously, noting his impressive play in the preseason. That continued in this game. Brown showed some great instincts to read Mahomes' eyes and nearly come up with an interception. He dropped the ball, however.


NFL Preseason Announcers: I couldn't find anything wrong with the announcers, but the officiating in this game was pretty poor. They didn't see basic calls, and they had to use replay review multiple times as a result. On one instance, the official tried to negate an interception the Titans appeared to snatch away from Mahomes even though there was a penalty on the Chiefs; not the Titans. This caused a 2-minute delay while everyone tried to figure out what happened.

Follow me @walterfootball for updates.











Broncos 30, Cardinals 2
Trevor Siemian predictably had the night off. With Paxton Lynch injured, undrafted rookie free agent Kyle Sloter, from Northern Colorado, had an opportunity to play the entire game. He was the only active quarterback on the roster. If he had gotten hurt, wide receiver Jordan Taylor would have to play under center.

I'm spending some time on Sloter because he has gotten a ton of buzz in the Denver area. Sloterhouse has played well this preseason, so it was nice to see him get extensive action in this contest. Sloter finished 15-of-23 for 220 yards and a touchdown. His completion percentage could've been better, as three incompletions were dropped. His best pass was a 32-yarder, a pass along the sideline while rolling left.

However, the issue with Sloter is that the game is too fast for him. He has zero pocket awareness. There were numerous instances where he held the ball too long in the pocket and got into trouble because of it. This happened early when he took a safety because he just stood in the pocket forever. Sloter has potential, for sure, but he needs to be developed before seeing real action.


Jamaal Charles didn't suit up, so sixth-round rookie DeAngelo Henderson got the start. Henderson didn't find much running room, gaining just 11 yards on six carries.


Garett Bolles didn't play, but both of Denver's second-day rookies thrived. DeMarcus Walker had a nice outing, while cornerback Brendan Langley looked great. Langley made some great tackles and displayed terrific closing speed. It looks like he'll be able to become a starter in the future.


As for the Cardinals, they couldn't muster a single offensive point, thanks to some horrible quarterbacking. Blaine Yo Gabbert Gabbert (5-of-10, 51 yards) struggled despite his strong performance in the Hall of Fame Game. Trevor Knight was even worse. Check out his stat line: 2-of-12, 19 yards, one interception.


Only four Cardinals caught passes. Aaron Dobson was not one of them, though he did receive a target. He dropped an easy pass on third down. He's about to be out of the league soon.


NFL Preseason Announcers: Arizona color analyst Ron Wolfley is the greatest of all time. Take a look at some of the things he said during the telecast. I won't even comment on them. Just sit back and enjoy:

"You could literally fry fish in his belly button!"

"He's faster than a popcorn fart!"

"This is like eating beef jerky from the porch of your beach house!"

Follow me @walterfootball for updates.


Dolphins 30, Vikings 9
Jay Cutler needs reps with his new team, but he didn't play in this game. Sam Bradford needs talent, but he didn't play in this game either. Instead, it was a battle between Brandon Doughty and Taylor Heinicke.


There are a couple of young players worth mentioning. Kenyan Drake starting at running back for the Dolphins, and he led the team in rushing yards, gaining 27 yards and a touchdown on eight carries. About half of his yardage came on a 13-yard burst.

The Vikings, meanwhile, started Laquon Treadwell and Michael Floyd. Both were huge disappointments. Treadwell, who caught one pass for nine yards, dropped a ball. Floyd, meanwhile, failed to log a single reception. He complained to Heinicke for a poorly thrown ball, but it's not like he had separation. Neither player was able to get open against Miami's rookies and practice-squad players.


Going to the defensive rookies, third-rounder Cordrea Tankersley continued his strong preseason. He had lockdown coverage on Minnesota's physically gifted receivers. He should be able to break into the starting lineup soon.

For the Vikings, fourth-round rookie Jaleel Johnson stood out once again. Johnson logged a sack last week, and he stuffed a running back for a loss in this contest. Johnson has made numerous terrific plays this offseason. Like Tankersley, he should see action with the first-team defense soon.


NFL Preseason Announcers: The Minnesota announcers do not like official Pete Morelli. They spent most of the evening berating him. The play-by-play guy said, "Of course, Morelli doesn't throw a flag. It was an obvious penalty. Oh, there's the flag. What a surprise he'd get a call correct." Morelli, for those of you who don't know, was the official during the Vikings' loss to the Saints in the 2009 NFC Championship, which was a game where defensive coordinator Gregg Williams paid his players to injure Brett Favre. How Williams is still in the NFL, I have no idea.

Also, you know how sports channels have a bottom line where they show other scores? Well, Minnesota's telecast tried something much different and much more annoying. They ran tweets from Viking fans on their bottom line all evening. Here's an example:




"Preseason baby!?" Who the hell is excited about a fourth preseason game? And why are you hashtagging a bank? Get a life, Lisa Olson!

Follow me @walterfootball for updates.


49ers 23, Chargers 13
San Francisco rookie quarterback C.J. Beathard played the entire opening half. He took a crushing blow on a blind-side sack on his second drive. That was the one lowlight, but his best play came in the middle of the second quarter. Beathard tucked and ran with the ball, sprinting all the way to the end zone for a 62-yard scrambling touchdown. He outran the entire defense, which was completely unexpected. General manager John Lynch, who was a guest analyst in the booth, was equally as shocked. "I'm going to be honest, I didn't know he could do that," Lynch said.

Beathard finished 5-of-9 for 31 yards. Outside of that crazy run, he didn't do anything special, but he didn't make any mistakes either.


Tim Hightower handled the workload for the 49ers throughout the entire first half. He managed 21 yards and a touchdown on eight carries. However, he double caught the ball once, allowing the defense to disrupt the play. He also appeared to fumble in the second quarter, but his arm was down before the ball came loose.


Joe Williams entered the preseason finale in the second quarter and saw lots of action following halftime. The good news for Williams was that he gained 53 yards on 10 carries. He was more decisive in his vision, and he made some great jukes and cuts on his runs. His numbers could've been even better had a 9-yard gain of his not been wiped out by penalty. However, Williams made numerous mistakes that must have had Kyle Shanahan wanting to pull his hair out. Williams, who made a nice catch on a low throw, dropped an easy pass in the flat. He fumbled twice in the second half as well. These sorts of errors have been one of the reasons why Williams has fallen behind Matt Breida, who didn't even play in this game. I would not draft Williams in re-draft leagues right now.


There was no way in seven hells that Philip Rivers was going to see any action in this game. Cardale Jones played most of the evening with mixed results. Jones made some nice throws - he finished 18-of-24, 158 yards and a pick that came off a deflection - but he was strip-sacked because he held on to the ball forever.


The star for the Chargers' offense was running back Austin Ekeler. I don't know if he's going to survive final cuts, but Ekeler was awesome. He gained 50 yards on eight carries and also caught three balls for 58 receiving yards. He juked defenders and broke tackles all night. He's not especially talented, but he should be on a 53-man roster.


Most of San Francisco's primary rookies were out; Solomon Thomas, Reuben Foster and George Kittle were all sidelined. Third-round rookie cornerback Ahkello Witherspoon took the field, however. Witherspoon is very raw, but he did a good job in coverage in this game, save for allowing a 23-yard completion in the second quarter. However, it's apparent that Witherspoon needs to work on being more physical. He struggles to tackle.


Speaking of rookie defensive backs, Chargers' fifth-rounder Desmond King lit up C.J. Beathard in the first quarter. He came in on a blitz and crushed Beathard with a blind-side hit. The early returns on King have been promising. Meanwhile, third-round rookie guard Dan Feeney had a great block in this game to open a nice run. Feeney had struggled in this preseason, so it was nice to see him rebound a bit. Unfortunately for the Chargers, it doesn't appear as though Feeney will crack the starting lineup anytime soon (barring injuries to starters).


NFL Preseason Announcers: The color analyst of the 49ers' telecast was very pushy. John Lynch, as mentioned, was a guest analyst during the second quarter, and the color guy kept demanding Lynch to talk about random things. Instead of leading him into a conversation like normal TV people, this guy kept going, "Talk about Player X." "Discuss Player Y." "Give me 200 words on Player Z."

Follow me @walterfootball for updates.







Steelers 17, Panthers 14
This game marked the moment Steeler fans have been anticipating for several years now: The end of Landry Jones.

Jones barely played in this game. He went 4-of-6 for only 28 yards and an interception. The pick wasn't his fault, as a pass of his floated as a result of his arm being hit. However, Josh Dobbs outplayed Jones the rest of the evening. Dobbs finished 16-of-23 for 212 yards and two touchdowns (one passing, one rushing). I'll be shocked if Dobbs didn't pass Jones on the depth chart as a result of tonight's performance.

Dobbs did numerous nice things in this contest, as his stat line indicates. He launched a 58-yard bomb to Justin Hunter with perfect placement. Toward the end of the night, he climbed the pocket to launch a 34-yard pass downfield, with his receiver being tackled at the 1-yard line. Dobbs then ran into the end zone to win the game on the very next play.

Dobbs made some mistakes. He threw high in the red zone. He attempted a short pass on third-and-short that didn't move the chains, thanks to Zack Sanchez making a nice stop. He was flagged for a delay-of-game penalty on the first down of a drive. He threw behind a tight end, and he was nearly picked when he sailed a ball miles over a receiver's head. However, Dobbs still showed enough to pass Landry on the depth chart. That's how bad Jones was. Dobbs at least has potential.


Pittsburgh's only skill-position player of note in this game was Eli Rogers, who caught a 7-yard pass. It's unclear why Rogers even played. Hunter hauled in three balls for 75 yards and a touchdown, but he may not make the final roster because of a log jam at the position.


The Panthers played mostly backups, with the exception being Curtis Samuel. However, Samuel suffered an injury in the preseason finale. Samuel, who snatched two passes for five yards, left the game with an ankle injury. It's unclear how severe it is, but Samuel was unlikely to reenter the contest regardless.


NFL Preseason Announcers: The play-by-play guy had unrealistic expectations out of Panther fans, which we learned when he shouted the following prior to kickoff:

"Rain can't keep Carolina fans from seeing their beloved Panthers!"

Oh, really? Then why is nearly every seat empty, guy?




Follow me @walterfootball for updates.







Jaguars 13, Falcons 7
There would be no Blake Bortles drama in this game, as he and Chad Henne both had the night off. Arguably the best quarterback on Jacksonville's roster, Brandon Allen, was the only active player on the roster at the position. He played the entire contest and had a mixed performance.

Allen finished 22-of-31 for 265 yards, one touchdown and three interceptions. Three picks doesn't look great, and I'd say two were his fault. The first was an underthrown fade toward Dede Westbrook in the end zone. The second occurred because Allen stared down his receiver, allowing an Atlanta player to jump the route. The third, which wasn't on Allen, resulted in a tipped pass that popped into the air.

It's a shame that Allen had the trio of picks because he played well otherwise. He had a nice bootleg pass to Westbrook for 14 yards, then launched a 43-yard bomb to Westbrook for a touchdown. Allen later hurled a nice, back-shoulder throw, and then did a good job of stepping up in the pocket and completing a pass for a nice gain.

At this rate, I'm not entirely sure if Allen is going to make Jacksonville's final roster. The Jaguars are utterly incompetent, as evidenced by their idiotic decision to make Bortles their starter. Allen, who has a bit of Jeff Garcia in him, should be the starter, but that's not going to happen. The team is risking paying Bortles a ton of money next season, and based on Bortles' horrible attitude, it would not surprise me at all if he fakes an injury late in the year just so he can steal more cash from ownership that he'll squander on his partying.


The Jaguars, at the very least, might give Dede Westbrook significant playing time. Westbrook has been a monster this preseason, and he enjoyed another big game, catching six balls for 115 yards and a touchdown. He's not worth drafting right now, but he'll be someone I'll monitor as the season progresses.


The Falcons had no fantasy players of note in this game. They started Matt Simms, who went 11-of-15 for 195 yards. Almost every other player who wore an Atlanta jersey on the field in this game won't make the final 53-man roster.


NFL Preseason Announcers: One of the Falcon broadcasters called Marvin Hall "Marvin Edwards." There was also a sequence where the telecast couldn't get the down and distance correct. The play-by-play guy said it was "first-and-18 for Jacksonville" when the screen said "first-and-20." Then, he said "it's second down" and the screen said "first-and-17." I was hoping I could get a screen shot of the Falcons punting on third down, but they eventually got rid of the graphic because they couldn't get it right.

Follow me @walterfootball for updates.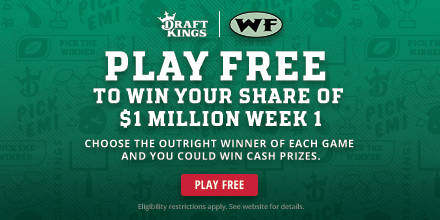 Seahawks 17, Raiders 13
If you expected that neither Russell Wilson nor Derek Carr would play in this game, you'd be correct! Trevone Boykin (13-of-31, 166, TD, 2 INTs) started for the Seahawks. He had some nice scrambles (4 carries, 42 rushing yards), but his interceptions were killers. Seattle is going to be in major trouble if Wilson gets hurt.

The same could be said of the Raiders and Carr. Connor Cook and E.J. Manuel rotated in this contest. Both struggled. Manuel was slightly better (9-of-14, 85, TD) compared to Cook (8-of-19, 88 yards, INT). Cook did draw some pass interference flags, however, so his numbers should be better. That said, neither signal-caller was very impressive, to put it nicely.


C.J. Prosise was the only prominent fantasy player to see action in this game. He didn't do much, seeing four touches. Three were carries for five yards, while the other was a 3-yard catch. Prosise should be a significant part of the offense, but the Seahawks felt he should play because he hadn't done anything this preseason.


Exhibit 5,000,000 of why the fourth week of the preseason is useless: Raiders running back George Atkinson had a terrific performance. He trampled the Seahawks, gaining 60 yards on just nine carries, and he also caught two balls for 33 receiving yards. However, none of it matters, as he'll be cut Friday like he is every year after playing well in the exhibition games.


Shilique Calhoun, a 2016 third-rounder of the Raiders, had barely done anything this preseason prior to this contest. He registered a sack in the fourth quarter, but only because he was unblocked. It wouldn't surprise me if he gets cut.


NFL Preseason Announcers: Matt Millen was the color analyst for the Raiders' telecast. Naturally, he said some "interesting" things about the 100-percent USDA Men he was watching. Here are the quotes:

"It looks like he was touched."

"Silverman filled it! Silverman filled the hole."

"He opened it up right here."

"He's a guy I'd like to see a little bit more."

Follow me @walterfootball for updates.


Bills 27, Lions 17
Nathan Peterman could be Buffalo's Week 1 starter if Tyrod Taylor doesn't pass concussion protocol. Despite this, it wasn't a surprise to see him play in this game, given his level of inexperience.

Peterman had a nice preseason finale, though it should be noted that he didn't play against any of Detroit's starters. Peterman finished 9-of-11 for 81 yards. One of his incompletions was a drop, while the second was a good play by rookie corner Jalen Tabor to break up the pass. Peterman didn't make any great throws, aside from a third-and-9 conversion with a precise pass to Brandon Reilly for 13 yards. Everything else was just short and basic.


Jonathan Williams started alongside Peterman in the backfield. He had a nice showing, gaining 53 yards and a touchdown on 10 carries. The Bills have denied having LeSean McCoy on the trade block despite their efforts to tank. However, if they change their minds, Williams will be a strong RB2 option, so I like him as a late-round flier.


Peterman wasn't the only rookie quarterback who saw action in this game. Brad Kaaya played the entire second half, and he had a mixed performance, going 12-of-20 for 182 yards, two touchdowns and an interception.

First, the good: Kaaya made a nice sideline throw on his third drive. He also completed a great back-shoulder throw for 24 yards a bit later. Two of his eight incompletions were drops.

Unfortunately, the negatives outweighed the positives. Kaaya overshot his receiver on his initial pass. His pick occurred because he stared down his receiver in the end zone. He also held the ball too long at times; a defender forced an incompletion once, and Kaaya was later strip-sacked. Also, Kaaya's stat line was inflated by a 74-yard score, which was really just a short toss.


I mentioned Tabor doing a nice job breaking up a Peterman pass. Unfortunately for Tabor, he had a poor night. Though he made six tackles, he allowed numerous catches, and he was guilty of a missed tackle on a touchdown run.


NFL Preseason Announcers: One of the announcers teased the viewers with the following: "I have an idea on how to fix the preseason, but you will have to keep watching and stay tuned for it later!"

So, what was his idea? I have no idea. We never heard it! In the year of fake news, we apparently also have fake preseason improvements.

Follow me @walterfootball for updates.


Browns 25, Bears 0
I thought I'd have a lot to write about in this game. I figured DeShone Kizer would see at least some action because he's a rookie. And I speculated that Mitchell Trubisky would play extensively because he's not the starter. Instead, Kizer didn't suit up, while Trubisky attempted just five passes.

Trubisky went 2-of-5 for only 10 yards in his final preseason action. The Bears ran the ball on every single play until the 13:37 mark of the second quarter, which angered the booing fans. Trubisky was off on his initial pass. He then took a late hit out of bounds and almost got hurt, which wasn't a surprise because Cleveland's defensive coordinator is Gregg Williams. The Browns were whistled for unnecessary roughness, but the player will undoubtedly be rewarded with a bag of money.

Trubisky's next throw was dropped by Adam Shaheen, who had the ball in his gut. Victor Cruz made a tougher catch after that off a tip. That was Trubisky's final throw of the night.

There's not much to say about Trubisky's performance, outside of him doing a good job of drawing the Browns offsides by changing up the snap count. He didn't do much else, as it was evident that the Bears wanted to be very conservative with him.


Speaking of the Bears being conservative, No. 2 running back Tarik Cohen didn't even play. Cohen is extremely talented and worth owning because of his major upside. Benny Cunningham started at running back for Chicago.


Shaheen, mentioned earlier, rebounded with his drop to catch three balls for 19 yards, but did this with fourth-string quarterback Connor Shaw throwing to him.


As for the Browns, Cody Kessler went 11-of-19 for 144 yards and a touchdown. His starting backfield mate was the impressive Matt Dayes. The presumed third-string running back managed 31 yards on 10 attempts and also caught two balls for 25 receiving yards.


David Njoku saw action in the final preseason game, snatching two balls for 28 yards. He left the game with an arm injury, but it didn't seem to be major.


NFL Preseason Announcers: Team broadcasters usually have unrealistic expectations for their players. They also tend to be clueless of their value. That was apparent in this game when the color analyst speculated about Mark Sanchez's trade value, wondering if Chicago could obtain a good draft pick for him. For Mark f***ing Butt Fumble Sanchez!

Follow me @walterfootball for updates.


Ravens 14, Saints 13
This game was worthless from a fantasy perspective. Ryan Mallett got the start for the Ravens. He was nearly pick-sixed on his first pass. His second throw skipped into the ground. The third was thrown away. Mallett finished 3-of-8 for only 19 yards, though he did throw a touchdown.

The Saints, meanwhile, started Chase Daniel, who was a more successful 11-of-19 for 103 yards, one touchdown and an interception, which was an impressive play by defensive tackle Carl Davis. Alvin Kamara didn't suit up, which is a good sign if you've drafted him.


A couple of defensive rookies are worth mentioning. Tyus Bowser played well once again. He didn't get a sack, but he put some pressure on the opposing quarterbacks. Meanwhile, cornerback Marlon Humphrey hasn't played much this preseason, but he had a huge hit in this game to force a fumble.


Some Saints rookies are worth discussing as well. Marshon Lattimore and Alex Anzalone didn't play, which is a huge statement, especially for the latter. Both have been exceptional this preseason, so it's not a surprise that New Orleans kept them out of this utterly meaningless week.


NFL Preseason Announcers: The play-by-play guy was enthusiastic to work with one of the two people in the booth. See if you can guess which one:
"Joining us on the telecast is Jon Stinchcomb, a Super Bowl champion! And... uhh... Sean Kelley..."

Follow me @walterfootball for updates.


Giants 40, Patriots 38
Most Week 4 preseason games are worthless. This one was as well, but at least it was exciting. It was a shootout, with the Patriots kicking what seemed to be a 55-yard game-winning field goal with 40 seconds remaining. The Giants upstaged them, however, drilling the decisive kick just as time expired.


According to reports, Jacoby Brissett was on the roster bubble heading into this contest. Brissett was pick-sixed in the early going when Kerry Wynn recognized what the Patriots were doing. He made an athletic play that resembled what J.J. Watt did on his pick-six in the playoffs several years ago. However, Brissett bounced back and threw the ball well throughout the evening. He proved difficult to bring down at the very end when the Giants seemed to have him wrapped up for a sack. He muscled out of it and was able to set up what appeared to be the game-winning field goal.

On the other side, Geno Smith (10-of-11, 111 yards, TD) and Josh Johnson (11-of-14, 135 TD) both performed well, so it remains to be seen whom Ben McAdoo will name his No. 2 quarterback.


While Smith and Johnson posted tons of points in the early going, it was Davis Webb who led the charge at the very end. Webb finished 8-of-14 for 103 yards. He was also credited with a fumble, but that really was a bad snap. Webb took an early delay of game and overshot a receiver downfield. However, he bounced back with a pretty, accurate, back-shoulder throw for 20 yards. He was poised on the final drive, leading his team to a victory. Only one pass was a great one, but he was precise with his throws, and he came up big in the clutch.


Rookie running back Wayne Gallman gained 27 yards on eight carries. He was stuffed on a fourth-and-short, but otherwise did a good job of moving the pile.


It was noteworthy that another Giants rookie, Dalvin Tomlinson, didn't play. That makes it seem like the coaching staff has big plans for him.


NFL Preseason Announcers: One of the Patriots announcers was giddy for this game. He shouted, "Mic high-five!" prior to kickoff. The other guy looked at him oddly and replied, "Uhh... OK?"

This was a Patriots telecast, so we naturally had some analysis from the Bob's Discount Furniture salesmen. One of them asked the other, "What do you think Jacoby Brissett needs most?" The second answered, "I think he needs to practice more."

You can't make this stuff up.

Later, the announcers asked the furniture salesmen what they expected out of the Patriots this year.

Furniture Salesman 1: I don't know, I'll pass.

Furniture Salesman 2: The Patriots are going to be the best team in the NFL!

Follow me @walterfootball for updates.


Redskins 13, Buccaneers 10
Ryan Fitzpatrick battled Nate Sudfeld in this forgettable affair. Fitzpatrick actually didn't last very long, as he went 2-of-7 for a whopping six yards before sitting down in favor of Sefo Liufau (16-of-28, 170 yards, TD, INT).


The most prominent fantasy player to take the field in the Redskins-Buccaneers preseason finale was Samaje Perine. Getting the start with Robert Kelley resting, Perine mustered only three yards on five carries. He took a big loss on one play, as he looked slow in the backfield. Perine hasn't been impressive at all this preseason, so he's someone I have no interest in drafting. Matt Jones saw action after Perine, and he tallied 24 yards on six carries. He may not make the final roster, as the Redskins are trying to trade him.


Redskins rookie cornerback Fabian Moreau played well last week, but he was torched by rookie receiver Chris Godwin in this game. Fortunately for Moreau, Fitzpatrick threw a poor pass, overshooting Godwin.


Another rookie running back had more success. That was Jeremy McNichols, who led the Buccaneers with 36 rushing yards on 10 attempts, making nice cuts on some runs. However, I'm not sure he'll make the final roster, as Dirk Koetter hasn't been very impressed with him.


A Buccaneer rookie who had more success was Kendell Beckwith, who was a monster in this game. He registered five tackles, a sack and a tackle for loss. His instincts are off the charts, and if the preseason is any indication, he's going to be a star in the NFL.


NFL Preseason Announcers: I found it amusing that the Buccaneers' play-by-play guy sounded surprised that Terrelle Pryor was a Redskins receiver...

"Washington's top receivers are... Josh Doctson ... Jamison Crowder ... oh, and Terrelle Pryor! He was on Cleveland last year"!

Well, at least he knew that much.

Follow me @walterfootball for updates.


Colts 7, Bengals 6
The big news from the Colts-Bengals preseason finale concerns an injury to John Ross. The first-round rookie caught a 6-yard pass on first down and then ran for 25 yards on an end-around, eluding a couple of possible tacklers. However, he injured his knee. He went into the locker room for a bit and then returned without his helmet. Ross might be OK, but there's no way of definitely knowing that right now.


The rest of this game was effectively worthless, as neither teams played significant offensive starters. It was A.J. McCarron versus Scott Tolzien, who might actually play in Week 1 because of the injury to Andrew Luck. Perhaps that's why Tolzien threw just five passes (4-of-5, 24 yards).

Meanwhile, it wasn't a great showing for McCarron. He went 20-of-30 for 216 yards, but should've been able to do more versus Indianapolis' rookies and practice-squad players. The Bengals are crazy if they believe they can obtain more than a second-round pick for McCarron.


The defensive players were more interesting in this contest. Bengals third-round rookie Jordan Willis wasted no time being productive, as he registered a sack on the opening drive. Willis ended up logging a sack in every preseason game. He's very physically gifted, and it wouldn't surprise me if he were named the starter at some point.


Quincy Wilson, a second-round rookie cornerback, started for the Colts. He was on John Ross to begin the game, but we didn't really get to see that matchup because Ross was knocked out. Wilson did a good job to make a play after taking on a block, but otherwise didn't have any highlights or lowlights.


NFL Preseason Announcers: This was another instance in which the telecast was too excited about this game. The play-by-play guy shouted at the top of his lungs, "Tonight is a night where dreams can come true!"

The Colts, by the way, have one of the worst broadcasts of any NFL team. They've often screwed up names in the past, so I guess they heard the criticism and tried something new. They didn't even bother mentioning any player's name. Seriously. Here were some of the things the play-by-play guy said:

"The Bengals hand it off to a running back who is tackled right away!"

"The Bengals throw a pass, and they hit a fullback in the flat!"

"The Bengals carry the ball, and they fumble it, but did the player stay inbounds!?"

I love how he didn't even bother to identify the position of the final guy.

Follow me @walterfootball for updates.


Packers 24, Rams 10
If you missed this game, you didn't get a chance to catch a thriller between Dan Orlovsky and Brett Hundley. The game went back and forth with lots of punts, but Green Bay ultimately prevailed, thanks to some interceptions thrown by Orlovsky.

In case you couldn't tell, that was sarcasm. Orlovsky (16-of-30, 149 yards, 1 TD, 2 INTs) was horrible. The Rams didn't even bother using their No. 2 quarterback, Sean Mannion, which showed that they didn't value this game at all. And rightfully so. These fourth preseason games shouldn't exist because they are an abomination from Hell.


The Packers used some real NFL players. Their second-string quarterback, Brett Hundley, played a half, and he went 11-of-21 for 99 yards and a touchdown. He also had a second score on a 13-yard scramble. Hundley made some solid throws, but his mechanics still need a lot of work. There were too many instances in which he was drifting backwards as he'd release the ball, and his throws would be inaccurate as a result.


Jamaal Williams had a healthy amount of carries, gaining 31 yards on 11 attempts. He also caught a 6-yard pass. You obviously don't want to see a fantasy running back of yours playing in a fourth preseason game, but Williams is a rookie, so his usage was understandable.


I wish we could've gotten another look at struggling rookie cornerback Kevin King, but he missed the preseason finale with a groin injury.


NFL Preseason Announcers: I think the narrator of the Rams' broadcast took this game a bit too seriously when his voice boomed, "It's been an impressive preseason for Sean McVay ... now the Rams have a new challenge at Lambeau Field!" I suppose it was quite the challenge because the Rams lost by two touchdowns.

On a lighter note, a shout out to Dani Klupenger, who did a great job as the Rams' sideline reporter.

Follow me @walterfootball for updates.


Jets 16, Eagles 10
The Jets are the worst team in the NFL, but they proved to be the dumbest team in the NFL in this game. They played their starting quarterback, Josh McCown, for some reason. They paid the iron price, as McCown took a fierce hit from linebacker Joe Walker. McCown left the game for a play and returned quickly, but he didn't look quite right after that. He threw four passes after he came back. The first was a near pick-six thrown behind his target; the second was a 17-yard pass on a simple screen; the third was a 1-yard completion; and the fourth was a skipped throw to Kenbrell Thompkins.

McCown went 6-of-8 for 57 yards, which isn't as impressive as it looks. He was almost pick-sixed, as mentioned, and 17 yards of his came on a screen. He also threw a short toss on third-and-11 for three yards. Keep in mind that this was done against Philadelphia's practice squad players! The Jets used their starters against third-stringers and only came away with three points on two possessions. It was an absolutely pathetic and sad showing from a team that will be lucky to win two games this year.

Here were McCown's targets:

Robby Anderson: 2
Chad Hansen: 1
Bilal Powell: 2
Austin Seferian-Jenkins: 1
Kenbrell Thompkins: 2


Christian Hackenberg played most of the game. He failed to complete half of his passes, going 10-of-22 for 105 yards and a touchdown. Hackenberg had some nice throws when he entered the game - perhaps because he was still playing with some starters - but his accuracy woes plagued him as the evening progressed. He was nearly pick-sixed in the second half.


Bilal Powell started the preseason finale, but struggled to do anything against Philadelphia's third-string defense. He carried the ball six times and gained just five yards. New York's offensive line is pathetic, and it's discouraging that the Jets were so willing to use Powell in such a meaningless game, while Matt Forte sat out.


Jamal Adams played his best game of the preseason, though that could be because he was going up against guys who won't be in the NFL in 24 hours. Adams had some nice run stops and broke up a pass.
The Jets claimed Kony Ealy off waivers this week. He helped his cause to make the roster by strip-sacking Matt McGloin.


As for the Eagles, they sat almost all of their significant players. Derek Barnett didn't even suit up. Almost everyone who took the field for them won't be on the roster come Saturday, though Corey Clement might. Clement has been impressive this preseason, and that continued in this game, as he gained 16 yards on four yards. Another player who will stick is rookie receiver Mack Hollins, who registered three catches for 25 yards.


NFL Preseason Announcers: There's not much to criticize about the Eagles' broadcast, as Mike Mayock, despite last week's gaffes, isn't going to make mistakes very often. He didn't in this game, but perhaps that's because he and the play-by-play guy spent what seemed like hours debating on how to pronounce Corey Clement's last name.

Follow me @walterfootball for updates.



Texans 0, Cowboys 0 (Game canceled)

It was nice of the NFL to cancel this game so the Texans players can be with their families. If you're looking to contribute to the victims of Hurricane Harvey, here's a fundraiser run by people I know and trust.


2017 Preseason Notes: Week 4 | Week 3 | Week 2 | Week 1
2017 Fantasy Football Stock Pages: Preseason Stock Week 4 | Preseason Stock Week 3 | Preseason Stock Week 2 | Preseason Stock Week 1 | Training Camp Stock







More 2017 Fantasy Football Articles:
Fantasy Football Rankings

2017 Fantasy Football Rankings:
2017 Fantasy Football Rankings: Quarterbacks - 9/6 (Walt)
Chet Gresham's Fantasy Football Quarterback Rankings - 8/28 (Chet)
2017 Fantasy Football Rankings: Running Backs - 9/6 (Walt)
Chet Gresham's Fantasy Football Running Back Rankings - 8/28 (Chet)
2017 Fantasy Football Rankings: Wide Receivers - 9/6 (Walt)
Chet Gresham's Fantasy Football Wide Receiver Rankings - 8/28 (Chet)
2017 Fantasy Football Rankings: Tight Ends - 9/6 (Walt)
Chet Gresham's Fantasy Football Tight End Rankings - 8/28 (Chet)
2017 Fantasy Football Rankings: Kickers - 8/18 (Walt)
2017 Fantasy Football Rankings: Defenses - 8/18 (Walt)
Fantasy Football Rookie Rankings - 5/12 (Walt)
Fantasy Football Rookie Rankings: Dynasty - 5/12 (Walt)
Fantasy Football Rookie Rankings: Dynasty - 5/12 (Chet)



2017 Fantasy Football Mock Drafts:
2017 Fantasy Football Mock Draft: PPR - 9/1 (Walt)
2017 Fantasy Football Mock Draft: Standard - 8/31 (Walt)
2017 Fantasy Football Mock Draft: 2-QB, PPR - 8/25 (Chet)
2017 Fantasy Football Mock Draft: PPR - 8/24 (Walt)
2017 Fantasy Football Mock Draft: PPR - 8/17 (Walt)
2017 Fantasy Football Mock Draft: Standard - 8/10 (Walt)
2017 Fantasy Football Mock Draft: PPR - 8/3 (Walt)
2017 Fantasy Football Mock Draft: Standard - 7/27 (Walt)
2017 Fantasy Football Mock Draft: PPR - 7/26 (Chet)
2017 Fantasy Football Mock Draft: PPR - 7/20 (Walt)
2017 Fantasy Football Mock Draft: PPR - 7/14 (Chet)
2017 Fantasy Football Mock Draft: Standard - 7/13 (Walt)



2017 Fantasy Football Cheat Sheets:
2017 Fantasy Football Cheat Sheet: Top 250 - 9/6 (Walt)
2017 Fantasy Football Cheat Sheet: Top 250 PPR - 9/6 (Walt)
2017 Fantasy Football Cheat Sheet: Top 250 2-QB - 9/6 (Walt)
2017 Fantasy Football Cheat Sheet: Top 250 Touchdown League - 9/6 (Walt)
2017 Fantasy Football Cheat Sheet: Custom - 9/6 (Walt)
2017 Fantasy Football: Dynasty Rankings - 9/6 (Walt)
2017 Fantasy Football PPR Rankings - 8/16 (Chet)
2017 Fantasy Football Spreadsheets - 9/6 (Walt)

2017 Fantasy Football Articles:
2017 Fantasy Football Stock Report: OTAs, Training Camp - 9/6 (Walt)
2017 Fantasy Football Sleepers - 9/2 (Walt)
2017 Fantasy Football Busts - 9/2 (Walt)
2017 NFL Preseason Game Recaps - 9/1 (Walt)
2017 Fantasy Football Stock Report: Preseason - 9/1 (Walt)
2017 Fantasy Football: Running Backs with the Most Carries - 1/31 (Walt)






NFL Picks - Oct. 19


2019 NFL Mock Draft - Oct. 18


2020 NFL Mock Draft - Oct. 13


Fantasy Football Rankings - Sept. 5


2019 NBA Mock Draft - Aug. 13


NFL Power Rankings - June 3