By Charlie Campbell -
@draftcampbell
Solid Starter
Ryan Anderson, LB, Alabama - Round 2
The Redskins' draft class featured a lot of players who were excellent on tape and very impressive during their college football careers. Anderson is not a workout warrior or a guy who is a standout at the weigh-in, but he is a pure football player who is a violent defender and makes a ton of clutch plays. Given his experience at Alabama, Anderson should step in soon and become a quality starter for the Redskins.
Anderson (6-2, 258) is a tough edge defender who is a well-rounded player. He is a dangerous pass-rusher off the edge with violent heavy hands, quickness to get upfield, and functional strength to shed blocks. Anderson has a real knack for getting to the quarterback with good play recognition to get himself in position to make big plays. Anderson isn't a pass-coverage linebacker, but his primary function will be to rush the passer off the edge. He is very instinctive and finds a way to make plays.
As a run defender, Anderson is tough on tight ends and is capable of shedding blocks to get in on tackles. He is reliable to fill his gap and also will fire upfield to blow up runs in the backfield. Anderson is a balanced and well-rounded defender.
Here is how one top scout broke down Anderson for WalterFootball.com,
"There's a clear fit for Anderson in the NFL. If a 4-3 team drafts him, he's a 6-foot-2, 255-260-pound right defensive end in a seven- or nine-technique. In a 3-4, he's a Sam linebacker who can beat up tight ends in the run game and rush from a nine-technique. His role has been carved out for decades. He catches some flack because of his lack of length, but he's still got better length than Melvin Ingram coming out. Anderson is a deceptively good athlete; you often see him arriving at the same time as Tim Williams on tape. Anderson is just smoother, and Williams is twitchier. Anderson has got such explosive hands and is probably the strongest [line]backer in this class. New England is historic for taking guys like him in late [Round 1]. His production and play would justify it as well. He's just a good all-around football player and a true alpha leader. If he had 33.5-inch arms, he'd be in that [No.] 20-32 pick discussion."
As a senior, Anderson put together impressive games with huge plays against USC, Ole Miss, Auburn, Washington and many other opponents to help his team to victories. I think that Anderson will be a tough outside linebacker for the Redskins across from Ryan Kerrigan. I believe that Anderson will set a tough edge and be a solid starter throughout his NFL career.
2016:
Josh Doctson, WR
2015:
Preston Smith, DE
2014:
Trent Murphy, DE
2013:
Phillip Thomas, S
Most Likely To Bust
Montae Nicholson, S, Michigan State - Round 4
This was a really hard decision for me because I loved the Redskins' draft, and they were my pick for the best draft class in the NFL. I also like the potential that Nicholson has as he is a big, fast safety who has the skill set to do everything asked of an NFL safety. He has some shaky instincts, however, and as a result, I think he has the most bust potential of Washington's picks in the first four rounds of the 2017 NFL Draft.
The 6-foot-2, 219-pounder is big to tackle NFL backs and be the eighth man in the box. He also has the speed to cover a lot of ground in the deep part of the field, yet the size to match up against big wide receivers and receiving tight ends. Nicholson produced well the past two years as well. As a junior, he recorded 89 tackles with two passes broken up and one interception. Nicholson had a quality sophomore season with 83 tackles, two passes broken up and three interceptions. He was a surprise early entry into the 2017 NFL Draft, and perhaps, he should have returned for his senior year.
Nicholson has a serious combination of size and speed, but needs to improve his instincts. The instinctiveness issue could be an issue for him in pass coverage in the NFL, and that is the one thing that stands out to Nicholson having some bust potential.
2016:
Su'a Cravens, S
2015:
Matt Jones, RB
2014:
Spencer Long, G
2013:
Chris Thompson, RB
Potential Boom Pick
Jonathan Allen, DE, Alabama - Round 1
I recapped over well over 100 games this season and in my opinion Allen was the best player in college football. If the Heisman Trophy was a genuine award that actually went to the best player regardless of position, Allen should have won the award for his dominant 2016 season. He was a huge steal for the Redskins with the 17th selection in the 2017 NFL Draft as he slid because of concerns about shoulders that never caused him to miss snaps the past few seasons, and because a run on quarterbacks pushed some other players down.
In the pass rush, Allen is tremendous. He is a fast defender at the point of attack with the ability to fire his gap. He uses strength to shed blocks and can close in an instant on the quarterback. Allen has the burst to fire by guards into the backfield and the power to bull rush through linemen. He has natural strength to manhandle offensive linemen and toss them to the side. He also will punish the quarterback and put them into the turf. Allen showed excellent versatility in college to get rush production from a variety of positions and techniques. He was dangerous as an end or tackle. Allen is very consistent at getting heat on the quarterback.
Allen is very tough as a run defender. He fills his gap and is very hard to move at the line of scrimmage. Allen eats up his block and prevents holes from opening up. Regularly, you will see him shed his block to stuff a run near the line of scrimmage or fire into the backfield to disrupt a run off the snap. Allen is a well-balanced defender that is effective at limiting the rushing offense and passing attack.
Sources say that Allen is a good kid off the field. He doesn't get in trouble, is smart, and a team leader. I think his work ethic and character will also lead to him being a success in the NFL.
Allen was a great pick by the Redskins and I think he could become one of the top five technique defensive ends in the NFL with the versatility to move inside in passing situations. With Ryan Kerrigan, Preston Smith, Trent Murphy, Ryan Anderson, and Allen, the Redskins have formed a front seven that has some bullies at the point of attack that are tough blue collar football players. I think Allen should have gone in the top 10 and he could be a huge boom pick for Washington.
2016:
Kendall Fuller, CB
2015:
Brandon Scherff, G
2014:
Morgan Moses, OT
2013:
David Amerson, CB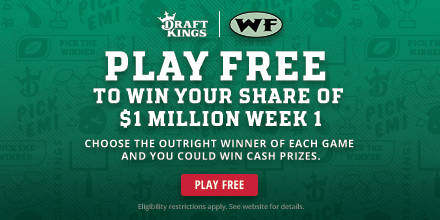 Future Depth Player
Jeremy Sprinkle, TE, Arkansas - Round 5
I think third-round cornerback Fabian Moreau and fourth-round running back Samaje Perine have starting potential, so I had to go deeper into Washington's draft class for this pick compared to other teams. The Redskins have one of the top tight ends in the NFL with Jordan Reed, but Sprinkle could be a solid No.2 tight end as he offers them rotational value. Sprinkle has more blocking ability than Reed so he can be a Y tight end in double tight end sets with Reed being the F receiving tight end. Sprinkle also is a receiving threat that should benefit from defenses focusing their coverage on Reed. With Vernon Davis returning to Washington, Sprinkle will have to make the team as the third or fourth tight end, but Davis is obviously not a long-term contributor at this stage of his career. In a year or two Sprinkle could form a nice tandem with Jordan Reed and also offers the Redskins some immediate depth if Reed gets injured again. Sprinkle was a good value pick in Washington's excellent draft and I think he will carve out a contributing backup role with the Redskins.
2016:
Nate Sudfeld, QB
2015:
Martrell Spaight, LB
2014:
Lache Seastrunk, RB
2013:
Brandon Jenkins, OLB
Walt's 2017 NFL Draft Grades:
17. Jonathan Allen, DE/DT, Alabama: A+ Grade
I bet the Redskins never would've imagined in a billion years that they'd land Jonathan Allen in the 2017 NFL Draft without trading up. Allen is a top-three prospect, but has fallen because of a shoulder issue. I'd say his shoulders must be bad, but he has been tremendous at Alabama, and his shoulders definitely weren't an issue last year when he was the best player in college football. Washington is getting an insane steal with Allen, who will fill a huge need for them in the team's poor front seven.
49. Ryan Anderson, DE/OLB, Alabama: C+ Grade
I think we can safely say that the Redskins really like Alabama prospects who don't test well analytically. They've paired Jonathan Allen with Ryan Anderson to bolster their front seven, and Anderson makes sense because Washington needed help at the position. However, Anderson was a third-round prospect in my rankings, so I think this is a bit of a reach. It's not egregious though, so I'm not going to grade this too harshly.
81. Fabian Moreau, CB, UCLA: A Grade
Fabian Moreau may have gone in the first round if he didn't have any sort of injury questions. Moreau, however, tore his chest and it's unclear how soon he'll be ready to play. Still, Moreau is a talented cornerback with outstanding athleticism. He has so much upside, and he could emerge as someone who can run with Odell Beckham Jr. effectively. This is a great pick, and he's worth the risk.
114. Samaje Perine, RB, Oklahoma: A Grade
I had Samaje Perine bouncing around the second and third rounds, so I love the value here atop Round 4. Perine also fills a need, as the Redskins just had Robert Kelley at running back. Perine isn't an explosive runner, but he's a solid back who catches the ball well.
123. Montae Nicholson, S, Michigan State: B+ Grade
Montae Nicholson was drawing consideration from another team in the fourth round, so I believe the range to be correct. He fills a need for the Redskins, who had to add a safety to potentially start in a year or two.
154. Jeremy Sprinkle, TE, Arkansas: C Grade
Finally, a tight end who doesn't provide great value in the fifth round. On the contrary, Sprinkle was taken a round or two too early. Sprinkle projects as a very good blocker, but has some off-the-field issues.
199. Chase Roullier, C, Wyoming: C+ Grade
Center makes sense for the Redskins, as Spencer Long is an impending free agent after this season. However, I didn't think Chase Roullier, a poor athlete, was going to be drafted, making this a bit of a reach. I don't hate this pick though.
209. Robert Davis, WR, Georgia State: B+ Grade
Robert Davis has the potential to emerge as a starter in the NFL. He was highly productive at Georgia State and then tested extremely well at the combine. He played at a small school, but Davis has great athleticism. He's a very nice pick for the Redskins, who needed a receiver to replace free agency departures.
230. Josh Harvey-Clemons, ILB, Louisville: A- Grade
Had Josh Harvey-Clemons been clean off the field, he may have gone in the second round. Unfortunately, he has failed multiple drug tests throughout his collegiate career. Still, I had him in the fifth frame, so I think he offers very good value at this spot. Why not take a chance on him at No. 230?
235. Joshua Holsey, CB, Auburn: C Grade
Joshua Holsey is a limited player with multiple knee injuries in his past. This isn't a horrible pick, but the Redskins could've done better.
2017 NFL Draft Team Grade: B
. Follow Walter
@walterfootball
for updates.
Washington Redskins Season Preview
Comment...
2019 NFL Mock Draft
- Sept. 13
Fantasy Football Rankings
- Sept. 5
2019 NBA Mock Draft
- Aug. 13
2020 NFL Mock Draft
- Aug. 1
NFL Power Rankings
- June 3
NFL Picks
- Feb. 4