By Charlie Campbell -
@draftcampbell
Solid Starter
Ryan Ramczyk, OT, Wisconsin - Round 1
New Orleans has fielded some good offensive lines over the glory years of Drew Brees rewriting franchise records and setting new records in league history. The Saints have had a lot of good talent on the interior of their offensive line, and protecting Brees has been critical to the team's success. With that in mind, New Orleans came away with a long-term right tackle by taking Ramczyk with the final pick of the first round. Before long, he should replace Zach Strief on the right side and form a talented tandem with Terron Armstead.
The best strengths for Ramczyk come in pass protection as he is very reliable at protecting his quarterback. Ramcyzk has a lot of good qualities that could lead to him being a starting left tackle in the NFL. He is quick out his stance, fast to hit blocks in the second level, and is able to get in position for blocks in space. In pass protection, Ramczyk can play the typewriter with his feet and shuffle with rushers. He gets depth in his drop as well. Sometimes though, Ramczyk can be slow to react and adjust to counter pass-rush moves. Ramcyzk also needs to add more strength. He can get bull rushed and pushed back by rushers. His frame doesn't look maxed out, however, and he should get stronger in a NFL strength and conditioning program - if he is dedicated to being the best he can be.
I think Ramczyk went to a great fit. His job will be easier on the right side, and with Strief in place, Ramzczyk has some time to develop and get stronger. In a year or two, I bet he is a quality right tackle for the Saints and settles that position for many years to come.
2016:
Sheldon Rankins, DT
2015:
Hau-Oli Kikaha, LB
2014:
Khairi Fortt, LB
2013:
Kenny Vaccaro, S
Most Likely To Bust
Alex Anzalone, LB, Florida - Round 3
I liked all of the Saints' picks in the early rounds, so this was a hard choice. However, Anzalone stood out as having serious bust potential because he has had a really hard time staying healthy over the past few seasons and was never able to do that Florida. Anzalone has a lot of talent and is a good player when he is on the field, but constant injuries kept him on the sideline throughout his time with the Gators.
After some solid play in 2016, Anzalone's draft stock was dealt a serious blow by a broken arm that ended his season. He barely played in 2015 because of a shoulder injury that led to a medical redshirt. Anzalone was a backup and had injury issues during his first two years as well.
If Anzalone can stay healthy, I think he has three-down starter potential because he is instinctive with size, speed and athleticism. He can cover in the passing game, blitzes well, and is a tough run defender. Anzalone was just completely unable to stay healthy at Florida, so I have a hard time seeing him avoid injury over a 16-game season in the NFL. I think the lack of durability could definitely lead to Anzalone being a busted pick.
2016:
Vonn Bell, S
2015:
Stephone Anthony, LB
2014:
Stanley Jean-Baptiste, CB
2013:
Terron Armstead, OT
Potential Boom Pick
Marshon Lattimore, CB, Ohio State - Round 1
During the 2016 college football season, WalterFootball.com was first to report that Buckeyes safety Malik Hooker was being graded as a high first-round pick and that teammate cornerback Marshon Lattimore was being graded in the top-16. Both were new starters for Ohio State who were impressing from the start of fall camp as being freaky defensive backs with major coverage skills for the NFL.
Lattimore is a versatile player who could be a No. 1 corner for the Saints. He has ability to play press-man, zone, or off-man systems. Teams across the league had graded Lattimore as one of the top corners in the draft and saw No. 1 cornerback potential in him. Lattimore is a great fit to match up against the big No. 1 receivers in the NFC South, Julio Jones, Mike Evans and Kelvin Benjamin. While Lattimore may not be able to shut out the likes of Jones, he should be a real asset to the Saints' defense and be a huge upgrade over the corners they've featured in recent years to combat Evans and Benjamin.
Lattimore is a well-rounded prospect who does everything well. He is very good at preventing separation as he can vertically stay with speed wideouts and run routes with receivers, yet also possesses the size and physicality to match up with big wideouts. Lattimore is a tough defender who has excellent recoverability. He can jam receivers but can still turn and run with them downfield. Lattimore has impressive ball skills to slap passes away and soft hands to make interceptions. Additionally, he is a good tackler and willing run defender.
The Saints have needed a No. 1 corner for years, and finally, they have a player who has that type of potential to be a shutdown corner. The 6-foot, 193-pounder has Pro Bowl potential and could be one of the top corners in the NFC if he can stay healthy. I think Lattimore will be a boom pick for the Saints.
2016:
Michael Thomas, WR
2015:
Andrus Peat, OT
2014:
Brandin Cooks, WR
2013:
John Jenkins, DT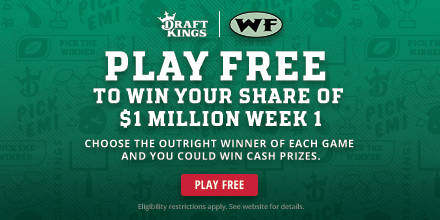 Future Depth Player
Alvin Kamara, RB, Tennessee - Round 3
This was a tough call because I love Kamara as a prospect and think he could be a Jamaal Charles-type feature back in the NFL. However, I think the Saints will always have another big back who gets the bigger work load of carries to pair with Kamara, and Kamara is going to be their back in the passing offense. That has been the M.O. of head coach Sean Payton and how he likes to platoon his backs. Whether it is Adrian Peterson, Mark Ingram, or a new running back, I think Payton is going to want a platoon situation that will see Kamara get fewer carries than maybe he should. Kamara will be New Orleans' Darren Sproles-, C.J. Spiller-, or Reggie Bush-type back while the team will have another bigger runner to handle the majority of the carries. Around the league, the knock on Kamara was if he had the size to be a feature back. With the Saints, I think Kamara is going to be a dangerous weapon and a key contributer in their offense, but will probably be more of a depth player and No. 2 running back than the starter.
2016:
David Onyemata, DL
2015:
Garrett Grayson, QB
2014:
Ron Powell, OLB
2013:
Kenny Stills, WR
Walt's 2017 NFL Draft Grades:
11. Marshon Lattimore, CB, Ohio State: A- Grade
The Saints are getting the best cornerback in the 2017 NFL Draft at No. 11. That's pretty good, although I thought Lattimore was going to be chosen 10th overall, so it's not like this is crazy value. It does seem like a great pick, however. Lattimore has some injury concerns, but he's a terrific talent, and he should be able to provide a huge boost for the Saints and their abysmal secondary. The Saints are definitely taking advantage of some of the stupid teams atop this draft.
32. Ryan Ramczyk, OT, Wisconsin: D Grade
This pick received a ton of praise on TV, but I don't agree with it. Not one bit. Ryan Ramczyk has major injury concerns with his hip, and he quit on football once in his life. That makes him a big risk. He also doesn't fill a major need. Sure, the Saints could use a right tackle for the future, but Ramczyk isn't projected to play right away. Drew Brees doesn't have much time left, so New Orleans should've added more to its defense.
42. Marcus Williams, S, Utah: C Grade
Over Obi Melifonwu? I'm not so sure about that. Marcus Williams is very athletic, and he has that going for him. The Saints certainly love their athletes, so this makes sense from that perspective. However, some teams we spoke to were down on Williams because they considered him to be soft. Williams helps in the secondary and fills a need, but better picks could've been made.
63. Alvin Kamara, RB, Tennessee: C+ Grade
This is a very difficult grade to make. On one hand, Alvin Kamara is a steal in the third round because he easily could've gone exactly one round earlier. On the other hand, the Saints surrendered a 2018 second-round pick to get another running back, when they just signed Adrian Peterson? I don't know about that. I'd love this if the Saints didn't give up such a valuable resource, but I have to penalize them.
76. Alex Anzalone, LB, Florida: B- Grade
Another athletic linebacker is chosen in the third round, but I like this a bit less than the Duke Riley selection. Alex Anzalone has a good chance to become a decent pro, but the injuries are a big concern. He's been hurt a lot, so I have major worries if he can stay healthy. I had him slotted late in the third round for this reason, so I suppose taking him here isn't a big reach.
103. Trey Hendrickson, DE, Florida Atlantic: A- Grade
The Saints' draft thus far has been a roller coaster, and this is another "up." I projected Trey Hendrickson to be chosen early in the third round with a chance to sneak into the second frame. Hendrickson is a terrific athlete who was productive in college, so I thought he would be taken off the board earlier than this. He fills a need for the Saints, so this is a great selection.
196. Al-Quadin Muhammad, DE, Miami: D Grade
I get the idea of trying to hit a home run late in the draft, but Al-Quadin Muhammad is a terrible pick. Muhammad had numerous off-the-field incidents in Miami, and then he tested poorly during the pre-draft process. Even if Muhammad makes the roster, there's no guarantee he'll be able to stay out of trouble.
2017 NFL Draft Team Grade: C
. Follow Walter
@walterfootball
for updates.
New Orleans Saints Season Preview
Comment...
2019 NFL Mock Draft
- Sept. 13
Fantasy Football Rankings
- Sept. 5
2019 NBA Mock Draft
- Aug. 13
2020 NFL Mock Draft
- Aug. 1
NFL Power Rankings
- June 3
NFL Picks
- Feb. 4