Westgate SuperContest NFL Picks: Week 6 Analysis
Updated Oct. 6, 2018
For those of you who don't know what the Westgate Supercontest is, it's the largest NFL handicapping contest in the world (at least that I know of). It requires a $1,500 entry fee, and more than 1,800 people entered last season. There is also a Gold version of the contest, which has a $5,000 entry fee. Each player is required to make five NFL picks against the spread each week, and the player with the most correct picks (pushes count as half of a win) at the end of the season prevails. The grand prize last year was $1.3 million, and the top 100 will finish in the money. You have to enter this in Las Vegas at the Westgate sportsbook, and you need a proxy in Vegas to submit your picks, thanks to stupid American gambling laws. If you're interested and need a proxy, let me know; I have a very trustworthy proxy who can assist you.
Anyway, here were the top selections last week:
Ravens -3 (32.5%)
Rams -7 (28%)
Titans -3.5 (26%)
Cardinals +4 (24.5%)
Redskins +6.5 (26%)
The consensus had a losing record last year. That's still the case for 2018, as the consensus is 11-14 against the spread heading into Week 6.
Here are the top selections this week:
Steelers +2.5 (35%)
Patriots -3.5 (32.5%)
Jaguars -3 (27%)
Bears -3 (25.5%)
Colts +2.5 (25%)
It's worth noting that the Bears were picked due to a stale line.
Here are my picks for the regular contest:
Browns +1
Redskins -1
Bengals -2.5
Patriots -3.5
Packers -9.5
My gold entry is the same.
There are four people who are 19-4-2 or better right now. Here are their picks for Week 6:
THTHAMAN:
Vikings
Colts
Steelers
Falcons
Patriots
KAPITAL GAINS:
Dolphins
Redskins
Steelers
Texans
Jaguars
EDGE COLLECTORS:
Chargers
Redskins
Colts
Redskins
Titans
5TH AND GOAL:
Colts
Falcons
Texans
Jaguars
Patriots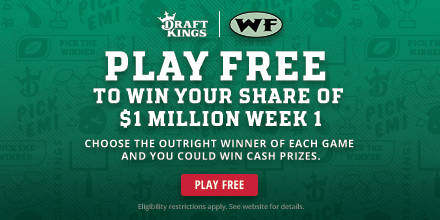 Comment...
NFL Picks
- Oct. 19
2019 NFL Mock Draft
- Oct. 18
2020 NFL Mock Draft
- Oct. 13
Fantasy Football Rankings
- Sept. 5
2019 NBA Mock Draft
- Aug. 13
NFL Power Rankings
- June 3