Westgate SuperContest NFL Picks: Week 16 Analysis
Updated Dec. 31, 2017
For those of you who don't know what the Westgate Supercontest is, it's the largest NFL handicapping contest in the world (at least that I know of). It requires a $1,500 entry fee, and more than 1,800 people entered last season. There is also a Gold version of the contest, which has a $5,000 entry fee. Each player is required to make five NFL picks against the spread each week, and the player with the most correct picks (pushes count as half of a win) at the end of the season prevails. Grand prize will be about $900,000, and the top 50 are in the money. You have to enter this in Las Vegas at the Westgate sportsbook, and you need a proxy in Vegas to submit your picks, thanks to stupid American gambling laws. If you're interested and need a proxy, let me know; I have a very trustworthy proxy who can help you out.
Anyway, here are the top selections this week:
The Supercontest consensus was a sub-par 34-39-2 heading into Week 16. The top picks went 2-3 last weekend, with the Titans and Saints covering, but the Rams, Jaguars and Cowboys losing.
This week, everyone is picking the 49ers, and understandably so. I'm surprised more people aren't on the Browns, who are +11 in the Supercontest.
Here are my picks for the regular contest:
My entries for the Gold contest are the same:
Let's get to some notable selections. The top three players from a week ago were: GRANNYSBOY (50-20-5), SCHEMATIC ADVANTAGE (50-23-2) and BIOSOFT GLOBAL (49-23-3). Here were their picks:
GRANNYSBOY: TEN TB NO KC SF (5-0)
SCHEMATIC ADVANTAGE: CIN TEN CAR DEN SF (3-2)
BIOSOFT GLOBAL: CIN KC NE DAL PHI (3-2)
The top three entrants in the Supercontest are now 103-99-8 in the past 15 weeks, which makes sense because of regression to the mean.
Atop the leaderboard now are GRANNYSBOY (55-20-5), HOWDOIPLAY XX (53-23-4) and BIOSOFT GLOBAL (53-24-3). Here are their picks:
GRANNYSBOY: DET BUF ATL NO JAX
HOWDOIPLAY XX: ATL IND CLE WAS SF
BIOSOFT GLOBAL: MIA ATL JAX SEA SF
All three are on Atlanta, so that will probably lose. Biosoft will have a chance to catch Granny's Boy if the Dolphins cover, as the leader has picked Buffalo.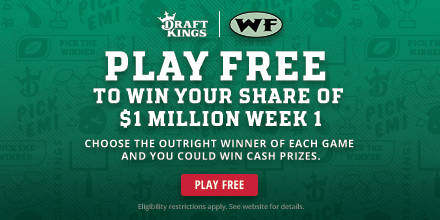 Comment...
Fantasy Football Rankings
- Aug. 21
2019 NBA Mock Draft
- Aug. 13
2020 NFL Mock Draft
- Aug. 1
2019 NFL Mock Draft
- July 31
NFL Power Rankings
- June 3
NFL Picks
- Feb. 4