NFL Confidence Pool Picks: Week 3
I've received requests to make selections for Confidence Pools. I'll offer those picks each week. Follow me on Twitter
@walterfootball
for contest updates.
If you're unfamiliar with confidence pools, you select each team to win, straight up, and you assign point values for how confident you are that each team will win. For example, the team you're most confident in will get 16 points (if there are 16 games), then the next team will get 15, and so on.
Here are my confidence picks for Week 3:
16.
Minnesota Vikings
15.
Jacksonville Jaguars
14.
New England Patriots
13.
Carolina Panthers
12.
Kansas City Chiefs
11.
Chicago Bears
10.
Miami Dolphins
9.
Philadelphia Eagles
8.
Houston Texans
7.
Baltimore Ravens
6.
Seattle Seahawks
5.
Los Angeles Chargers
4.
New Orleans Saints
3.
Tampa Bay Buccaneers
2.
Green Bay Packers
1.
Cleveland Browns
I had a low score to start the year, but Week 2 was much better. The highest point I missed out on was nine with the Patriots losing at Jacksonville.
The Vikings and Jaguars are the two obvious picks, and the Patriots can be included in that group. You might be surprised by the Panthers being listed so highly, but they are a top selection per my
NFL Picks
page.
Points in Week 1: 72/136
Points in Week 2: 104/136
Follow me on Twitter
@walterfootball
for contest updates.
Comment...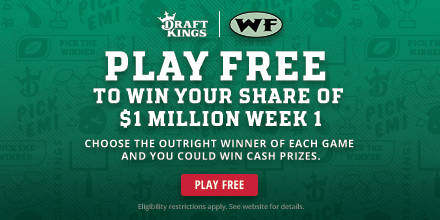 2019 NFL Mock Draft
- Sept. 13
Fantasy Football Rankings
- Sept. 5
2019 NBA Mock Draft
- Aug. 13
2020 NFL Mock Draft
- Aug. 1
NFL Power Rankings
- June 3
NFL Picks
- Feb. 4