Monday Morning Draft is back! This is a column that delves into the past weekend's action from an NFL Draft perspective. As the season goes on, the draft picture and slotting will become more clear, but every Sunday will provide a few hints for next April.
By Charlie Campbell.
Send Charlie an e-mail here:
draftcampbell@gmail.com
Follow Charlie on Twitter
@draftcampbell
for updates.
Race for the No. 1 Pick:
Tennessee Titans:
The Titans fell to the Patriots and are now 3-11 on the season. Despite the rough year, Tennessee has some young talent to build around led by quarterback Marcus Mariota. If the Titans land the No. 1-overall pick of the 2016 NFL Draft, it would make sense to select Ole Miss left tackle Laremy Tunsil. They could move Taylor Lewan to right tackle and Jeremiah Poutasi inside to guard. With right guard Chance Warmack, that group could make a huge difference for Mariota. The Titans also need help at cornerback, safety and running back, but there isn't a prospect of Tunsil's caliber at any of those positions.
Cleveland Browns:
The Browns got back to their losing ways on the road in Seattle. Last week, Cleveland snapped a seven-game losing streak by beating the 49ers at home. Quarterback Johnny Manziel had a quality performance for the Browns' third win of the season, and he followed it up with a decent performance against the Seahawks. However, quarterback is still an option for Cleveland's first-round pick and moving on from the troubled Manziel is very much in play.
The Browns lack a pass rush, have had a beat-up secondary and lack play-makers at wide receiver on offense. Considering Cleveland's recent drafts, one has to wonder if the franchise has the right leadership in place.
Let's Play Matchmaker:
This section will look at some of the top talent in college football and match those prospects up with teams that have a dire need at the position.
New England Patriots: James Bradberry, CB, Samford
The Patriots' defense allowed Titans backup quarterback Zack Mettenberger and Dorial Green-Beckham to move the ball on them through the air. New England has been weak at corner this season and has been able to get away with it to a large extent. However next offseason, the Patriots should definitely look to upgrade
Last year, Jaquiski Tartt represented Samford at the Senior Bowl, and this year, it will be Bradberry. The 6-foot-1, 213-pounder has a great skill set with size and speed. The senior recorded 45 tackles with 11 passes broken up and two interceptions in 2015. He had two interceptions in his junior, sophomore and freshman years. His steady play earned him an invitation to Mobile, and if he performs well against the better competition, his stock could really sky rocket given his skill set. Bradberry has prototypical size for the next level.
Carolina Panthers: Derrick Henry, RB, Alabama
The Panthers were led on the ground by Cam Newton, and Cameron Artis-Payne also chipped in, but the weakness of injuries to Jonathan Stewart continues to be an issue for Carolina. To help protect Newton, it would make sense for Carolina to have a strong ground game and add a durable, physical pounder. I've mocked Derrick Henry to the Panthers often because it makes a ton of sense.
In 2015, Henry has averaged 5.9 yards per carry (339 carries) for 1,986 yards with 23 touchdowns with 10 receptions for 97 yards. Not only has his running this season been impressive, but his blitz protection will really excite scouts as he has shown good blitz pickup to give his quarterback time to throw. The 6-foot-3, 241-pound Henry could be a physical force to pound the ball for Carolina.
Minnesota Vikings: Laquon Treadwell, WR, Ole Miss
The Vikings took care of business against the Bears, but Minnesota was led in receiving by running back Jerick McKinnon. Stefon Diggs (3-55-2) had two scores, but the Vikings could use another receiver, preferably a big wideout, to pair with him. Mike Wallace (3-37) could easily be a cap casualty after the season.
Minnesota wants to have a physical team that beats up on the opposition. Treadwell would fit that as he is a big possession receiver to work the middle of the field. He also is a tremendous blocker who would help Adrian Peterson. Treadwell has 76 receptions for 1,082 yards and eight touchdowns in 2015 entering the bowl game against Oklahoma State. The 6-foot-2, 229-pounder would be a good fit in Norv Turner's offense to work across from the speedy Stefon Diggs.
Atlanta Falcons: Carl Nassib, DE, Penn State
The Falcons surprisingly got a sack from Adrian Clayborn on Sunday, but their lack of pass rush was seen as they didn't improve much on their sack production while going against the Jaguars' weak offensive line. Atlanta badly needs more edge-rushing talent, so taking college football's biggest sack producer could make sense for the Falcons' first-round pick.
At the end of the regular season, Nassib led the nation with 15.5 sacks and was on fire in 2015 before an injury cost him virtually the final two games. He has a nice combination of strength and closing speed. The senior also recorded 46 tackles with 19.5 tackles for a loss and six forced fumbles during the regular season.
Even though Nassib's production is a 1-year wonder, former head coach Bill O'Brien and current head coach James Franklin have been profuse in their praise for his work ethic and practice effort. The Falcons look for high-character individuals, and Nassib would definitely fit that profile.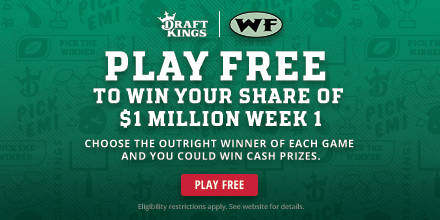 Seattle Seahawks: Vernon Butler, DT, Louisiana Tech
Seattle set a nice tone for the afternoon against Cleveland with a sack that came from defensive tackle Brandon Mebane. Last year, the Seahawks really missed Mebane when he was out late in the year and in the playoffs. Considering Mebane is aging, grabbing a young interior defensive lineman who is capable of contributing as a pass-rusher would make a lot of sense for Seattle on the second day of the 2016 NFL Draft.
The 6-foot-3, 316-pound Butler is a bit of sleeper prospect, but he looks likely to be drafted on the second day of the 2016 NFL Draft. In 2015, he totaled 48 tackles with 10 tackles for a loss and three sacks. Butler has a nice combination of strength and quickness. Don't be surprised if his stock rises at the Senior Bowl.
Houston Texans: Sebastian Tretola, G, Arkansas
One of Houston's guard position is set with Brandon Brooks, but second-year pro Xavier Su'a-Filo has been inconsistent thus far. Center Ben Jones has been a weakness for the Texans as well, and really should be a backup in the NFL. If Houston drafts an upgrade at guard, Su'a-Filo could be moved to center. Those moves would really improve the Texans' offensive line by making it bigger, stronger and more athletic.
Tretola is a road-grading run blocker who can move defenders at the point of attack. He is a quality pass protector, but the 6-foot-5, 335-pounder will be a quick upgrade for the rushing attack of whoever drafts him. The Texans could look to land Tretola on the second day of the 2016 NFL Draft, and he could pay off by improving their ground game significantly.
New York Jets: Reggie Ragland, ILB, Alabama
Jets middle linebacker David Harris is aging, and New York could stand to strengthen the interior of its defense with a tough defender who fits Todd Bowles' defense. The Jets allowed Darren McFadden to run for 100 yards on 16 carries, so adding a stout interior defender would make sense. Cowboys tight end Jason Witten (5-49) also made some plays despite New York going against the weak Dallas quarterbacks.
In 2015, Ragland has 85 tackles with 6.5 for a loss, five pass breakups, 2.5 sacks and two forced fumbles. He has been a physical force who has shown instincts and toughness in the tackle box. In the passing game, Ragland has improved his ability to cover tight ends, and that was visible while going against good prospects like Arkansas' Hunter Henry and Ole Miss' Evan Engram. Ragland could make sense for the Jets' first-round pick.
Team Draft Reports:
In this section, we take a deeper look at specific teams and where they stand in regards to the 2016 NFL Draft.
Washington Redskins:
Before the start of the season, nobody was predicting the Redskins to be a playoff team and the winner of the NFC East. After a win against Buffalo, Washington remains in the driver's seat to take home the division title and host a playoff game. The Redskins are one of the most improved teams in the NFL, and head coach Jay Gruden deserves a lot of credit for what he has been able to do with quarterback Kirk Cousins. The Redskins' offensive line is built well for the long-haul, and they have a tough defensive front seven. In order to continue to make ground in the NFC, Washington could stand to improve the roster's skill positions on offense and defense.
The Redskins could have some turnover at wide receiver. Andre Roberts hasn't produced enough to validate his contract, and Pierre Garcon also is in danger of being a cap casualty. As seen in his 77-yard touchdown against the Bills, DeSean Jackson is still a play-maker. In the first round of the 2016 NFL Draft, a big physical receiver like Ole Miss' Laquon Treadwell would be a nice fit as a Z receiver in Gruden's offense with Jackson serving as the X. Treadwell's powerful blocking would also fit well with the type of team Washington wants to field. Aside from Treadwell, Ohio State's Michael Thomas would be a nice fit.
Defensively, the cornerback position could use an upgrade. Sammy Watkins illustrated that on Sunday, and it could have been even bigger if Tyrod Taylor had been more accurate. DeAngelo Hall is an aging veteran for whom the Redskins could use a long-term replacement. With Odell Beckham Jr. and Dez Bryant entering their primes for many years to come, the Redskins need a No. 1 corner. Virginia Tech's Kendall Fuller would be a great fit with Washingtons's first-round pick - if he gets there.
Safety is another need as Dashon Goldson is aging. There cold be some good fits for replacements on the second day of the 2016 NFL Draft, including Florida's Keanu Neal, West Virginia's Karl Joseph and Duke's Jeremy Cash.
Two other needs that could come from free agency include tight end and running back since Jordan Reed and Alfred Morris are entering free agency. If both are allowed to sign elsewhere, that would leave the Redskins thin at each position. This isn't a good tight end draft, so free agency will probably be the route to remedy that.
Of course, a big decision will be at quarterback and if the franchise wants to commit to Cousins as the starter in 2016. If the Redskins want to go for another option, they could consider Michigan State's Connor Cook or North Dakota State's Carson Wentz in the first round of the 2016 NFL Draft. Memphis' Paxton Lynch and California's Jared Goff will probably be off the board. Cook and Wentz could be gone by Washington's second-round pick, so the team would have to take him in the first. On Day 2, some options to consider for competition could be Penn State's Christian Hackenberg, Ohio State's Cardale Jones and N.C. State's Jacoby Brissett. However, inaccurate quarterbacks like Cook and Hackenberg would be terrible fits in Gruden's offense.
This will be an interesting offseason for the Redskins, but at least the team appears to be headed in the right direction.
Tampa Bay Buccaneers:
Think back to two years ago. The Bucs started the season 0-8 under Greg Schiano and were on their way to a 4-12 season. In 2014, the Bucs suffered a 2-14 season as new head coach Lovie Smith and general manager Jason Licht cleaned house after a disastrous run under former GM Mark Dominik. This year, the Bucs were in the thick of the wild-card race 13 weeks into the season at 6-6. After losing two games, the Bucs are too far behind the Vikings and Seahawks to steal a wild card this year. However, the good news is the Bucs are clearly headed in the right direction. They will have at least a four-game improvement from last year and have a promising young franchise quarterback in Jameis Winston. Tampa Bay never has had a true franchise quarterback in team history, and Winston looks poised to change that.
While the Bucs are definitely on their way to relevance in the NFC, they still have work to do. The most pressing need on the roster is a pass-rusher. Tampa Bay's defense has to get some defensive ends for Lovie Smith's defense and give Gerald McCoy some help up front. In the first round of the 2016 NFL Draft, the Buccaneers have some options, including Oklahoma State's Emmanuel Ogbah, Oregon's DeForest Buckner, Penn State's Carl Nassib and Michigan State's Shilique Calhoun. The Bucs could be picking too low for the first two, but Nassib could be a nice fit as a base end in their 4-3 defense.
Elsewhere on the defense, Tampa Bay has to improve at cornerback. Florida's Vernon Hargreaves will be gone, but the organization could consider Virginia Tech's Kendall Fuller or LSU's TreDavious White. Fuller would be an excellent fit and could be a steal because he barely played in 2015 from a meniscus tear. Sources say that if Fuller had duplicated his 2014 season this year, he would be the top corner in the 2016 NFL Draft, ahead of Hargreaves. On the second day of the 2016 NFL Draft, some options to consider would be Samford's James Bradberry, Oklahoma's Zack Sanchez, Tennessee's Cam Sutton and Southeastern Louisiana's Harlan Miller.
Offensively, Licht and Smith have done an impressive job improving the offensive line after it was the epitome of awful in 2014. The Bucs could consider a speed receiver like South Carolina's Pharoh Cooper or Oklahoma's Sterling Shepard in the mid-rounds. Tampa Bay could use a shifty wideout who can separate. Before long, the front office also will have to consider a replacement for aging veteran Vincent Jackson, but that is more of a 2017 NFL Draft early-round priority.
The offensive line could still use depth and competition. Running back would be an issue if Doug Martin isn't re-signed, but even if he leaves, the Bucs could sign another quality free agent back like Lamar Miller, Chris Ivory, Alfred Morris or Lovie Smith's old back Matt Forte.
Having a franchise quarterback with a reasonable rookie contract for four more years makes building the rest of the roster so much easier. That is a real advantage for the Bucs. Another good draft from Licht could easily have the Buccaneers breaking the playoff-less streak in 2016. Finally, Tampa Bay fans can get excited about the future of their franchise.
Comment...
NFL Picks
- Oct. 22
2020 NFL Mock Draft
- Oct. 20
2019 NFL Mock Draft
- Oct. 18
Fantasy Football Rankings
- Sept. 5
2019 NBA Mock Draft
- Aug. 13
NFL Power Rankings
- June 3