This section breaks down many college football games each week and highlights how
2019 NFL Draft Prospects
have performed. Or look at the
2019 NFL Draft Stock
page.
By Charlie Campbell.
Send Charlie an e-mail here:
draftcampbell@gmail.com
Follow Charlie on Twitter
@draftcampbell
for updates.
Notre Dame 45, Virginia Tech 23
Notre Dame defensive tackle Jerry Tillery entered this game tied for the nation's lead in sacks with seven. Last week, Tillery destroyed Stanford with four sacks and a forced fumble while dominating the Cardinal offensive line. This week, Virginia Tech was determined to not let Tillery do the same thing, as they sent steady double teams his direction and gave Tillery lots of extra attention.

Tillery, however, came close to his eighth sack of the season just before halftime when he powered through the left guard and came inches away from chasing down the quarterback. Tillery later bear hugged a running back at the line of scrimmage to stuff the run for no gain. A few plays later, Tillery planted the quarterback into the turf to force a third-down incompletion.

Other than those plays, Tillery was active but not dominating like a week ago. He has been much more productive playing at three technique this season rather than nose tackle where he lined up the two years prior. If Tillery stays consistent with his first-half performance, it will be very hard for him not to be a first-round pick next April.


Virginia Tech defensive tackle Ricky Walker is also a pro prospect who could go on day two or the mid-rounds. This tape won't help Walker, as he was held in check by Notre Dame. In the second quarter, Walker was able to string out his block before firing into the backfield on a perimeter run to get a tackle for a loss. That was the highlight of the night for him, as he was pushed out of his gap on other running plays. Walker has to get stronger to defend runs coming downhill straight at him. To start out his career, Walker should be a backup three technique who rotates into the game while developing more power to battle NFL linemen. He could be a solid mid-round pick.


Notre Dame cornerback Julian Love has gone somewhat under the radar this season because the Fighting Irish defensive line and front seven have received a lot of the attention for their tremendous play. Love has been the top cover corner for the Fighting Irish, and he had a big night versus the Hokies. With Notre Dame up by just one in the second quarter, Love scooped up a fumble in the flat and raced down the sideline for a 42-yard touchdown. He later jumped a route to get an interception and kill any hopes of a Virginia Tech comeback. Love has a nice skill set and he should be an early-round pick next April.










Mississippi State 23, Auburn 9
Auburn defensive tackle Derrick Brown is one of the top prospects for the 2019 NFL Draft. This was a quiet game from Brown, as Mississippi State sent constant double teams his direction. Brown's production has been tampered by extra attention all season, but NFL evaluators are still very high on Brown with his great skill set and tremendous upside.

Brown had a nice, early bull rush pushing Bulldogs center Elgton Jenkins back in the pocket. He also was pushing the right guard around. Brown got his first tackle of the game in the third quarter, stuffing a quarterback run by Nick Fitzgerald. He added a few more tackles with one in the backfield for a loss, joining a teammate. Overall, this tape won't hurt or help Brown significantly.


Over the past few weeks, center Elgton Jenkins has been a steady blocker in the middle of the Bulldogs' offensive line. Overall, he had an impressive game against Auburn as Mississippi State quarterback Nick Fitzgerald had a lot of success running behind Jenkins. At the point of attack, Jenkins is quick to the second level and does a nice job of beating defenders to a spot to wall them off. He is quick, agile and athletic on the inside with the ability to fire to the second level. Jenkins is very effective at double-team combo blocks with guards and is reliable to get gaps open with his double-team skills. In pass protection, Jenkins has a good anchor with the size to handle bull rushes. Jenkins may not grade out as a first-round pick, but he could be a good second-day selection who is a plug-and-play starter in the NFL.


Mississippi State defensive tackle Jeff Simmons is also a high first-round talent. He had a similar game to Brown. Extra blocking attention kept him from a big stat line, but he knifed into the backfield on some plays and caused disruption. Simmons' draft status won't be hurt or helped significantly by this tape.


Mississippi State defensive end Montez Sweat has been perhaps the most consistent pass rusher in the SEC, and that continued against Auburn. The Tigers kept Sweat quiet in the first half, but after halftime, he took over and was superb. He was getting steady pressure and putting heat on the quarterback. In the fourth quarter, Sweat used a sped rush to burn the right tackle and chase down Stidham for a sack. Sweat then repeated that play to notch another sack of Stidham.

Sweat is a tall, long, and lean edge rusher who will need to get stronger to defend the run in the NFL. He would fit best as a 3-4 outside linebacker. Sweat could be a mid-to-late first-round pick in the 2019 NFL Draft.


With each passing week, more evidence is given that Auburn quarterback Jarrett Stidham should return to school next year. Stidham is having a disappointing season, and that continued against Mississippi State. This was perhaps one of his ugliest games in his collegiate career.

Stidham had a wide receiver running wide open deep down the field with no defender within 20 yards of his target in the second quarter. Stidham made an inaccurate overthrow fall incomplete in what should have been an easy touchdown. Stidham later had an overthrow in the middle of the field that was dropped by Mississippi State safety Johnathan Abram. Stidham finished completing 19-of-38 passes for 214 yards. Stidham has a good skill set with intangibles, but he needs to get more polished and improve his pocket composure. Unless he gets red hot in the back half of the season like he did last year, Stidham should return to school to next year.






Miami 28, Florida State 27
Miami senior defensive tackle Gerald Willis has enjoyed a breakout year, as he has been a very consistent performer for Miami. The younger brother of Landon Collins, Willis has had a rough college career that started out at Florida before he transferred because of off-the-field issues. Last year, Willis took a leave from the team because of personal reasons, so playing well as a senior is essential for Willis to be a prospect for the NFL.

Willis played well in this game. He stuffed a number of runs at the point of attack while also getting some interior pressure on quarterback Deondre Francois. In the early going when the Seminoles put together a big lead, Willis was one of the Miami defenders that was winning his match ups. Willis also had a huge fumble recovery at the Florida State 20 that started the Hurricanes' 21-point comeback win.

Willis ended up with a handful of tackles and a tackle for a loss with the fumble recovery. For the NFL, he would probably fit best as a three technique, but he also has the potential to be a nose tackle in a 4-3. If Willis' off-the-field issues check out fine, he could be a second-day pick in the 2019 NFL Draft.


Miami defensive end Joe Jackson had a slow start to the 2018 season, but after an embarrassing game against Toledo, Jackson has gotten hot with some huge performances. His improved play continued against Florida State.

In the third quarter, Jackson burned the left tackle with a speed rush and a hold kept him from getting a sack, but the hit on the quarterback caused a third-down incompletion. He later burned the Seminole left tackle with speed and then a rip move to shed the block. Jackson pummeled Francois for a strip-sack that was recovered by Miami. However the replay official screwed Miami and ruled the fumble to be an incomplete pass. It was a terrible call.

Jackson showed good pass-rush ability versus Florida State with speed to run by left tackles and active hands to shed blocks. This tape will help his draft grade.


Florida State defensive end Brian Burns is a fast edge rusher who needs to get stronger for the NFL. He had some good plays against the Hurricanes and put some steady heat on the quarterback. In the third quarter, Burns read a rollout well and chased down the quarterback for a strip-sack that was recovered by Miami. Burns later came unblocked off the edge and leapt high to smack down an attempted screen. Burns has good speed, athleticism and pass-rushing instincts, but team sources think he should return for his senior year to add weight and get stronger. Burns is very skinny and he needs to add a significant amount of weight to hold up against NFL offensive tackles.






Florida 27, LSU 19
LSU's Greedy Williams is one of the top cornerback prospects for the 2019 NFL Draft, but this season, Williams is having a predictable decline in production as teams have avoided throwing his away. That is understandable after he was one of the nation's leaders in interceptions last year. The trend of Williams having a quiet game continued versus the Gators, as quarterback Feleipe Franks avoided Williams throughout the game.

Williams had tight coverage early on, but he also was run over in brutal fashion trying to make a run tackle on Lamichael Perine. Early in the fourth quarter, Williams was beat on a back-shoulder throw for a gain of about 25 yards. Williams had tight coverage, but it was a better throw and catch to move the chains. This tape should not hurt or help Williams.


LSU linebacker Devin White is the top non-pass-rushing linebacker prospect for the 2019 NFL Draft, and he had another solid performance for the Tigers. White had a blistering hit on Franks to stop him a yard short of the first down in the opening quarter. White then stuffed Franks on a third-and-1 carry for no gain to get the ball back for his offense. Throughout the game, White filled a number of holes for tackles close to the line of scrimmage to set up good down-and-distance situations while also making some clutch open field tackles.

White showed great speed to make a clutch tackle in the fourth quarter. It was a pitch to the right side, and Florida appeared to have space with LSU outflanked. White was on the backside of the play, but he flew across the field to take down Jordan Scarlett for a one-yard gain. White got in on another tackle for a loss in the fourth quarter.

This was a solid tape from White as he showed his tough run defense. White has good instincts to read his keys and get in position to make tackles. He moved well in pass coverage while showing the speed to cover a lot of ground. This was another example of White doing his part to confirm a high draft grade this season.


Florida junior safety Chauncey Gardner-Johnson had an active game and helped the Gator defense lead the team to a surprising upset over the No. 5 team in the country. Gardner-Johnson got a tackle for a loss on a run blitz where he looped around the line to take down his back in the opening quarter. Gardner-Johnson then added another tackle for a loss perfectly reading a wide receiver to fly into the backfield and rip down the wide out. Late in the second quarter, Gardner-Johnson allowed separation to the slot receiver deep downfield, but he got lucky that Burrow overthrew the open receiver. Gardner-Johnson later had a good tackle on kick return coverage but he was flagged for a face mask.

For the NFL, Gardner-Johnson is a versatile safety who can contribute in the middle of the field in zone coverage, playing some slot corner, defending the run, and blitzing the quarterback. Gardner-Johnson has good instincts and speed to cover a lot of ground. He could be a second-day pick in the 2019 NFL Draft.


Florida junior edge rusher Jachai Polite was fantastic, as he made some huge plays to help the Gators defense. Polite went by the left guard to get a back side strip-sack that was recovered by the Gators in the early going. Polite later worked upfield before peeling back to the line of scrimmage to get a sack of Burrow. Polite was getting other pressures and drawing double teams that freed up other rushers like Jabari Zuniga. The 2019 NFL Draft is loaded on the defensive line, so Polite would be better off returning for his senior year and getting stronger. A good year in 2019 could make Polite a first-round pick in the 2020 NFL Draft.


Texas 48, Oklahoma 45
This game had three excellent wide receiver prospects in Oklahoma's Marquise 'Hollywood' Brown and the Texas duo of Collin Johnson and Lil'Jordan Humphrey. Brown is a speedster who is a threat to score on any reception, while Johnson and Humphrey have mismatch size to make catches over defenders while also being dangerous after-the-catch runners. All three of them had impressive moments in this edition of the Red River Rivalry.

Texas did a nice job of containing Brown in the first half. He caught a short touchdown pass, but the Longhorns were cognizant of Brown's speed and kept him from getting vertical. However, they couldn't contain Brown all day, as he made a typical huge play running a go route from the slot veering toward the sideline before getting vertical. He toasted the Texas secondary for a 77-yard touchdown.

Brown totaled 131 yards on nine receptions with two touchdowns. Brown is a speed receiver who is in the mold of DeSean Jackson or Will Fuller for the NFL. He could be a late first-round or second-round pick in the 2019 NFL Draft.


When NFL evaluators call a player a dog, that is a great compliment. It means they are physical, tenacious fighters and competitors. I've heard scouts say that Humphrey has some dog in him, and that was clear against Oklahoma. Early in the game, Humphrey got Texas moving with an impressive run after the catch on a wide receiver screen as he ripped off 29 yards weaving through the secondary. Humphrey then came up with a clutch catch to set up Texas inside the Oklahoma 5-yard line.

Late in the third quarter, Humphrey showed his run-after-the-catch skills, hauling in a crossing route and breaking a few tackles while working his way downfield. It took two Sooners to get Humphrey on the ground after a gain of 30 yards. Humphrey then ran down the seam to get wide open for a 15-yard touchdown.

Humphrey totaled 133 yards on nine receptions for a touchdown. For the NFL, Humphrey has the potential to be a good pro. He has excellent size with good run-after-the-catch skills and strong hands. He is a real competitor who will fight with defenders. Humphrey has some off-the-field issues that will hurt him with some teams, but he could be a good second-day pick who ends up being a good pro receiver.


Johnson is a big receiver who's had a reputation of being too finesse for such a big wideout with mismatch size. This game will help him, as he showed more of an ability to use his big size to win contested catches.

Johnson came through with some big, early plays. He tacked a deep ball downfield to make a pretty over-the-shoulder catch for 36 yards and then got open for a short touchdown catch in the back of the end zone. In the second half, Johnson used his big size to wall off and out fight corners to make some contested catches that moved the chains to provide critical first downs for Texas. Johnson totaled 81 yards and a touchdown on six catches. This tape will help Johnson's draft grade, and he could be a second-day pick in the 2019 NFL Draft.


The top prospect in this game could be Oklahoma right tackle Cody Ford. While Ford does not get a ton of hype, there is a real buzz about him in the scouting community. Ford was excellent in this game, shutting down pass rushers and being a physical presence in the ground game.

The 6-foot-5, 335-pounder is thick blocker with good bulk for the next level. Scouts who have been through Oklahoma say that Ford is an outstanding athlete for his size, and that was evident as he used his speed and athleticism to cut off the edge from speed rushers. Ford bends at the knee well and can kick slide to get depth in his drop. In the ground game, Ford has heavy hands to shock defenders back, and he uses his big frame to manipulate and control defenders.

Sources feel that for the NFL, Ford is definitely a guard, but they are very high on him. Ford could be the top guard prospect for the 2019 NFL Draft, and this tape will help his draft grade. If Ford stays healthy and consistent the rest of this season, he could be a late first-round or early second-round pick in the 2019 NFL Draft.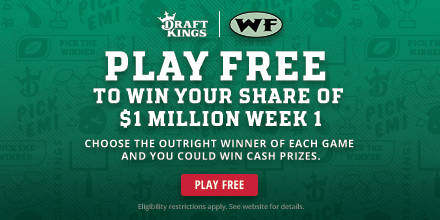 Northwestern 29, Michigan State 19
Northwestern quarterback Clayton Thorson was making his 44th-straight start for the Wildcats, and he has played very well against Michigan State across his career. A week ago, Thorson was impressive while almost leading the Wildcats to an upset of Michigan. This week, he continued his strong play as he ripped the Spartans defense from start to finish.

Thorson started out the game throwing some accurate passes on bootlegs and some perfectly placed passes to beat tight coverage. The Spartans were getting lots of pass pressure, and Thorson was taking some hard hits. Midway through the first quarter, Thorson was in the process of getting hit hard by Michigan State defensive tackle Raequan Williams, and Thorson threw an ill-advised pass up for grabs that was intercepted. That was Thorson's only mistake versus the Spartans.

Thorson quickly bounced back by throwing a 77-yard touchdown. He rolled to his left and found a wide open receiver deep down the field. Thorson lofted in a well-located pass, and his receiver coasted into the end zone.

Thorson made an even better pass on his next possession. He had a receiver blanketed in coverage running down the field, but Thorson lofted in a beatuiful pass to the outside shoulder of the receiver, and he hauled in a 34-yard touchdown pass.

In the third quarter, Thorson threw a check down that went through the hands of his receiver, bounced off his face mask, and then a Spartan defender made a diving interception on the deflection. That pick was completely on the receiver and not the fault of Thorson. Thorson came back to move the ball, including two third-down conversions with Thorson running the ball for one and then throwing a dart in the flat to lead his receiver for a gain of 18. The next play, Thorson lofted in a perfect pass to his tight end for a 21-yard score. Once again, Thorson threw his receiver open as he was well covered, but Thorson's accurate throw led his receiver into the end zone with a dime that went right over the shoulder of the Spartan defender. The next play, Thorson threw a dart into zone for a two-point conversion. Thorson later used his size to get a game-clinching touchdown on a quarterback sneak on the goal line.

Thorson completed 31-of-47 passes for 373 yards with three touchdowns and two interceptions. He was more accurate than the numbers indicate, as he had numerous perfect passes dropped by his wideouts. Some have critized Thorson throwing short so much, but this game illustrated that he will go downfield when he sees openings. His receivers lack speed, and that often forces him to throw shorter passes.Thorson produced a phenomenal tape against Michigan State, which made him look like a potential first-round pick.

Thorson showed a strong arm capable of making any throw. Thorson's accuracy was superb versus the Spartans, as he repeatedly beat good coverage with perfect precision passes. Thorson had to be on the money because his receivers struggled to get separation, so Thorson had to beat coverage with his ball placement. On top of his passing, Thorson protected the ball well while making good decisions except for his first interception. He also showed some ability to move and throw off of bootlegs and roll outs.

There is no doubt that Thorson has the skill set of a NFL starting quarterback with big size, a strong arm, pocket presence, field vision to work through progressions, and some athleticism to use his feet. Sources have told me that his character is off the charts. He is a team leader who can speak to all segments of the locker room. He's also smart with a good football I.Q and a ton of experience from college. Thorson could skyrocket in the pre-draft meetings. This performance will help Thorson a lot, and he looked like a first-round pick versus Spartans.


Michigan State running back LJ Scott has day-two potential for the 2019 NFL Draft, but he was held out of action with an injury. Scott has to get healthy and return to the field to have any shot at being a second-round pick.










Comment...









NFL Picks - Oct. 17


2020 NFL Mock Draft - Oct. 13


2019 NFL Mock Draft - Oct. 11


Fantasy Football Rankings - Sept. 5


2019 NBA Mock Draft - Aug. 13


NFL Power Rankings - June 3