Potential 2018 NFL Draft Trade: Browns-Giants
In the Potential 2018 NFL Draft Trades series, I've examined the Bills moving up thus far in the
Bills-Giants NFL Draft Trade
, and I also discussed a potential
Saints-Packers NFL Draft Trade
where New Orleans obtains Drew Brees' successor.
This week, I'm going to delve into things Chris Mortensen and Dan Patrick reported. If you missed it on the
NFL Draft Rumors
page, Patrick said that he has three sources telling him that the Browns are feigning interest in Sam Darnold to bait the Giants to trade up to No. 1 overall, as it's been widely reported that of all the quarterbacks, the Giants only like Darnold. Meanwhile, Mortensen said that Cleveland is debating between Josh Allen and Darnold with the first-overall selection.
It seems as though the Browns may prefer Allen over Darnold. That could mean that they'll just take Allen first overall, allowing the Giants to select Darnold. However, the Giants could be desperate enough to pull the trigger. Cleveland could trade the top pick to another team. Perhaps the Jets would want to move up for Darnold. The Broncos and Bills could do so as well. Much like the Bears last year, the Giants could be enticed to making a move to secure the quarterback they want.
The good news for the Giants is that they won't have to sell the farm for the swap. The Bears only surrendered two thirds (one in 2017, one in 2018) and a fourth, and that's a reasonable fee for New York to pay for Darnold. Here's the actual trade:
Giants acquire:
No. 1 overall (3,000 points) = 3,000 points
Browns acquire:
Nos. 2 (2,600 points), No. 66 overall (260 points), No. 108 (78 points), 2019 third-round pick (~112 points) = 3,050 points
(see
NFL Draft Trade Chart
for point values)
Here are some potential options for the Browns at 66:
Wide Receiver:
Equanimeous St. Brown, Notre Dame; DaeSean Hamilton, Penn State; Marcell Ateman, Oklahoma State.
Jarvis Landry is pulling for Odell Beckham Jr. to come to Cleveland. Here are alternatives.
Offensive Tackle:
Martinas Rankin, Mississippi State; Brian O'Neill, Pittsburgh.
I think the Browns will find a left tackle prior to the third round, but here are some options in case they wait.
Defensive Tackle:
Justin Jones, N.C. State; R.J. McIntosh, Miami.
The Browns have a solid run-stuffing defensive tackle in Larry Ogunjobi, but they need an interior pass-rushing presence to start next to him.
Edge Rusher:
Arden Key, LSU; Josh Sweat, Florida State.
It never hurts to have as many edge rushers as possible, and someone who falls because of character or injury concerns would make sense.
Linebacker:
Darius Leonard, South Carolina State; Jerome Baker, Ohio State; Malik Jefferson, Texas.
Jamie Collins has been a major disappointment thus far. Here are players who can challenge him.
Cornerback:
Danny Johnson, Southern; Nick Nelson, Wisconsin; Tony Brown, Alabama.
The Browns made some nice upgrades to their secondary, but it never hurts to have as many talented cornerbacks as possible.
Let me know what you think! Who would win this trade? I've set up a poll below, and you can comment as well.
In the meantime, I wanted to run through what the 2018 NFL Draft would look like if this trade were to happen. I've used my current
2018 NFL Mock Draft
as a template. Here are all of the Cleveland picks in the wake of that trade (as well as the top three):
1. Giants: Sam Darnold, QB, USC
2. Browns: Josh Allen, QB, Wyoming
3. Jets: Josh Rosen, QB, UCLA
4. Browns: Saquon Barkley, RB, Penn State
...
33. Browns: Connor Williams, OT, Texas
35. Browns: Harrison Phillips, DT, Stanford
64. Browns: Arden Key, DE, LSU
66. Browns: Equanimeous St. Brown, WR, Notre Dame
108. Browns: Rashaan Gaulden, CB, Tennessee
114. Browns: Will Clapp, C/G, LSU
150. Browns: Micah Kiser, LB, Virginia
175. Browns: Kendrick Norton, DT, Miami
205. Browns: Shaun Dion Hamilton, LB, Alabama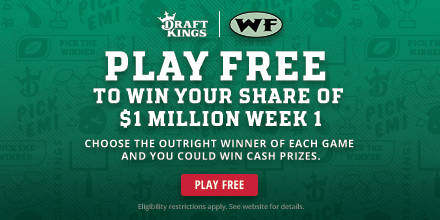 I personally think the Browns win this trade. If I were the Giants, I wouldn't panic and surrender anything more than something like two early Day 3 picks. There's a chance the Browns just take Josh Allen, and even if they don't, so what? New York can either select Saquon Barkley or trade down with another team desperate for a quarterback. The Bills, Broncos, Jets, Dolphins and Cardinals could all move up to second overall.
That said, I think a trade like this is very realistic if the Giants are as passionate about Darnold as reports say they are.
Potential Browns-Giants Trade Poll
What do you guys think? Should the Saints and Packers pull the trigger on this trade? And who wins the deal?
Comment...
NFL Picks
- Sept. 20
2019 NFL Mock Draft
- Sept. 20
Fantasy Football Rankings
- Sept. 5
2019 NBA Mock Draft
- Aug. 13
2020 NFL Mock Draft
- Aug. 1
NFL Power Rankings
- June 3