Draft Kings Picks
Here's the link to
Play FREE Fantasy Football on DraftKings with your first Deposit of $5 or more
.
Here's my Draft Kings lineups for Week 7:
I can't believe I'm doing this, but I'm going with the unlikely stack of Blake Bortles and James O'Shaughnessy. Bortles is a terrible quarterback, but he's been known to have a great fantasy performance from time to time, and Houston has a weak secondary. Houston has struggled against tight ends as well, and O'Shaughnessy is Jacksonville's starter in the wake of some injuries. Both players are insanely cheap, and they'll allow me to pile up on talented players, such as...
Todd Gurley! Adam Thielen! Robert Woods! DeAndre Hopkins! All four are awesome. A word on Hopkins: Yes, he battles Jalen Ramsey, but he scored a touchdown on Ramsey last year when catching passes from T.J. Yates. Hopkins will produce no matter what, and he's only $6,900.
Rounding out the rest of my roster, Peyton Barber has a nice matchup against a Cleveland team that can't stop the run. Willie Snead is nice at just $4,000, as New Orleans struggles against second and third receivers. And New York should be able to win in the trenches and play with more energy than Minnesota.
Here are players I like per position this week:
Quarterback:
Jared Goff, $6,600
Carson Wentz, $6,000
Cam Newton, $5,900
Matthew Stafford, $5,800
Blake Bortles, $5,200
Brock Osweiler, $4,700
Running Back:
Todd Gurley, $9,800
Ezekiel Elliott, $8,100
Christian McCaffrey, $7,700
LeSean McCoy, $5,600
Jordan Howard, $5,500
Matt Breida, $5,300
Tarik Cohen, $5,100
Kerryon Johnson, $4,500
Peyton Barber, $3,800
Frank Gore, $3,800
Wide Receiver:
Adam Thielen, $8,600
Brandin Cooks, $7,100
Robert Woods, $7,000
DeAndre Hopkins, $6,900
Julian Edelman, $6,600
Golden Tate, $6,400
Alshon Jeffery, $6,300
Kenny Golladay, $6,000
John Brown, $5,700
Devin Funchess, $5,300
Nelson Agholor, $5,000
Taylor Gabriel, $4,700
Chris Godwin, $4,600
Marquise Goodwin, $4,600
Keke Coutee, $4,300
Jermaine Kearse, $4,100
Willie Snead, $4,000
D.J. Moore, $3,900
Tight End:
Jordan Reed, $4,800
David Njoku, $4,200
O.J. Howard, $3,600
James O'Shaughnessy, $2,600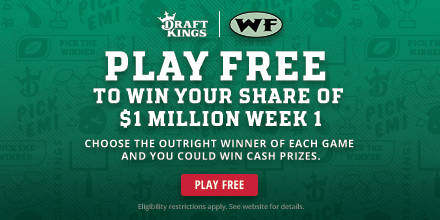 Good luck to those of you who are playing this weekend! Once again, here's the link to
Play FREE Fantasy Football on DraftKings with your first Deposit of $5 or more
.
I am a promoter at DraftKings and am also an avid fan and user (my username is walterfootball) and may sometimes play on my personal account in the games that I offer advice on. Although I have expressed my personal view on the games and strategies above, they do not necessarily reflect the view(s) of DraftKings and I may also deploy different players and strategies than what I recommend above. I am not an employee of DraftKings and do not have access to any non-public information.
Comment...
More 2018 Fantasy Football Articles:
Fantasy Football Rankings
2018 Fantasy Football Rankings:
2018 Fantasy Football Rankings: Quarterbacks
- 9/5 (Walt)
Chet Gresham's Fantasy Football Quarterback Rankings
- 8/29 (Chet)
2018 Fantasy Football Rankings: Running Backs
- 9/5 (Walt)
Chet Gresham's Fantasy Football Running Back Rankings
- 8/29 (Chet)
2018 Fantasy Football Rankings: Wide Receivers
- 9/5 (Walt)
Chet Gresham's Fantasy Football Wide Receiver Rankings
- 8/29 (Chet)
2018 Fantasy Football Rankings: Tight Ends
- 9/5 (Walt)
Chet Gresham's Fantasy Football Tight End Rankings
- 8/29 (Chet)
2018 Fantasy Football Rankings: Kickers
- 8/21 (Walt)
2018 Fantasy Football Rankings: Defenses
- 8/21 (Walt)
Fantasy Football Rookie Rankings: Dynasty
- 8/21 (Walt)
Fantasy Football Rookie Rankings: Dynasty
- 5/18 (Chet)
2018 Fantasy Football Mock Drafts:
Fantasy Football Mock Draft
- 9/1 (Walt)
Fantasy Football Mock Draft
- 8/30 (Walt)
Fantasy Football Mock Draft
- 8/27 (Walt)
Fantasy Football PPR Mock Draft
- 8/23 (Walt)
Fantasy Football Mock Draft
- 8/22 (Walt)
Fantasy Football Mock Draft
- 8/16 (Walt)
Fantasy Football PPR Mock Draft
- 8/9 (Walt)
Fantasy Football Mock Draft
- 8/2 (Walt)
Fantasy Football PPR Mock Draft
- 8/1 (Chet)
Fantasy Football PPR Mock Draft
- 7/26 (Walt)
Fantasy Football 2-QB Dynasty Draft
- 5/25 (Chet)
2018 Fantasy Football Cheat Sheets:
2018 Fantasy Football Cheat Sheet: Top 250
- 9/5 (Walt)
2018 Fantasy Football Cheat Sheet: Top 250 PPR
- 9/5 (Walt)
2018 Fantasy Football Cheat Sheet: Top 250 2-QB
- 9/5 (Walt)
2018 Fantasy Football Cheat Sheet: Top 250 Touchdown League
- 9/5 (Walt)
2018 Fantasy Football Cheat Sheet: Custom
- 9/5 (Walt)
2018 Fantasy Football: Dynasty Rankings
- 9/5 (Walt)
2018 Fantasy Football Spreadsheets
- 9/5 (Walt)
2018 Fantasy Football Articles:
2018 Fantasy Football Stock Report: OTAs, Training Camp
- 9/5 (Walt)
2018 Fantasy Football Sleepers
- 9/5 (Walt)
2018 Fantasy Football Busts
- 9/5 (Walt)
2018 Fantasy Football Mid-Round Values
- 9/5 (Walt)
2018 NFL Preseason Game Recaps
- 8/31 (Walt)
2018 Fantasy Football Stock Report: Preseason Games
- 8/31 (Walt)
2018 Fantasy Football Notes
- 8/31 (Chet)
2018 Fantasy Football Quarterback Preseason Targets Tracker
- 8/30 (Walt)
2018 Fantasy Football D/ST Drafting
- 8/28 (Chet)
2018 Fantasy Football ADP Values: Running Backs
- 8/16 (Chet)
2018 Fantasy Football Round-by-Round Strategy Guide
- 8/15 (Walt)
2018 Fantasy Football ADP Values: Quarterbacks
- 8/15 (Chet)
2018 Fantasy Football Tight Ends to Target
- 8/9 (Chet)
2018 Fantasy Football - PPR Draft Strategy: Rounds 1 and 2
- 7/27 (Chet)
2018 Fantasy Football: Doug Baldwin's Value
- 7/25 (Chet)
2018 Fantasy Football: Chris Hogan's Value
- 7/18 (Chet)
2018 Fantasy Football: Alvin Kamara's Value
- 7/16 (Chet)
2018 Fantasy Football Strength of Schedule: Tight Ends
- 7/11 (Chet)
2018 Fantasy Football Strength of Schedule: Wide Receivers
- 7/6 (Chet)
2018 Fantasy Football Strength of Schedule: Running Backs
- 7/5 (Chet)
2018 Fantasy Football Strength of Schedule: Quarterbacks
- 7/4 (Chet)
2018 Fantasy Football Tight Ends Better Than ADP
- 6/29 (Chet)
2018 Fantasy Football Wide Receivers Better Than ADP
- 6/28 (Chet)
2018 Fantasy Football Target Shares
- 6/22 (Chet)
2018 Fantasy Football Wide Receiver Points Per Game
- 6/13 (Chet)
2018 Fantasy Football Mock Draft Simulator
- 6/2
2018 Fantasy Football Value Players
- 5/25 (Chet)
2017 Fantasy Football Quarterback Look-Back
- 1/28 (Walt)
2018 Fantasy Football: Running Backs with the Most Carries
- 1/28 (Walt)
NFL Picks
- Oct. 17
2020 NFL Mock Draft
- Oct. 13
2019 NFL Mock Draft
- Oct. 11
Fantasy Football Rankings
- Sept. 5
2019 NBA Mock Draft
- Aug. 13
NFL Power Rankings
- June 3