Missing Include for PHPIncludeFailed_ncaatournamentmenu2017a.php
2017 NCAA Tournament Picks - South Bracket
By Walter Cherepinsky -
@walterfootball
Rather than go through, game by game, I'm going to show you my selections on the brackets and post notes on some of the interesting contests:
North Carolina might just be the best team in the NCAA Tournament. The Tar Heels were beating Duke in the ACC Tournament semi-final until foul troubles hurt them, allowing the Blue Devils to mount a comeback. Had that never happened, North Carolina would be the No. 1 overall seed right now. I think the Tar Heels will get out of this region.
I have mostly chalk advancing in this region. The one exception is Middle Tennessee State, which is making a Sweet 16 appearance here. The Blue Raiders are no joke. They upset Michigan State last year, and they're even better now! Minnesota, meanwhile, suffered a big injury to Akeem Spriggs. Middle Tennessee State then beats an overseeded Butler team; the Bulldogs should've been a No. 7 seed.
The other upset in the top half of the bracket is the play-in winner over Cincinnati. I just don't think the Bearcats are a good team. As for Arkansas-Seton Hall, that's a true toss-up for me.
In the bottom of the bracket, Kentucky goes the distance over UCLA. Many have the Bruins reaching the Elite Eight and even winning the South bracket, but I'm not as impressed. UCLA turns the ball over a lot and seldom gets to the free-throw line. Their defense isn't very good either.
That said, the Bruins should cruise to the Sweet 16, where they'll battle, and ultimately lose to, the winner of Kentucky-Wichita State. That's the best second-round matchup of the NCAA Tournament. Kentucky could have been a No. 1 seed without too many complaints, while Wichita State should've been a No. 3 or 4 seed. Seriously, the Wheat Shockers are a top-15 team. This seeding says they're between 37th and 40th, which is absolutely stupid. What happened here is that the NCAA is scared of Wichita State advancing deep into the tournament, so it made sure to have ultra-talented Kentucky take care of business for them in the second round, almost as if the Wildcats are some sort of hitman. It's sad and appalling, and the NCAA should be ashamed of themselves that they're allowing this sort of sham to take place.
At any rate, I like North Carolina over Kentucky. The Tar Heels are slightly better, and they're actually tested, unlike the Wildcats, who breezed through the pathetic SEC.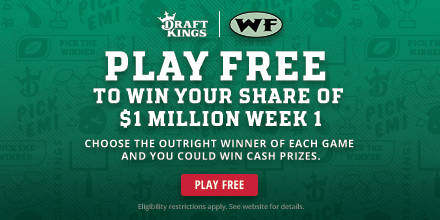 NCAA Tournament Picks:
South
|
West
|
East
|
Midwest
|
Final Four
March Madness Contest: Free with Cash Prizes!
Comment...
2019 NFL Mock Draft
- Sept. 13
Fantasy Football Rankings
- Sept. 5
2019 NBA Mock Draft
- Aug. 13
2020 NFL Mock Draft
- Aug. 1
NFL Power Rankings
- June 3
NFL Picks
- Feb. 4