With OTAs underway, there will be updates daily to this 2017 Fantasy Football OTAs, Training Camp Stock page if anything noteworthy happens.
If there's an injury or a player surprising/disappointing, I'll let you know about it and adjust my
2017 Fantasy Football Rankings
accordingly. Follow me
@walterfootball
for updates.
2017 Fantasy Football Training Camp Stock:
Week of Aug. 14
|
Week of Aug 14
|
Week of Aug 7
|
Week of July 31
|
Week of July 24
|
Week of July 10
|
Week of June 26
|
Week of June 19
|
Week of June 12
|
Week of June 5
|
Week of May 29
|
Week of May 22
|
Week of May 15
2017 Fantasy Football Stock Report - Week of May 15
May 19
Kelvin Benjamin, WR, Panthers
Kelvin Benjamin told the media that he knows he needs to be in the best shape of his life. Benjamin showed up to workouts at 280 pounds, reportedly, but he apparently been working out harder to lose weight.
John Brown, WR, Cardinals
Carson Palmer told the media that John Brown looks stronger and more explosive. Brown was sick all last year with a sickle-cell issue, so he seems poised to have a bounce-back 2017 campaign. The only issue is whether Palmer will keep regressing.
Carlos Hyde, RB, 49ers
Carlos Hyde could lose his job right away to Joe Williams, as the 49ers don't view him as a good fit in their offense.
Zay Jones, WR, Bills
Zay Jones is week-to-week with a knee sprain. Both Buffalo wide receivers are hurt, as Sammy Watkins is missing time with a foot issue. Jones should be ready for training camp, but as a rookie, he needs all the reps he can get.
Kevin White, WR, Bears
John Fox praised Kevin White's offseason. Fox called White "very healthy" and said that he has been working very hard this spring. White completely bombed last year, but that could mean that he might provide a ton of value late in fantasy drafts this summer. With Alshon Jeffery gone, he's the No. 1 receiver.
Joe Williams, RB, 49ers
Joe Williams has a strong chance to immediately unseat Carlos Hyde, per Matt Maiocco, CSN Bay Area. Williams is someone to target in the middle rounds of fantasy drafts, though his ADP could begin to push upward. Kyle Shanahan specifically asked John Lynch to draft Williams in the fourth round despite his character issues, and Tony Pauline reported earlier that the 49ers don't believe Hyde is a good fit for their offense.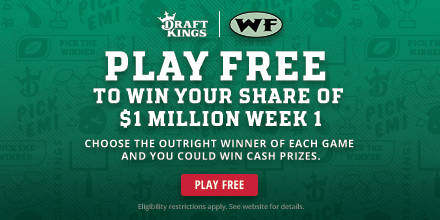 2017 Fantasy Football Training Camp Stock:
Week of Aug. 14
|
Week of Aug 14
|
Week of Aug 7
|
Week of July 31
|
Week of July 24
|
Week of July 10
|
Week of June 26
|
Week of June 19
|
Week of June 12
|
Week of June 5
|
Week of May 29
|
Week of May 22
|
Week of May 15
More 2017 Fantasy Football Articles:
Fantasy Football Rankings
2017 Fantasy Football Rankings:
2017 Fantasy Football Rankings: Quarterbacks
- 9/6 (Walt)
Chet Gresham's Fantasy Football Quarterback Rankings
- 8/28 (Chet)
2017 Fantasy Football Rankings: Running Backs
- 9/6 (Walt)
Chet Gresham's Fantasy Football Running Back Rankings
- 8/28 (Chet)
2017 Fantasy Football Rankings: Wide Receivers
- 9/6 (Walt)
Chet Gresham's Fantasy Football Wide Receiver Rankings
- 8/28 (Chet)
2017 Fantasy Football Rankings: Tight Ends
- 9/6 (Walt)
Chet Gresham's Fantasy Football Tight End Rankings
- 8/28 (Chet)
2017 Fantasy Football Rankings: Kickers
- 8/18 (Walt)
2017 Fantasy Football Rankings: Defenses
- 8/18 (Walt)
Fantasy Football Rookie Rankings
- 5/12 (Walt)
Fantasy Football Rookie Rankings: Dynasty
- 5/12 (Walt)
Fantasy Football Rookie Rankings: Dynasty
- 5/12 (Chet)
2017 Fantasy Football Mock Drafts:
2017 Fantasy Football Mock Draft: PPR
- 9/1 (Walt)
2017 Fantasy Football Mock Draft: Standard
- 8/31 (Walt)
2017 Fantasy Football Mock Draft: 2-QB, PPR
- 8/25 (Chet)
2017 Fantasy Football Mock Draft: PPR
- 8/24 (Walt)
2017 Fantasy Football Mock Draft: PPR
- 8/17 (Walt)
2017 Fantasy Football Mock Draft: Standard
- 8/10 (Walt)
2017 Fantasy Football Mock Draft: PPR
- 8/3 (Walt)
2017 Fantasy Football Mock Draft: Standard
- 7/27 (Walt)
2017 Fantasy Football Mock Draft: PPR
- 7/26 (Chet)
2017 Fantasy Football Mock Draft: PPR
- 7/20 (Walt)
2017 Fantasy Football Mock Draft: PPR
- 7/14 (Chet)
2017 Fantasy Football Mock Draft: Standard
- 7/13 (Walt)
2017 Fantasy Football Cheat Sheets:
2017 Fantasy Football Cheat Sheet: Top 250
- 9/6 (Walt)
2017 Fantasy Football Cheat Sheet: Top 250 PPR
- 9/6 (Walt)
2017 Fantasy Football Cheat Sheet: Top 250 2-QB
- 9/6 (Walt)
2017 Fantasy Football Cheat Sheet: Top 250 Touchdown League
- 9/6 (Walt)
2017 Fantasy Football Cheat Sheet: Custom
- 9/6 (Walt)
2017 Fantasy Football: Dynasty Rankings
- 9/6 (Walt)
2017 Fantasy Football PPR Rankings
- 8/16 (Chet)
2017 Fantasy Football Spreadsheets
- 9/6 (Walt)
2017 Fantasy Football Articles:
2017 Fantasy Football Stock Report: OTAs, Training Camp
- 9/6 (Walt)
2017 Fantasy Football Sleepers
- 9/2 (Walt)
2017 Fantasy Football Busts
- 9/2 (Walt)
2017 NFL Preseason Game Recaps
- 9/1 (Walt)
2017 Fantasy Football Stock Report: Preseason
- 9/1 (Walt)
2017 Fantasy Football: Running Backs with the Most Carries
- 1/31 (Walt)
NFL Picks
- Oct. 22
2020 NFL Mock Draft
- Oct. 20
2019 NFL Mock Draft
- Oct. 18
Fantasy Football Rankings
- Sept. 5
2019 NBA Mock Draft
- Aug. 13
NFL Power Rankings
- June 3