With OTAs underway, there will be updates daily to this 2017 Fantasy Football OTAs, Training Camp Stock page if anything noteworthy happens.
If there's an injury or a player surprising/disappointing, I'll let you know about it and adjust my
2017 Fantasy Football Rankings
accordingly. Follow me
@walterfootball
for updates.
2017 Fantasy Football Training Camp Stock:
Week of Aug. 14
|
Week of Aug 14
|
Week of Aug 7
|
Week of July 31
|
Week of July 24
|
Week of July 10
|
Week of June 26
|
Week of June 19
|
Week of June 12
|
Week of June 5
|
Week of May 29
|
Week of May 22
|
Week of May 15
2017 Fantasy Football Stock Report - Week of June 12
June 19
Corey Davis and Rishard Matthews, WRs, Titans
Both Corey Davis and Rishard Matthews' fantasy outlook took a hit with the Titans' signing of Eric Decker. There will obviously be fewer targets to spread around.
Kyle Rudolph, TE, Vikings
Mike Zimmer told the media that Kyle Rudolph put a lot of work into his blocking this offseason. I heard at the Super Bowl that Rudolph was pissed about not being voted into the Pro Bowl. Rudolph is working harder than ever before to prove the doubters wrong, and it seems like he'll have a big year as a result.
Torrey Smith, WR, Eagles
Torrey Smith isn't a lock for a starting job, according to Jeff McLane, Philadelphia Inquirer. This is a bit surprising, but it's not the greatest shock in the world, considering how poorly he played in San Francisco. Smith is still the favorite to be the No. 2 wideout, but he's being pushed by Nelson Agholor, who has thrived in OTAs.
June 17
Christine Michael, RB, Colts
Christine Michael has been placed on injured reserve. So much for Michael finally panning out in Indianapolis. It's unclear what the injury is, but Michael won't be able to replace the 34-year-old Frank Gore.
Kevin White, WR, Bears
Kevin White is at "full speed," according to Rich Campbell, Chicago Tribune. White has struggled to stay healthy, playing four of 32 potential games in his career thus far. However, it sounds like he's 100 percent now, so he's worth a shot at his 12.01 ADP.
June 16
Matt Breida, RB, 49ers
Matt Breida has been extremely impressive at OTAs, says Matt Barrows, Sacramento Bee. Breida has making numerous great plays on a daily basis, particularly as a receiver coming out of the backfield. Neither Frank Gore nor Joe Williams is a natural pass-catcher, so Breida, who is extremely athletic, could serve in a prominent role this season. He'll need to beat out Tim Hightower to be a factor, so he's someone to watch in the preseason.
Doug Martin, RB, Buccaneers
Doug Martin has been very explosive at Buccaneers OTAs, according to Jenna Laine, ESPN. Laine has tweeted numerous times about how impressive Martin has been. It's not that surprising that Martin would rededicate himself after his lost 2016 campaign. He's a nice bounce-back candidate.
Joe Mixon, RB, Bengals
Joe Mixon has looked like a "beast," per Albert Breer, MMQB. That's hardly a surprise, as Mixon was a top-10 talent who fell because of his infamous incident. With Jeremy Hill being lackluster and Giovani Bernard recovering from a torn ACL, it's not out of the question that Mixon could be the starter Week 1.
Sammy Watkins, WR, Bills
Sammy Watkins took the majority of the snaps during Wednesday's practice, according to John Kryk, Toronto Sun. This is a great sign for Watkins, who was battling an injury. Unfortunately, Watkins is very unreliable, so even this good news needs to be taken with a grain of salt.
June 15
Kamar Aiken, WR, Colts
Phillip Dorsett is missing time with a hamstring injury, according to George Bremer, Herald-Bulletin. Here we go again. Dorsett's absence means that Kamar Aiken is getting more of an opportunity.
June 14
Jamison Crowder, WR, Redskins
Jordan Reed and Jamison Crowder have been Kirk Cousins' preferred targets at OTAs, per Mike Jones, Washington Post. Reed is hardly a surprise, but Crowder might be, given that the Redskins signed Terrelle Pryor this offseason. Crowder and his ADP of 7.10 provides more value than Pryor and his 3.11.
Zach Ertz, TE, Eagles
Zach Ertz has been Carson Wentz's top target at OTAs, according to Jeff McLane, Philadelphia Inquirer. Wentz and Ertz developed a great rapport at the end of the 2016 season, with Ertz catching an average of eight passes per game over the final five weeks. Ertz is bound for a great 2017 campaign.
Andrew Luck, QB, Colts
Andrew Luck wasn't committal when asked if he would be ready for the start of training camp. Luck is coming off shoulder surgery and has lost some weight this offseason. He'll probably ready for Week 1, but this is slightly concerning, as Luck may not be 100 percent to start the year.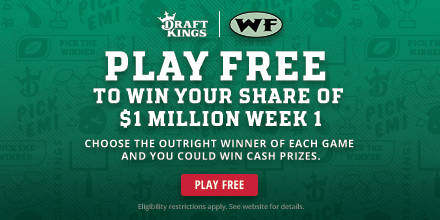 June 13
Alshon Jeffery, WR, Eagles
Alshon Jeffery stood out at OTAs, according to Jimmy Kempski, The Philly Voice. Doug Pederson agreed, praising Jeffery. There was a report last week that Jeffery wasn't impressive, but apparently, all other reports say otherwise.
Jeremy Maclin, WR, Ravens
Jeremy Maclin signed with the Ravens. Maclin was injured throughout 2016, but he's only 29 and is set to rebound. He's in a better situation now that he signed with Baltimore. Joe Flacco isn't elite by any means, but he's better than Alex Smith.
John Ross, WR, Bengals
John Ross may not be ready for the start of training camp because of shoulder surgery, per Geoff Hobson, Bengals.com. Rookie receivers being behind in practice reps is never a good thing. Ross could be a quick study, but it sounds like he should drop in the Fantasy Football Wide Receiver Rankings.
June 12
Matthew Stafford, QB, Lions (and supporting cast)
I discussed how Taylor Decker's injury will affect the Lions in the
Disaster Grades
, but haven't mentioned him when it comes to fantasy football. Decker's absence will obviously adversely affect the numbers of Matthew Stafford and his supporting cast. Stafford struggled at the end of 2016 when he lost Travis Swanson, and Decker is just about as important as Swanson is to the offense. Granted, Stafford also hurt his finger, which affected his play a bit, but there's no doubt that Swanson's injury played a factor. Decker's absence could have similar consequences, and it'll also affect Ameer Abdullah, Golden Tate and Marvin Jones.
2017 Fantasy Football Training Camp Stock:
Week of Aug. 14
|
Week of Aug 14
|
Week of Aug 7
|
Week of July 31
|
Week of July 24
|
Week of July 10
|
Week of June 26
|
Week of June 19
|
Week of June 12
|
Week of June 5
|
Week of May 29
|
Week of May 22
|
Week of May 15
More 2017 Fantasy Football Articles:
Fantasy Football Rankings
2017 Fantasy Football Rankings:
2017 Fantasy Football Rankings: Quarterbacks
- 9/6 (Walt)
Chet Gresham's Fantasy Football Quarterback Rankings
- 8/28 (Chet)
2017 Fantasy Football Rankings: Running Backs
- 9/6 (Walt)
Chet Gresham's Fantasy Football Running Back Rankings
- 8/28 (Chet)
2017 Fantasy Football Rankings: Wide Receivers
- 9/6 (Walt)
Chet Gresham's Fantasy Football Wide Receiver Rankings
- 8/28 (Chet)
2017 Fantasy Football Rankings: Tight Ends
- 9/6 (Walt)
Chet Gresham's Fantasy Football Tight End Rankings
- 8/28 (Chet)
2017 Fantasy Football Rankings: Kickers
- 8/18 (Walt)
2017 Fantasy Football Rankings: Defenses
- 8/18 (Walt)
Fantasy Football Rookie Rankings
- 5/12 (Walt)
Fantasy Football Rookie Rankings: Dynasty
- 5/12 (Walt)
Fantasy Football Rookie Rankings: Dynasty
- 5/12 (Chet)
2017 Fantasy Football Mock Drafts:
2017 Fantasy Football Mock Draft: PPR
- 9/1 (Walt)
2017 Fantasy Football Mock Draft: Standard
- 8/31 (Walt)
2017 Fantasy Football Mock Draft: 2-QB, PPR
- 8/25 (Chet)
2017 Fantasy Football Mock Draft: PPR
- 8/24 (Walt)
2017 Fantasy Football Mock Draft: PPR
- 8/17 (Walt)
2017 Fantasy Football Mock Draft: Standard
- 8/10 (Walt)
2017 Fantasy Football Mock Draft: PPR
- 8/3 (Walt)
2017 Fantasy Football Mock Draft: Standard
- 7/27 (Walt)
2017 Fantasy Football Mock Draft: PPR
- 7/26 (Chet)
2017 Fantasy Football Mock Draft: PPR
- 7/20 (Walt)
2017 Fantasy Football Mock Draft: PPR
- 7/14 (Chet)
2017 Fantasy Football Mock Draft: Standard
- 7/13 (Walt)
2017 Fantasy Football Cheat Sheets:
2017 Fantasy Football Cheat Sheet: Top 250
- 9/6 (Walt)
2017 Fantasy Football Cheat Sheet: Top 250 PPR
- 9/6 (Walt)
2017 Fantasy Football Cheat Sheet: Top 250 2-QB
- 9/6 (Walt)
2017 Fantasy Football Cheat Sheet: Top 250 Touchdown League
- 9/6 (Walt)
2017 Fantasy Football Cheat Sheet: Custom
- 9/6 (Walt)
2017 Fantasy Football: Dynasty Rankings
- 9/6 (Walt)
2017 Fantasy Football PPR Rankings
- 8/16 (Chet)
2017 Fantasy Football Spreadsheets
- 9/6 (Walt)
2017 Fantasy Football Articles:
2017 Fantasy Football Stock Report: OTAs, Training Camp
- 9/6 (Walt)
2017 Fantasy Football Sleepers
- 9/2 (Walt)
2017 Fantasy Football Busts
- 9/2 (Walt)
2017 NFL Preseason Game Recaps
- 9/1 (Walt)
2017 Fantasy Football Stock Report: Preseason
- 9/1 (Walt)
2017 Fantasy Football: Running Backs with the Most Carries
- 1/31 (Walt)
NFL Picks
- Sept. 22
2019 NFL Mock Draft
- Sept. 20
Fantasy Football Rankings
- Sept. 5
2019 NBA Mock Draft
- Aug. 13
2020 NFL Mock Draft
- Aug. 1
NFL Power Rankings
- June 3